ABB Buys Baldor for $3.1 Billion to Bolster Drives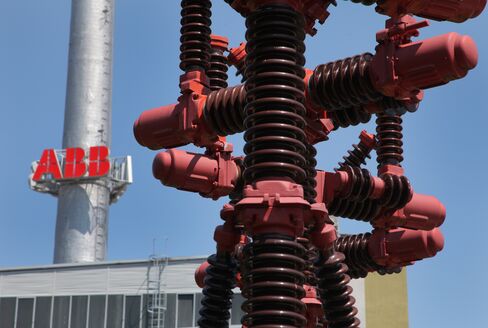 ABB Ltd., the Swiss maker of factory robots and power transmission gear, agreed to buy Baldor Electric Co. for about $3.1 billion in cash to expand in the North American market for industrial motors and drives.
Shareholders of Fort Smith, Arkansas-based Baldor will receive $63.5 a share, ABB said in a statement today. That's 41 percent higher than Baldor's closing price yesterday. ABB is paying about 14 times Baldor's projected operating profit next year, compared with an industry average in the last five years of about 16 times, data compiled by Bloomberg show.
Chief Executive Officer Joe Hogan has increased the pace of acquisitions as he puts Zurich-based ABB's $5.3 billion in net cash to use. He purchased software maker Ventyx Inc. for more than $1 billion this year, and made an offer for Chloride Group Plc, only to be outbid by Emerson Electric Co. Hogan said today he still has excess cash and will continue to seek deals.
"We see significant potential for ABB to use Baldor distribution to expand its drives business in the U.S., as well as a more general build out of its discrete automation business," said Goldman Sachs Group Inc. analysts led by Tim Rothery in a note to clients today.
Cost Cuts
ABB rose as much as 0.17 Swiss francs, or 0.8 percent, to 19.69 francs, and traded at 19.61 francs as of 4:35 p.m. in Zurich. The stock has lost 1.9 percent in value this year. Baldor rose as much as $18.15, or 40 percent, to $63.26.
The deal, in which ABB will also assume an additional $1.1 billion in debt, is expected to close in the first quarter.
Hogan is close to completing a $3 billion cost-cutting program, and ABB said today that integrating Baldor will generate more than $100 million in initial annual savings. The former General Electric Co. executive took over at ABB in 2008 with a track record of deal-making, including the purchase of U.K.-based Amersham Plc for about $10 billion in 2004.
Hogan told journalists on a call that he had had Baldor in his sight "for a while," and that the two companies came in close contact over the last six months. There are no signs of a counter-bid for the company, and ABB feels confident it is bidding an attractive premium, Hogan said.
"We've been looking at opportunities for over a year now," the executive said on the call.
Earnings Boost
The average premium paid for electrical-components companies over the past five years was about 14 percent, with $70.4 billion of total transactions during the period, according to data compiled by Bloomberg. The biggest deal in the period was Schneider Electric SA's $6.1 billion purchase of American Power Conversion Corp. in 2006, the data show.
"The strategic fit looks good, but comes at a price," said equity analysts James Stettler and Alasdair Leslie of UniCredit in a note to clients today.
The purchase will add to earnings in the first year, and existing management will be kept in place, ABB said. Fort Smith will become the headquarters for the combined motor and generator business for North America. Baldor's forecast earnings before interest and tax for 2011 is $294 million, according to analyst estimates compiled by Bloomberg.
Baldor CEO John McFarland, who will step down at the end of the year and be succeeded by Chief Operating Officer Ronald E. Tucker, said his company backs the bid as being "in the best interest of our shareholders, our employees and our customers," according to the statement.
Industrial Drives
The U.S. company has about 7,000 employees and specializes in large industrial motors, a market ABB predicts will grow 10 percent to 15 percent in 2011 as new energy regulation comes in place. The company also makes power transmission products such as mounted bearings, enclosed gearing and couplings used in process industries, as well as drives and generators.
By 2015, ABB aims to reap more than $200 million in annual savings, and two-thirds of these reductions will be realized by 2013, the company said. Hogan said some costs will be reduced by bundling material purchases and removing Baldor's listing.
The offer for Baldor will start in December and is conditional upon at least two-thirds of Baldor shareholders tendering their shares, ABB said. Citigroup Inc. advised the Swiss company on the transaction, with legal advice from Kirkland & Ellis LLP, while UBS AG and Gibson, Dunn & Crutcher LLP advised Baldor.
Before it's here, it's on the Bloomberg Terminal.
LEARN MORE