Tombini Wins Vote of Confidence as Yields Plunge: Brazil Credit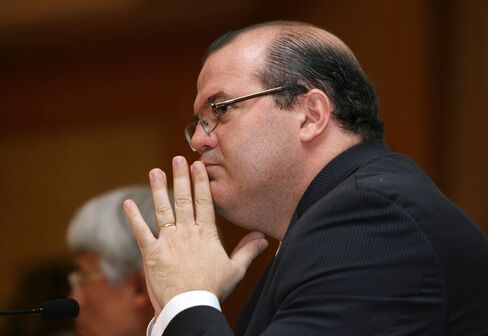 Alexandre Tombini, Brazilian President-elect Dilma Rousseff's pick to head the central bank, will raise interest rates enough in his first weeks on the job to curb inflation, trading in futures contracts shows.
The yield on interest-rate futures due 2014 sank 22 basis points while those on the 2012 contract jumped 25 since Nov. 22, shrinking the gap the most since March 2006.
Investors are betting Tombini, who helped devise Brazil's inflation-targeting regime in 1999 and served on the central bank's board for the past five years, will slow consumer price increases that in October reached a five-month high of 5.2 percent. The rate is double Canada's and compares with 1.2 percent in the U.S. Tombini, who will replace Henrique Meirelles, said on Nov. 25 that he will have autonomy to decide interest rates and bring inflation down to the central bank's target.
"Tombini is the architect of Brazil's inflation-targeting regime," Alberto Ramos, an economist at Goldman Sachs Group Inc. in New York, said in a telephone interview. "He knows all these things and there will be no learning curve for him. Inflation is accelerating. There's not much room to wait."
Ramos predicts Tombini, 46, will start raising the benchmark rate, known as Selic, in January from 10.75 percent at a pace of 50 basis points for five consecutive meetings.
Yields on rate futures suggest traders expect policy makers will begin boosting the Selic as soon as the conclusion of the next meeting on Dec. 8 and bring it to about 12.5 percent by the end of 2011, according to data compiled by Bloomberg.
Target
The central bank targets annual inflation of 4.5 percent, plus or minus two percentage points.
Economists raised their 12-month forecast for consumer prices to 5.2 percent last week, up from 4.4 percent at the beginning of the year, according to a central bank survey published Nov. 22. Inflation is quickening after President Luiz Inacio Lula da Silva increased spending 27 percent in the first nine months of the year and food prices rose last month.
"A way to establish credibility in a moment where inflation is moving up is when you are the president of the institution to start hiking," Marcelo Salomon, chief Brazil economist for Barclays Plc in New York, said in a telephone interview.
The yield difference between the interest-rate futures due in 2012 and 2014 narrowed 47 basis points to 14 basis points from a seven-month high of 61 basis points on Nov. 22. In Mexico, the yield gap between one-year and three-year interest-rate swaps widened 13 basis points during the same period after the country's central bank said economic growth is approaching its potential.
Inflation Forecasting
Rousseff, who kept Finance Minister Guido Mantega at his post, appointed Tombini as central bank president on Nov. 24, saying she will continue her predecessor's economic policies. Tombini, who has a doctorate in economics from the University of Illinois at Urbana-Champaign, was in charge of economic and inflation forecasting when he served as the head of the research department of the central bank in 1999 and 2001, according to the bank's website.
Yields on longer-term rate futures contracts also fell last week as Mantega told reporters on Nov. 24 that Rousseff will cut spending to help the central bank fight inflation.
A spending cut that is equivalent to 1 percent of gross domestic product would slow inflation by 0.32 percentage point, according to the median estimate of economists in a central bank survey published on Nov. 8.
The Finance Ministry didn't respond to Bloomberg's questions sent by e-mail.
'Less Hawkish'
Some investors are concerned the central bank's independence may be compromised under Rousseff, according to RBC Capital Markets.
There's speculation "the political influence over the central bank might deepen once Meirelles is gone and that Tombini might be less hawkish, not a dove, but less hawkish," Paul Biszko, an emerging-markets strategist at RBC in Toronto, said in telephone interview.
Tombini told reporters on Nov. 24 that Rousseff promised him she will preserve the central bank's "full" operational autonomy.
The cost of protecting Brazilian debt against non-payment for five years with credit-default swaps increased 5 basis points on Nov. 26 to 117, according to data compiled by CMA. Credit-default swaps pay the buyer face value in exchange for the underlying securities or the cash equivalent should a government or company fail to adhere to its debt agreements.
Meirelles
The real declined 0.1 percent to 1.7290 per dollar today at 6:31 a.m. New York time.
Meirelles, who will remain at his post until year-end, raised the benchmark interest rate in Lula's first month in office in 2003, when annual inflation reached as high as 17 percent. Under Meirelles' watch, inflation has declined by one-third, helping Latin America's biggest economy triple and lift 21 million people out of poverty.
Meirelles praised Tombini, who's from Porto Alegre, Rio Grande do Sul, a state in southern Brazil whose residents are called gauchos.
"Those who think Tombini has a mild personality are wrong," Meirelles told an audience of finance executives in Vitoria, Brazil, on Nov. 26. "He's a tough gaucho."