Petronas to Pay $9.5 Billion Dividend as Output Falls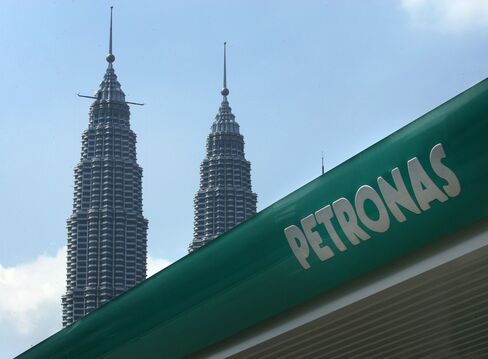 Malaysian state oil company Petroliam Nasional Bhd. will pay the government a dividend of about 30 billion ringgit ($9.5 billion) this fiscal year and focus investment on extending the life of the nation's reserves, Chief Executive Officer Shamsul Azhar Abbas said.
The dividend -- approaching the $10.5 billion payout by Royal Dutch Shell Plc, a company with sales almost four times larger -- will be unchanged from the past two years. After net income fell 23 percent in the 12 months ended March 31 because of declining energy prices, Shamsul said the company needs to invest more to boost domestic oil and gas production.
"We expect to maintain the dividend at the same amount for the current financial year ending March 2011," Shamsul, 58, said on Nov. 8 in an e-mailed reply to questions from Bloomberg News. "Over the years, we have been able to uphold our obligations to return value to our shareholders while at the same time maintaining healthy capital expenditure levels."
Petroliam Nasional, known as Petronas, manages all the petroleum resources in the country, Southeast Asia's biggest oil and gas producer after Indonesia. Shamsul said on July 1 he plans to increase capital spending 7.8 percent this year to 40 billion ringgit, following two years of falling production.
Malaysia's government, which had a budget deficit at a 22-year high of 7 percent of gross domestic product last year, depends on oil and gas revenue for 40 percent of its income, according to a finance ministry report on Oct. 15.
Ratings Risk
Shell, based in The Hague, paid its 2009 dividend on sales of $278.2 billion. Kuala Lumpur-based Petronas reported 12-month sales equal to about $70 billion.
If it can't cover its dividends and investment spending from its cash-flow this financial year and next, "then we'll take this as an indication that the government may strip Petronas's cash reserves in the event of a sovereign crisis," Arnon Musiker, a Sydney-based Fitch Ratings analyst, said in a telephone interview. "We could reduce Petronas's foreign currency rating by one notch to the Malaysian sovereign."
Malaysia has crude oil reserves to last 24 years and natural gas for 38 years, the finance ministry said on Oct 15. Production fell to the equivalent of 1.63 million barrels of oil a day in the year to March 31 from 1.66 million a year earlier, according to Petronas's 2010 annual report.
"Our domestic investments are primarily aimed at boosting the country's maturing reserves, maintaining our production rate and prolonging our reserves life," said Shamsul.
Riskier Debt
Shamsul became CEO in February, replacing Hassan Marican, who led the company for 15 years. He joined Petronas in 1975 and holds a master's degree in energy management from the University of Pennsylvania in Philadelphia. Shamsul stepped down in January 2009 as chief executive of subsidiary MISC Bhd., the world's biggest owner of liquefied natural gas tankers. MISC shares rose 44 percent on the Kuala Lumpur stock exchange during Shamsul's tenure, seven times faster than the benchmark KLCI index.
Investors regard Petronas's debt to be a riskier bet than similarly-rated ConocoPhillips, the third-largest U.S. oil producer, the spreads on the state-owned explorer's bonds and credit-default swaps show. Petronas and ConocoPhillips are rated A by Fitch, the sixth-highest rank, and one level above the Malaysian government itself.
S&P ranks Petronas's debt A-, the same as Malaysia and its seventh-highest investment grade. The company's stand-alone credit profile, or its rating independent of the sovereign, is three notches higher.
Government Intervention
"The company remains sensitive to government intervention," Standard & Poor's said in a Nov. 4 report. If Petronas can't cover its investment needs and dividend payouts from cash generated from its operations, this may "pressure" its credit profile, S&P said.
The extra yield over similar-maturity Treasuries investors demand to own Petronas's $3 billion of 5.25 percent bonds due August 2019 is 125 basis points, according to Royal Bank of Scotland Group Plc prices on Bloomberg. That's wider than the extra yield of 79 basis points for ConocoPhillips' $2.25 billion of 5.75 percent notes due February 2019, Hapoalim Securities USA Inc. prices show.
Credit default swaps insuring Petronas's debt against default have fallen 10 basis points this month to 80 basis points, higher than the swaps on ConocoPhillips at 39 basis points.
Debt Load
Petronas has the equivalent of $15.3 billion of bonds and loans maturing through 2026, according to data compiled by Bloomberg. Cash and cash equivalents were 100 billion ringgit and borrowings 51.3 billion ringgit on June 30, according to the fiscal first-quarter earnings statement.
"If oil prices don't remain above fiscal 2010 levels and the operating margin that all oil and gas companies face continues to decline, Petronas may need to borrow money or use existing cash reserves to continue paying dividends at current levels," Andrew Wong, a Singapore-based credit analyst at S&P, said in a telephone interview.
Crude in New York averaged $78.64 a barrel this year as of Nov. 26, or 30 percent more than a year earlier, boosting Petronas's profit. Net income in the three months ended June 30 rose 60 percent to 12.3 billion ringgit, the company said Oct. 4. Petronas said today second-quarter profit fell 0.8 percent to 11.9 billion ringgit because of higher taxes.
A recovery in oil prices and proceeds from a share sale by the petrochemicals unit of Petronas may help fund exploration. Petronas Chemicals Group Bhd. raised $4.1 billion in Malaysia's biggest initial public offering this month. About 72 percent of the proceeds will go to the parent, according to the sale document released Nov. 1.
Petronas Chemicals
Petronas Chemicals shares fell 0.9 percent to 5.35 ringgit in Kuala Lumpur. The stock started trading Nov. 26.
Malaysia Marine & Heavy Engineering Bhd., a rig-building arm of Petronas-controlled MISC, raised $646 million in a share sale in October. The parent has a total of six units on the Kuala Lumpur stock exchange, including Petronas Dagangan Bhd., Petronas Gas Bhd. and KLCC Property Holdings Bhd.
Shamsul said it's too early to plan listings of more units and ruled out the possibility of selling shares in Petronas itself.
"As the national corporation vested with the entire ownership and control of Malaysia's petroleum reserves, Petronas remains a key national asset of strategic importance," he said. "Listing of Petronas as a group is not a consideration."
Shamsul said the government understands Petronas's spending needs and financial commitments.
"Dividends to the government are decided by the board, taking into account a number of factors, including the financial performance of Petronas, its capital expenditure requirements and other financial commitments," Shamsul said. "Over the longer term, payments will still be decided based on those factors, taking into account investment requirements to sustain our business growth. This is well understood by our shareholder."