Israeli Wine Matures After 2,000 Years of History: John Mariani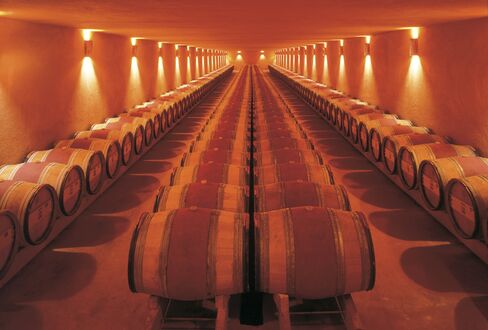 A decade ago I'd never have written this sentence: "On a recent trip to Israel I was very enthusiastic to order Israeli wines with my meals."
The biblical claim, made in Psalms 104:15, was that wine was a gift of God "to gladden the heart of man." Still, two millennia went by before truly good wine came out of Israel. When the 4th edition of The Sotheby's Wine Encyclopedia appeared in 2005, Israeli wines got only one skimpy paragraph.
In September, I dined on "Jacob & Esau's biblical red lentil stew" and a wild mallow herb called hubeiza "eaten during the '48 siege on Jerusalem" as part of the kosher menu for "King David's Feast" at one of Jerusalem's finest restaurants, the Eucalyptus. I drank a delicious 2009 merlot from the Samson Hills made by the Efrat Winery, which started making wines in a Jerusalem alleyway in 1870 and is now a leading company making more than 100 wines and grape juices.
At the modern non-kosher restaurant Segev in Tel Aviv's business district, I ate grilled duck breast with sunflower seeds and ground sesame and tried a wonderful Yarden 2007 Katzrin Chardonnay that I'd swear was right out of Napa Valley. It's actually from the volcanic soil of the Golan Heights.
Viticulture has a rocky history in Israel: The vineyards were ripped out when the Muslims conquered Jerusalem in 636 A.D., restored by the Crusaders in the 12th century and abandoned during the Diaspora. Upon the Jews' return in the 19th century, Baron Edmond de Rothschild of France replanted vineyards with European varietals and founded Carmel Winery.
U.S. Exports
Israel has more than 120 wineries, both kosher and non-kosher, producing cabernet sauvignon, merlot, sauvignon blanc, semillon, grenache and other varietals. Most are made by cooperatives, with 50 percent by Carmel. Other big players are Barkan Wine Cellars and Golan Heights Winery. The U.S. is the biggest export market.
Kosher wines must meet stringent requirements: vines must be at least four years old; vineyards within biblical lands must be left fallow every seven years and only vines may be planted in vineyard land. The grapes may only be handled by certified "Sabbath-observant Jews"; non-Jews may not even touch bottled kosher wines unless they are flash pasteurized (a process called yayin mevushal).
Few kosher wines taste like the cloyingly sweet Manischewitz that some American Jews still serve on holidays. The wines I tasted were clean, well made, and dry. Many can compete with the better wines coming out of Lebanon, Eastern Europe, Spain and Portugal.
Distinctive Reds
In my tastings back home I concentrated on red wines, which seem to have more distinctive character. Some of the cabernet sauvignons had an assembly-line style, with no suggestion of terroir beyond being heavy and dense.
Recanati of Upper Galilee makes an intensely inky Special Reserve 2006 ($45). I preferred its regular 2009 cab ($16), with 14.5 percent alcohol and none of the burn of similar California examples.
I enjoyed the 2007 Reserve from Bazelet HaGolan ($40), unfiltered and aged for 20 months, which seemed to ameliorate its 14.9 percent alcohol level, making this a creamy cab.
The more modest 13.8 percent of a 2007 Barkan Altitude Series "+720" ($33) brought out its lush fruit, and its medium body goes well with lamb chops. A pricey 2006 cab and petit verdot blend by Yatir ($56), a Judean Hills vintner, had a peppery component that would enhance Middle Eastern-style mezes.
The Domaine du Castel Grand Vin 2007 Haute Judee ($76) was a Bordeaux-style blend with a rubbery nose and little pleasure about it.
Tishbi's Terroir
Tishbi is also among Israel's star boutique wineries, dating to 1882, run since 1984 by Jonathan Tishbi. Its wines show attention to terroir, blending and aging. I was impressed by the 2006 Estate Merlot, with 5 percent cabernet franc ($17).
I would hardly identify Tishbi's 2006 Estate Pinot Noir ($20) as a pinot noir in a blind tasting, for that fickle grape has many expressions. It's pleasant and well fruited, easy to drink with any kind of meat.
Of all the varietals I tasted, syrah/shiraz has the brightest future in Israel, especially a 2009 Domaine Netofa ($21) from Lower Galilee, a well-wrought Rhone-style red with some mourvedre in it. If you like your wines plummy, the 2005 Yarden Syrah ($25) with 14.5 percent alcohol is a dead ringer for some of the bolder Australian Shirazes.
Focus and breeding will come with time. The proverb of Ecclesiastes 9:7 seems truer than ever during the holidays: "Eat thy bread with joy, and drink thy wine with a merry heart; for God now accepteth thy works."
(John Mariani writes on wine for Muse, the arts and leisure section of Bloomberg News. The opinions expressed are his own.)
Before it's here, it's on the Bloomberg Terminal.
LEARN MORE