Deutsche Postbank Said to Near Sale of Indian Unit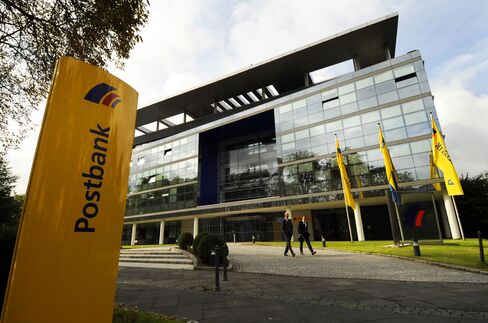 Nov. 30 (Bloomberg) -- Deutsche Postbank AG, the German lender being acquired by Deutsche Bank AG, is close to selling its Indian operations for about 11 billion rupees ($240 million), according to a person with knowledge of the matter.
Dewan Housing Finance Corp., based in Mumbai, is the front-runner to buy Deutsche Postbank Home Finance Ltd. and the talks are at an advanced stage, said the person, who declined to be identified before an announcement. Dewan shares rose.
The purchase would boost Dewan's outstanding loans by more than 40 percent, helping narrow the gap with larger rivals including Housing Development Finance Corp. Deutsche Postbank is selling the unit, which has a market share of about 2 percent, as the Bonn-based lender cuts spending and bolsters capital while combining operations with Germany's largest bank.
"Many international players got into India because of the India growth story" as expansion in their domestic markets slowed, said Jagannadham Thunuguntla, strategist and head of research at SMC Global Securities Ltd. in New Delhi. "While the growth story is definitely on, it is not as fast as anticipated."
Postbank spokesman Joachim Strunk in Bonn and Dewan Housing Chairman Kapil Wadhawan declined to comment.
Strategic Logic
Dewan Housing fell 0.25 percent to 274 rupees as of 3:07 p.m. local time in Mumbai trading, after earlier rising as much as 3.9 percent. The stock has gained 46 percent this year, compared with a 28 percent advance in Housing Development Finance. Postbank fell as much as 1.7 percent to 22 euros in Frankfurt trading at 10:12 a.m. local time, valuing the company at 4.8 billion euros ($6.25 billion).
Postbank is boosting capital levels and focusing on domestic retail lending after losses on structured investments during the financial crisis. The lender's Tier 1 capital ratio, a measure of financial strength, fell to 6.6 percent under the most severe scenario of the European Union stress tests conducted in July, compared with the 6 percent minimum required to pass.
"The strategic logic for selling the Indian business is to boost capital and concentrate on its core business," said Dirk Becker, a Frankfurt-based analyst at Kepler Capital Markets, who recommends selling Postbank shares. "Postbank's business in India was a start-up, so if they can sell it for a good price, it makes sense."
Standard Chartered, Rothschild
New Delhi-based Deutsche Postbank Home Finance had outstanding loans of 48 billion rupees as of Sept. 30, and profit of 390 million rupees for the previous six months, Crisil Ltd., the Indian arm of Standard & Poor's, said on Oct. 21. The unit has a market share of 1.5 percent to 2 percent, it estimated.
Dewan Housing posted a profit of 1.09 billion rupees for the six months ended Sept. 30, while its outstanding loan book was at 111.45 billion rupees, according to an investor presentation on its website.
Frankfurt-based Deutsche Bank yesterday said it increased its stake in Postbank to about 52 percent following an offer to buy shares from minority investors, allowing it to integrate the retail lender this year. Deutsche Bank also conducted a record 10.2 billion-euro capital increase last month to boost reserves of the combined companies.
Standard Chartered Plc is advising Postbank on the deal and Rothschild is advising Dewan, the person said.
To contact the reporter on this story: George Smith Alexander in Mumbai galexander11@bloomberg.net.
To contact the editor responsible for this story: Jeff St.Onge jstonge@bloomberg.net