China's North Korea Ties Risk Angering Trade Partners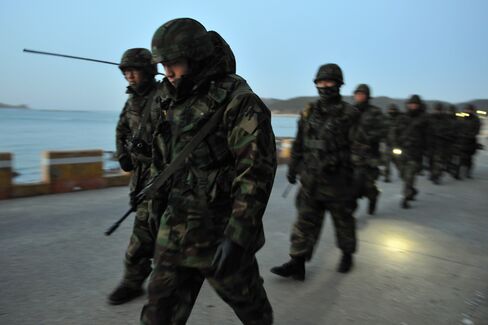 China's reluctance to restrain North Korea comes with a price, putting it at odds with its three biggest trading partners and threatening to drive South Korea and Japan into a closer alliance with the U.S.
China has avoided blaming its ally of 60 years for last week's artillery attack on South Korea, which killed four people. Instead, it criticized joint naval exercises by South Korea and the U.S. that began yesterday in the Yellow Sea.
In doing so, President Hu Jintao is putting political priorities ahead of the economic interests that helped China's gross domestic product expand more than 90-fold in the past three decades to become the world's second-largest. Combined trade with the U.S., Japan and South Korea, which have all urged China to restrain the regime in Pyongyang, is almost 300 times larger than its commerce with North Korea.
"The Chinese leadership is very cautious, so they opt to go light on North Korea, even at very substantial cost to their relations with South Korea, Japan and the U.S.," said Kenneth Lieberthal, director of the John L. Thornton China Center at the Brookings Institution in Washington.
China's stance threatens to further sour relations with its biggest trading partners -- the U.S., Japan and South Korea. Those three countries exchanged a combined $484.7 billion worth of goods and services with China from January through July, according to China's customs bureau. During the same period, trade between China and North Korea amounted to $1.65 billion.
Strained Ties
Ties with South Korea were already strained after China refused to blame North Korea for sinking a South Korean warship in March, killing 46 sailors. In Japan, polls showed trust of China plummeting after a territorial dispute over uninhabited islands flared up in September.
China's economic integration with the world has been accompanied by a growing stake in financial markets that have been rattled by tensions on the Korean peninsula. Its $2.6 trillion of foreign currency reserves is more than double the reserves of Japan, the second-largest holder, and included $883.5 billion of U.S. Treasuries as of September.
China and Hong Kong together account for 13 percent of the value of stocks traded worldwide, double the size of the U.K. equity market. The MSCI World index fell as much as 2 percent on Nov. 23, the day North Korea fired at the South Korean island of Yeonpyeong.
The rising military tensions on the Korean peninsula will probably have a short-lived impact on South Korean markets, investor Mark Mobius, executive chairman of Templeton Asset Management Ltd., said in a posting on his blog today.
'Positive' Outlook
"We remain positive on the outlook for South Korea as the country has continued its growth despite the geopolitical concerns," Mobius said.
The MSCI Asia Pacific Index climbed 0.8 percent to 129.92 as of 7:33 p.m. in Tokyo, rebounding from three consecutive weeks of declines. About three stocks climbed for each that fell. The gauge lost 2.1 percent last week after the North Korean attack.
Wu Dawei, China's top negotiator for multinational talks aimed at curbing North Korea's nuclear program, yesterday proposed an "emergency" meeting of the two Koreas, China, the U.S., Japan and Russia in Beijing next month.
'Change of Behavior'
Talks alone won't suffice, said Nicholas J.C. Snyder, a spokesman at the U.S. Embassy in Beijing. "Clear steps by North Korea are needed to demonstrate a change of behavior."
South Korea's Ministry of Foreign Affairs and Trade said it would consider China's call for talks "very cautiously."
"Right now, it's just useless talk to simply call for getting back to talks," said Victor Cha, who holds the Korea Chair at the Center for Strategic and International Studies in Washington. "It's typical no-risk, no-cost, no-commitment China."
One reason for China's reluctance to punish North Korea is the fear Kim Jong Il's regime could collapse, unleashing a flood of refugees into northeastern China and creating a democratic, unified Korea allied with the U.S., said Michael J. Green, senior adviser at the Center for Strategic and International Studies in Washington.
Request to China
A 2007 State Department cable released yesterday on the WikiLeaks.org website, suggests that China may not have much influence over North Korea. In the document, labeled "Secret," Secretary of State Condoleezza Rice instructed the U.S. Embassy in Beijing to ask Chinese authorities to block exports of North Korean missile parts to Iran through Beijing.
"Remind Chinese officials that President Bush has been personally engaged on the issue of the transshipment of ballistic missile parts between North Korea and Iran via Beijing," reads the Oct. 31 cable.
While resisting calls to pressure North Korea, China has criticized the joint U.S. South Korean naval exercises.
On Nov. 26, Foreign Ministry spokesman Hong Lei said China was opposed to any country conducting military activities without permission in its exclusive economic zone, 200 nautical miles from its coast.
China also sees the U.S. as trying to counterbalance its influence in Asia and encircle it to contain China's rise, said Bonnie Glaser, a senior fellow at the Center for Strategic and International Studies in Washington.
"Against this background, North Korea is still an important strategic asset," she said.
'Growing Anxiety'
"The attack has injected growing anxiety about the stability of the North Korean behavior among Chinese diplomats and officials," said Zhu Feng, a professor of international relations at Peking University.
China's leverage over North Korea stems from its role as the north's biggest trading partner and supplier of much of its foreign currency, fuel and food.
The reluctance to use that influence may backfire, Lieberthal said. The Chinese "may inadvertently create their own worst situation, where the North Korean regime ceases to be viable," he said.
Before it's here, it's on the Bloomberg Terminal.
LEARN MORE