Euro, Stocks, Spanish Bonds Retreat on Government Debt Concern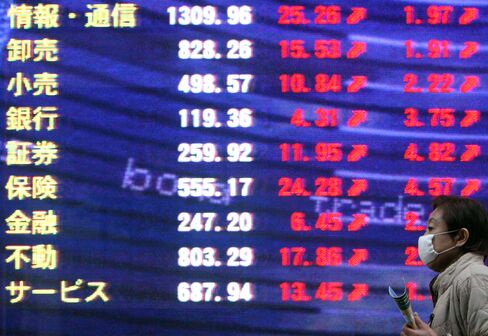 The euro weakened, global stocks extended losses into a fourth week and Spanish and Portuguese bonds dropped as Ireland's 85 billion-euro ($113 billion) bailout failed to ease concern the region's most-indebted nations will need further aid.
The euro slid against its 16 major counterparts as of 4 p.m. in New York. The MSCI World Index of equities in 24 developed nations slipped 0.8 percent and the Standard & Poor's 500 Index lost 0.1 percent, erasing most of an earlier drop of 1.3 percent as banks rallied and the gauge rebounded above a chart level watched by traders. Spain's 10-year bond yield added 25 basis points and Portugal's climbed 14 basis points as the cost of insuring the countries' debt against default jumped to records. Oil rallied 2.4 percent to $85.73 a barrel.
The MSCI World slumped below its lowest closing level since Oct. 5 as concern over Europe's debt crisis overshadowed National Retail Federation data showing U.S. shoppers spent 6.4 percent more than last year over the holiday weekend. Declines in global stocks over the past three weeks wiped out $2.3 trillion from markets. Italy's bonds slumped after the nation's borrowing costs rose at a sale of debt today.
"Investors are still very concerned about what happens next, what happens to other countries, what happens to the euro," said Richard Sichel, who oversees $1.5 billion as chief investment officer at Philadelphia Trust Co. "It's good to see some positive surprises on the U.S. retail side. Still, Europe is a story with legs. An Irish bailout might be a good short-term event. However, it's an ongoing negative."
Euro, Franc
The euro declined 0.9 percent to $1.3120, after sinking to a two-month low of $1.3064, and slid 0.7 percent versus the yen and 1.2 percent against the Swiss franc. The franc advanced against 13 of its 16 main counterparts.
The yield on Italian 10-year debt advanced 22 basis points to 4.65 percent as the government auctioned 6.8 billion euros of bonds due in 2013, 2017 and 2021. Credit-default swaps on Portugal jumped 36.5 basis points to 538.4, and contracts on Spain climbed 28.5 to 351.2, according to CMA. The Markit iTraxx SovX Western Europe Index of swaps on 15 governments increased 9.4 basis points to a record 197.5, based on closing prices.
Irish bonds fell, erasing earlier gains, to send the extra yield investors demand to hold 10-year Irish bonds instead of benchmark German bunds three basis points higher, widening for the seventh day. The cost of default swaps on Irish government debt rose 5.3 basis points to 603.8, while contracts on Greece dropped 5.9 basis points to 966.4, according to CMA.
'Far From Over'
"The choices are still between default, deliberate devaluation and divorce from the euro," Kit Juckes, head of foreign-exchange research at Societe Generale SA in London, wrote in a report. "The weekend bailout offers a delay in making these choices rather than providing the answers markets were looking for. The bottom line is that the crisis is far from over."
The S&P 500 added to last week's 0.9 percent retreat, while Hewlett-Packard Co. and Coca-Cola Co. tumbled more than 1.2 percent to lead declines in 20 of the 30 stocks in the Dow Jones Industrial Average.
The S&P 500 rebounded after its earlier decline today sent the index as low as 1,173.64, below its 50-day moving average, currently about 1,177, for the first time since September, Bloomberg data show. Technical analysts who base investment decisions on price charts say retreats below such levels often lead to faster declines.
Economy Watch
Investors also awaited a U.S. jobs report forecast to show employment increased by 145,000 workers this month after a 151,000 increase in October that marked the biggest advance since May, according to the median forecast of 67 economists surveyed by Bloomberg News before the Labor Department's Dec. 3 report.
Manufacturing, the industry leading the U.S. recovery that began in July 2009, expanded in November for a 16th consecutive month, economists expect data released on Dec. 1 to show.
"Focus will revert back to equity markets given the deluge of economic data due this week, which will set the tone for December and the potential for a Christmas rally given the resolution of the euro-zone sovereign crisis, at least for now," said Rajeev Shah, a credit strategist at BNP Paribas SA in London.
The MSCI World Index is trading at about 12.3 times the estimated earnings of its companies for the next year, near the 16-month low of 11.4 reached in July, according to data compiled by Bloomberg.
Retail Sales
Retailers in the S&P 500 dropped 0.7 percent as a group. About 212 million shoppers went to stores and websites over the holiday weekend, spending $365.34 on average, the National Retail Federation said yesterday. The proportion of sales online rose to more than one-third of the total, the highest ever, the trade group said.
Wells Fargo & Co. climbed 2.1 percent to lead a rally in banks after RBC Capital Markets said it expects the company to be among the first group of lenders that regulators will allow to increase dividends early next year.
The Stoxx Europe 600 Index slumped 1.7 percent, the most in two weeks. Daimler AG, the world's second-largest luxury carmaker, dropped 3.4 percent. Banco Santander SA, Spain's biggest lender, slipped 2.7 percent. Bank of Ireland Plc soared 16 percent.
The MSCI Asia Pacific Index rose 0.5 percent. Sony Corp., Japan's biggest exporter of consumer electronics, added 2.8 percent as Nomura Holdings Inc. rated the stock a "buy." Nissan Motor Co., Japan's third-largest automaker by sales, climbed 1.5 percent.
Hungary Bear Market
Hungary's BUX index dropped 2.6 percent to extend its decline from its 2010 peak to more than 20 percent, making it the first emerging-market stock gauge to enter a bear market since global equities began falling this month. Turkey's benchmark index fell 3.1 percent, bringing its retreat from the peak on Nov. 9 to 10 percent, the threshold for a so-called correction.
The MSCI Emerging Markets Index slipped less than 0.1 percent, erasing gains of as much as 0.7 percent. South Korea's Kospi Index retreated 0.3 percent after President Lee Myung Bak said North Korea will be made to pay for any more provocation as his nation and the U.S. held joint military exercises.
The S&P GSCI Index of 24 commodities rose 1.3 percent. Gold futures gained, heading for the first gain in three days. Gold for February settlement climbed 0.2 percent to $1,367.50 an ounce.
Before it's here, it's on the Bloomberg Terminal.
LEARN MORE