Polish Mergers May Double as Banks Sell Assets to Raise Capital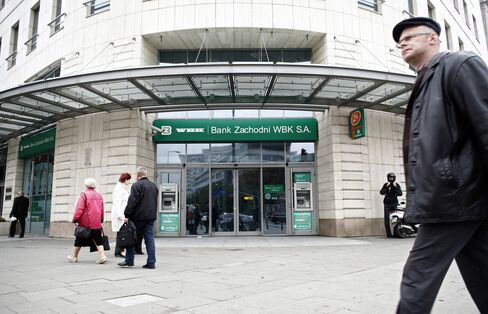 Polish mergers and acquisitions may more than double by 2013 as the European Union's debt crisis forces foreign banks to sell stakes in the country's lenders, according to KPMG International.
The value of transactions, which now equals about 3 percent of the country's gross domestic product, will rise to western European levels of 8 percent to 10 percent in the next three to five years, said Krzysztof Rozen, head of corporate finance at KPMG's Warsaw-based unit. KPMG has advised on eight Polish deals this year, more than any competing firm.
M&A in the country tripled this year to a record $13.9 billion from 2009, with KPMG accounting for almost two-thirds of the volume. The sale of Bank Zachodni WBK SA by Allied Irish Banks Plc was the biggest of 2010. Divestitures by Irish, Greek and Portuguese are likely to continue as companies struggle to shore up their finances.
"The fiscal crisis that's now spreading across Europe may definitely speed up such sales," said Marek Juras, head of equity research at UniCredit SpA's Polish unit in Warsaw. "If banks ask for state aid, they may be forced to sell their units."
KPMG, which offers tax, audit and advisory services, is ahead of Nomura Holdings Inc., AIB Corporate Finance and Morgan Stanley in the Polish M&A market this year, according to Bloomberg data. KPMG was involved in helping arrange Zachodni's sale to Banco Santander SpA, valued at 16.6 billion zloty ($5.6 billion), and state-controlled PGE SA's agreement to acquire utility Energa SA for 7.53 billion zloty.
'Critical Mass'
"The M&A market has now reached certain critical mass and will keep growing," Rozen said. "Poland started to be very well perceived after it was the only country in the European Union to keep expanding during the crisis."
Poland, the largest of the European Union's eastern members, was the only one of the bloc's 27 countries to avoid a recession last year. The country's GDP grew during each quarter of 2009 for an annual increase of 1.7 percent. The government forecast the economy will expand to 1.72 trillion zloty in 2013 from 1.41 trillion zloty this year.
EFG Eurobank Ergasias SA of Greece is looking for investors for its Polbank unit, while Germany's WestLB AG and Allianz SE agreed to sell their banking businesses in the country this year. Foreign-owned lenders held 63 percent of the industry's total assets at the end of 2009, according to figures provided by Poland's financial regulator.
Government Selling Assets
"I expect further rationalization on the Polish banking market next year, which will lead to more deals," Rozen said. It's possible that Portugal's fiscal woes will lead Banco Comercial Portugues SA to sell Bank Millennium SA, he said. Commerzbank AG and KBC Groep NV also may seek buyers for their respective units, BRE Bank SA and Kredyt Bank SA.
Another driver behind the increase in transactions is the government, which is selling stakes under a 55 billion-zloty program that ends in 2013. By March, the government plans to sell its third-largest utility, Enea SA, that's valued at 10.6 billion zloty at current stock exchange prices.
KPMG estimates the sale of Polkomtel SA, Poland's largest mobile phone company valued at 12 billion zloty to 16 billion zloty, may be the biggest transaction in 2011. Four Polish owners and the U.K.'s Vodafone Group Plc, which has a 24 percent stake in Polkomtel, plan to complete the deal in the first half.
"We'll sure have a lot of work," Rozen said, adding that KPMG "hopes" to take part in seven transactions next year. The company entered the Polish market 12 years ago.