UBS Bets on Hires to Reverse 4-Year Low in Europe M&A Rankings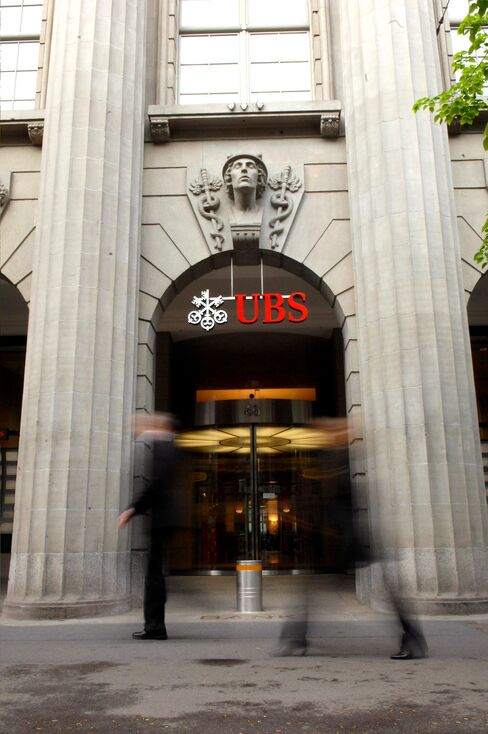 UBS AG is betting on more than 170 investment-banking hires to help it return to the top in European mergers advisory after the Swiss bank slipped to its lowest level in four years.
The bank, which added 168 people in its investment banking department this year, has plans to add a few more senior bankers in Europe, according to Liam Beere, co-head of M&A in Europe, the Middle East and Africa. Among this year's additions were 10 senior bankers in Europe, including country heads in Russia and Spain and a senior investment-banker in France, he said.
"We have made a number of excellent hires," said Beere in an interview in London. "We are feeling confident about 2011 and are well positioned to benefit from an improvement in the M&A market."
UBS has fallen to sixth in European M&A this year after finishing No. 1 two years ago, according to data compiled by Bloomberg. The drop stems in part from a series of departures at UBS, which had more than $57 billion of writedowns and losses from the credit crisis. UBS's investment-banking revenue, including advisory and underwriting, was the lowest among its eight largest rivals in the first nine months of 2010, according to data compiled by Bloomberg from company filings.
Financial challenges have hampered UBS's ability to pay bankers what is expected in the industry, said Scott Moeller, a professor at Cass Business School in London and a former investment banker at Deutsche Bank AG and Morgan Stanley.
Banker Defections
UBS lost a group of health-care investment bankers, led by Benjamin Lorello, to Jefferies Group Inc. after its total 2008 bonus pool was slashed by 78 percent. Stephen Trauber, UBS's global head of energy investment banking, left the bank's Houston office in September along with four managing directors to join Citigroup Inc. because of uncertainty about pay.
Dealmakers Robert Gillespie, who was a vice chairman, and Rory Tapner, former chief executive officer of UBS's Asia-Pacific unit, left in 2009 after more than 25 years each.
UBS, which traces its advisory roots to financier Siegmund Warburg, has had its lowest year-to-date showing since 2006 in Europe, the second-biggest market after North America with about $700 billion of deals this year, Bloomberg data show. In North America, the bank ranks eighth in mergers advisory this year.
"In Europe and the U.S. there have been problems and the departure of some bankers has really hurt them," said Philip Keevil, a senior partner at investment bank Compass Advisers and a former head of Citigroup's European mergers team. "They have slipped in Europe, which is the home of the Warburg franchise, all the way back to Siegmund Warburg."
Bucyrus Deal
Warburg, who founded S.G. Warburg & Co., personified relationship banking, according to Niall Ferguson in his 2010 biography "High Financier." In the 1950s, Warburg orchestrated what's considered Britain's first hostile-takeover bid and in the 1960s he was an economic adviser to U.K. Prime Minister Harold Wilson. Swiss Bank Corp., one of the predecessor banks to UBS, bought S.G. Warburg in 1995.
UBS is seventh globally in M&A this year, trailing European rivals Credit Suisse Group AG and Barclays Plc and U.S. firms such as Goldman Sachs Group Inc. It has advised on $234 billion worth of global deals including Bucyrus International Inc. on its $7.6 billion takeover by Caterpillar Inc. announced last week, according to Bloomberg data.
In Europe this year, UBS advised on Russian telecommunications company VimpelCom Ltd.'s proposal to merge with the assets of Naguib Sawiris's Weather Investments SpA and on Telefonica SA's deal to buy Portugal Telecom SGPS SA's stake in Brazil's Vivo Participacoes SA.
Asia Leader
The Swiss bank is No. 1 in Asia, the fastest-growing region for M&A, after advising on transactions including the $10.7 billion sale of Kuwait Mobile Telecommunications Co.'s African assets to India's Bharti Airtel Ltd.
Deal activity in Europe has been subdued this year leading to a drop in the region's fee pool of more than 20 percent and leaving less money to pay bonuses, said Beere, who is co-head of M&A in EMEA with Pat Guerin.
UBS CEO Oswald Gruebel said at an investor briefing in London last week the bank needs to strike a balance between building capital, disbursing dividends and paying competitively to retain key employees.
Across the entire investment bank, UBS hired 981 people in 2010 to revamp "intellectual firepower," said Carsten Kengeter, CEO of the unit, at the briefing. The 168 hires this year in the investment-banking department include 44 at the managing director or executive director level. The majority of recruitment is complete and the focus in 2011 will be on keeping talent and getting results, he said.
"If they re-focus their attention on that major group of European clients and really re-build those relationships for the long term, then they can start to recover the lost position," said Compass Advisers's Keevil.
Before it's here, it's on the Bloomberg Terminal.
LEARN MORE