Cowen's Party Likely Loses Irish Special Election to Sinn Fein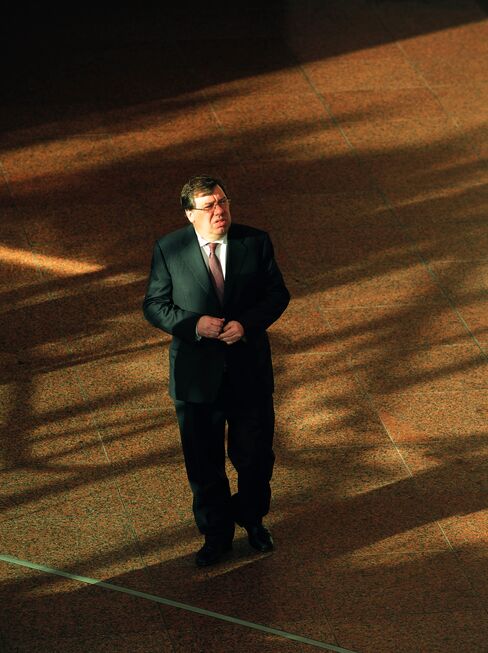 Nov. 26 (Bloomberg) -- Irish Prime Minister Brian Cowen's party likely lost a special election for a vacant parliamentary seat as talks continue on a rescue package of loans for the country, according to a first tally of votes.
Counting of ballots began at 9 a.m. after the vote in Donegal yesterday and early results suggest Cowen's Fianna Fail will lose, RTE said today. The candidate for Sinn Fein, the nationalist party, took 40 percent of first preferences to Fianna Fail's 21 percent, the national broadcaster said.
While a loss for Cowen reduces his majority in parliament to two, the premier probably will still be able to pass the 2011 budget. Cowen is racing to conclude talks with the European Union and the International Monetary Fund on an 85 billion-euro ($113 billion) aid package as his governing coalition crumbles.
The two biggest opposition parties "both accept the need to get the current deficit down," Alan Dukes, a former finance minister who led the opposition Fine Gael party from 1987 to 1990, said in an interview late yesterday. He said the parties have "no option" other than to allow the budget to pass.
German Finance Minister Wolfgang Schaeuble said today he hopes that bailout talks will be concluded by early next week.
Bookmaker Paddy Power Plc. already paid out on Sinn Fein winning the Donegal Southwest seat, the Dublin-based company said in a statement today. Final results are due later today.
Election Looms
Cowen's junior partner in government, the Green Party, said Nov. 22 it is pulling out of the coalition, forcing a national election to be held early next year. Two independent lawmakers, on whom the government relies for support, said their backing for the budget isn't guaranteed.
The most northerly county in Ireland, Donegal is adjacent to Northern Ireland and 140 miles from Dublin. Known as the "Forgotten County," it accounts for less than 4 percent of Ireland's population. The Donegal Southwest seat was vacated last year when the lawmaker resigned.
Fianna Fail had 19 percent support prior to this week's election, according to a poll for Paddy Power published on Nov. 17. Sinn Fein, led by Gerry Adams, was at 40 percent, according to the poll of 510 people carried out between Nov. 12 and Nov. 16. No margin of error was given.
To contact the reporter on this story: Colm Heatley in Belfast at cheatley@bloomberg.net
To contact the editor responsible for this story: Dara Doyle at ddoyle1@bloomberg.net