A-Trak, Sexy Shoes, Sugar Plums, Go Skating: Great N.Y. Weekend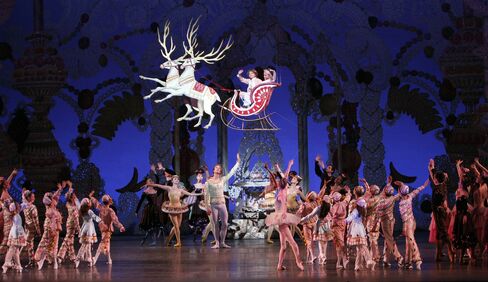 Dancing Sugar Plums, Marzipan Shepherdesses, and the fierce Mouse King are emerging from their annual hibernation as the New York City Ballet presents George Balanchine's fabled "Nutcracker."
One ravishing moment comes when the children gasp "OOOhhhh!" as the Christmas tree just keeps on growing.
At the David H. Koch Theater, 20 Lincoln Center Plaza, though Jan. 2, 2011. Information: +1-212-870-5570; http://www.nycballet.com/nutcracker/nutcracker.html.
For a sweet fix, walk up to Magnolia Bakery. Get a German chocolate cupcake with coconut caramel pecan icing or a sno-cap -- devil's food topped with meringue.
200 Columbus Ave. at 69th St. Information: +1-212-724-8101
Saturday Night
It's HARD NYC's Turkey Soup night at Terminal 5 on Saturday night. Beatmaster A-Trak headlines with support from Sweden's Miike Snow and Thom Yorke's favorite Flying Lotus.
A-Trak's squalling rhythms coupled with a fleet-footed Flying Lotus set will work off any second helpings.
At 610 W. 56th St. Information: http://www.terminal5nyc.com/event/5472
Sunday
Worry about your brain as you walk through a dark tunnel crisscrossed with stroboscopic firing neurons at the American Museum of Natural History.
Based on the latest neurological discoveries about this three-pound organ, which uses about 20 percent of the oxygen in our blood and 25 percent of the glucose we digest, the new show has thought-provoking interactive displays and brain-teaser games.
Sit in the Brain Lounge and watch MRI images of New York Knicks shooting guard Landry Fields as he watches himself play.
Try to draw while looking in a mirror and not at your hand, or build up a brain by putting its parts together as they evolved.
"Brain: The Inside Story" is at the American Museum of Natural History, Central Park West at 79th St., through Aug. 15, 2011. Information: +1-212-769-5100; http://www.amnh.org/.
Then head over to the Shake Shack for burgers, hot dogs and fries, washed down with Brooklyn Brewery beer or a chocolate shake. Expect to wait.
366 Columbus Ave. at 77th St. Information: +1-646-747-8770.
Another option is Pizzeria Uno, where you can get thin crust or deep-dish pies as well as pasta, chicken and steak entrees.
432 Columbus at 81st St. Information: +1-212-595-4700.
Sunday Afternoon
Cut a figure on the ice at Central Park's Wollman Rink.
Skating dates back 4,000 years, when the first speedster strapped bones to his shoes. Big fans included Napoleon and Queen Victoria.
You can spin, leap and carve figure eights as the city skyline shimmers around you. Just watch out for the klutzes trying out triple Lutzes.
Rentals cost $6.25.
Enter at Central Park South and 59th St. Information: +1-212-439-6900; http://www.wollmanskatingrink.com/main_wollman.htm.
Sunday Evening
Head out to Brooklyn for the Kneehigh Theatre's mordant retelling of Hans Christian Andersen's "The Red Shoes."
A girl tricks her blind old guardian into buying her spiffy footwear that make her feel sexy and desirable.
Next thing you know, she's playing hooky from church to smoke and dance with a soldier. We've all been there.
A butcher is involved, so beware: the play is for adults and "brave" kids over 8.
At St. Ann's Warehouse, 38 Water St., Brooklyn, through Dec. 12. Information: +1-718-254-8779; http://stannswarehouse.
(Zinta Lundborg is an editor for Muse, the arts and leisure section of Bloomberg News. The opinions expressed are her own.)
Before it's here, it's on the Bloomberg Terminal.
LEARN MORE