Hana Financial May Sell Debt to Fund KEB Purchase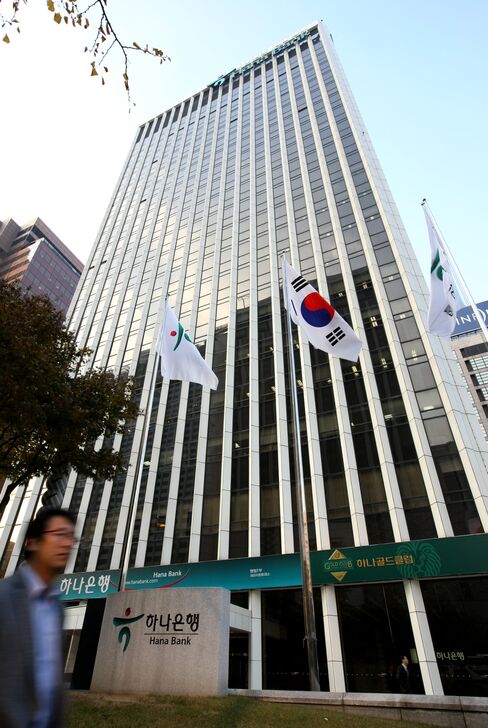 Nov. 25 (Bloomberg) -- Hana Financial Group Inc. may use debt to finance almost half of a planned purchase of a stake in Korea Exchange Bank that will cost as much as 5.3 trillion won ($4.7 billion), analysts said.
South Korea's fourth-largest financial company may borrow 2.2 trillion won through bonds or loans to fund the acquisition, according to the average estimate of five analysts surveyed by Bloomberg News. Hana Financial may also raise 2.62 trillion won through a dividend from its Hana Bank unit, the survey showed.
Hana Financial will pay 4.7 trillion won, or 14,250 won a share, in cash for Lone Star Funds' 51 percent stake in the country's fifth-largest lender, its biggest acquisition. The takeover, which could include shares held by Export-Import Bank of Korea, would vault Hana past Shinhan Financial Group Co. as the nation's third-largest financial services company by assets.
"Hana Bank has the capacity to pay more than 2 trillion won of dividends to its parent while keeping the required capital adequacy ratio," said Sung Byung Soo, a banking analyst at Tong Yang Securities Inc. in Seoul. "Even if Hana Financial tries to fund the remainder with bonds and loans, I don't see much trouble in terms of its financial health."
Hana's Chairman Kim Seung Yu is scheduled to meet Lone Star founder John Grayken in London today to sign the agreement.
Best Combination
Hana is looking for the "best combination" on how to fund the purchase and will conclude the funding mix by the end of February, President Kim Jong Yeol told reporters in Seoul today after announcing the final purchase cost.
"We are considering all possible options including borrowing, bond sales, rights issues and dividends from Hana Bank," Kim said. "But one thing for sure is that we won't pursue any method that can dilute existing shareholder value."
Hana aims to close the deal by the end of March and will run Korea Exchange Bank independently as a unit while it studies a long-term development plan for the bank, the president said.
State-run Export-Import Bank owns 6.25 percent of Korea Exchange Bank and has an option to sell its holding to a buyer who acquires a controlling stake at the same price as that offered to Lone Star. The lender, known as Kexim, hasn't decided whether to offload its shares to Hana Financial, said a spokesman who declined to be identified.
Two of the five analysts surveyed said Hana may sell stock in a rights offer to help pay for the purchase. The sale may raise 1.25 trillion won, according to their average estimate.
Investors' Endorsement
Stock and bond investors have endorsed the purchase, with the shares jumping 7.3 percent to a 14-month high yesterday. They fell 1.8 percent to 39,000 won at the 3 p.m. close in Seoul today, ending an eight-day winning streak. Korea Exchange Bank rose 0.4 percent to 12,300 won.
The extra yield investors demand to hold Hana Financial's 4.53 percent, three-year bond narrowed to 44 basis points yesterday from 47 basis points on Nov. 1, according to Korea Bond Pricing. A basis point is 0.01 percentage point.
"Hana Financial's risk premium won't widen much even if it sells, for example, about 1 trillion won of bonds to fund the stake purchase," said Lee Soo Jung, a credit analyst at SK Securities Co. "Investor demand for top-rated notes remains robust."
Moody's Investors Service is less optimistic, today putting Hana Bank's credit ratings on review for possible downgrade, citing the "huge financing burden of the acquisition on its creditworthiness." Moody's rates Hana Bank's long-term foreign currency debt A1, the fifth-highest investment grade.
Hana Bank's Burden
Hana Bank "will likely have to play a substantial role in supporting the burden of its parent's acquisition, potentially through a capital reduction and in terms of greater future amounts of dividends to the parent," Moody's Vice President Beatrice Woo wrote in a report.
Hana Financial and its subsidiaries have 9 trillion won of debt coming due next year, data compiled by Bloomberg show.
The purchase may boost Hana's assets to 316 trillion won from 200 trillion won, according to data from the companies as of Sept. 30. That's still less than Woori Finance Holdings Co.'s 332 trillion won and KB Financial Group Inc.'s 330 trillion won.
"The combination of domestic-oriented Hana's business with KEB's strong overseas network should help diversify their businesses and strengthen earnings power," said Chang In Whan, president of KTB Asset Management Co., which manages the equivalent of $6.3 billion in Seoul.
Hana trumped Australia & New Zealand Banking Group Ltd., which today said it put on hold its evaluation of KEB's finances.
Four-Year Effort
Lone Star, the U.S. buyout fund controlled by Grayken, bought Korea Exchange Bank in 2003 and has been trying to sell it for more than four years.
In dollar terms, the deal values Korea Exchange Bank about 21 percent below a proposed transaction with Kookmin Bank that was scrapped in November 2006 as regulators investigated the circumstances of Lone Star's purchase. The Korean won has dropped 19 percent in the past four years, and Korea Exchange Bank shares have slipped more than 2 percent.
Since 2007, Lone Star has recouped 1.87 trillion won, or 87 percent of its total investment in the Korean lender, after tax through dividends and a block sale of shares.
To contact the reporter on this story: Seonjin Cha in Seoul at scha2@bloomberg.net
To contact the editor responsible for this story: Philip Lagerkranser at lagerkranser@bloomberg.net