Banks Lead Way as Japan Firms Cut Allied Shareholding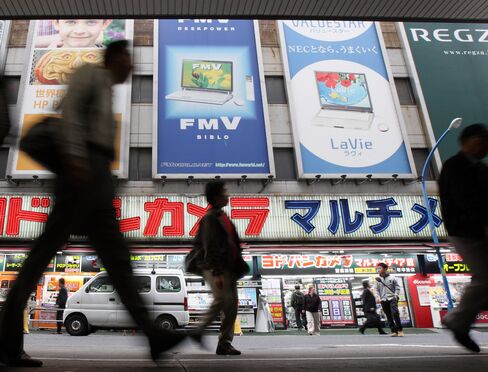 Nov. 26 (Bloomberg) -- Japanese companies cut their cross-shareholdings of allied firms to the lowest level in at least 19 years as banks stepped up sell-offs ahead of stricter global requirements for capitalization.
Stocks held among corporate allies fell to 4.9 percent of Japan's total outstanding shares in the year ended March 31, a two-point drop from the previous year and the lowest since Daiwa Securities Group Inc. started monitoring the data in 1991, according to a report from the company's research unit.
"Cross-shareholdings held by banks are based on relationships with clients, so it doesn't mean that the shares they hold are ones that are likely to grow," said Keisuke Nitta, a strategist at NLI Research Institute in Tokyo. "A lot of the superior shares have already been sold off. It means a lot of unattractive stocks are still on their books."
Banks are preparing for rules outlined by the Basel Committee on Banking Supervision that double their Tier 1 capital requirement. Tier 1 capital includes cash and equities, so volatile or poorly performing stocks weaken a bank's ability to lend. Companies are also trimming their holdings after the International Accounting Standards Board issued guidance in December 2009 that the current market value of shareholdings must be included in financial statements.
"Companies will have to care more about shareholders and return on equity, which are the things that foreigners are looking for," said Hidehiro Tomioka, who manages about $1.4 billion at the Japanese asset management unit of Canadian-based financial services firm Manulife Financial.
Bank Holdings Law
Mutual shareholdings among Japan's banks have been falling since a 2001 law that limited the amount of stock lenders could hold on their balance sheets. Six major banks sold 6.5 trillion yen ($78 billion) of stock in 2002, according to Kengo Nishiyama, a Tokyo-based strategist at Nomura Holdings Inc., Japan's biggest brokerage.
The number of companies who have cross-held shares with banks has at least halved to 43 percent in 2009, from 88 percent in 1995, Daiwa said in a report. The Daiwa report is based on research of 3,664 companies on the Tokyo, Osaka, Nagoya and Jasdaq exchanges.
"Scrutiny from investors is growing, and companies will be increasingly expected to justify their cross-shareholdings," wrote Masaharu Ito, a senior analyst in Tokyo at the Daiwa Institute of Research in the report.
Corporate Governance
Further reducing cross-shareholdings may lead to better corporate governance and higher quality capital for banks, making Japanese shares more attractive to foreign investors, said Hideaki Miyajima, a commerce professor at Waseda University in Tokyo.
Foreign ownership of Japanese stocks has risen to 26 percent of total outstanding shares in 2009 from 17.7 percent in 2002, according to Tokyo Stock Exchange data.
Japan's three largest banks are likely to offload about 2 trillion yen of shareholdings by 2013 to meet Basel III requirements outlined in September, said Miyajima.
Mizuho Financial Group Inc., the nation's third-biggest listed bank, has said it plans to sell 1 trillion yen of shares in other companies by March 2013. Larger rival Sumitomo Mitsui Financial Group Inc. projects a 300 billion yen cut in the next three years, the bank said in September. Mitsubishi UFJ Financial Group Inc., Japan's biggest listed bank, intends to reduce holdings after speaking with its partners, said spokesman Shinya Matsumoto.
'New Phase'
The three banks had a combined 8.15 trillion yen in shares of other companies as of March 31, according to their financial statements.
Daiwa said in the report investor pressure to reduce cross-holdings is intensifying, suggesting a demand for better asset performance.
"Japan is entering a new phase of unwinding cross-shareholdings," Nitta said.
The Tokyo Stock Exchange opposes cross-shareholding that deters foreign investors. The practice doesn't help safeguard shareholders' best interests, said Hironaga Miyama, senior executive officer at the bourse.
"Too much cross-holding creates mutual back-scratching," Miyama of the Tokyo bourse said.
A reduction of cross-shareholdings will help further dismantle remnants of 19th century business groups, forcing companies to pay greater attention to shareholder demands, say analysts including Nomura's Nishiyama.
Conglomerates such as Mitsubishi, Mitsui and Sumitomo, known as zaibatsu until after World War II, developed Japan's economy with subsidiaries owning stakes in each other, while affiliated banks provided financing.
To contact the reporters on this story: Anna Kitanaka in Tokyo at akitanaka@bloomberg.net; Shigeru Sato in Tokyo at ssato10@bloomberg.net
To contact the editors responsible for this story: Nick Gentle at ngentle2@bloomberg.net;