U.S. Jobless Claims Decline to Lowest Since July 2008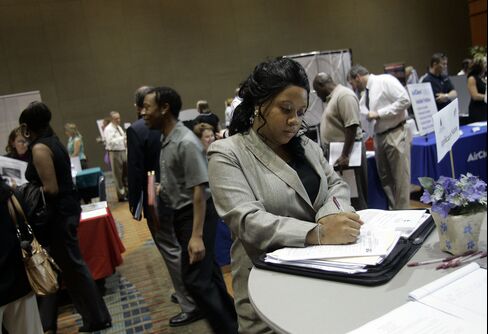 Applications for unemployment benefits in the U.S. fell more than forecast last week to the lowest level since July 2008, reinforcing evidence the labor market is healing.
Jobless claims declined by 34,000 to 407,000 in the week ended Nov. 20, Labor Department figures showed today in Washington. The median projection of economists surveyed by Bloomberg News called for a drop to 435,000. The total number of people receiving unemployment insurance decreased to the lowest in two years, and those on extended payments also fell.
Fewer firings lay the groundwork for a pickup in job creation that will generate incomes and spur consumer spending, which accounts for 70 percent of the economy. Even with companies firing fewer workers, unemployment will be slow to decline, according to the Federal Reserve's latest forecast in which policy makers also lowered their growth projections.
"The labor market is clearly improving," said John Silvia, chief economist at Wells Fargo Securities LLC in Charlotte, North Carolina. "We're seeing consistent job gains in the private sector. This suggests we'll have a good holiday spending season."
Consumer spending rose in October for a fifth month as a rebound in incomes lifted the biggest part of the U.S. economy at the start of the final quarter of 2010, Commerce Department figures showed today.
Spending and Income
Household purchases advanced 0.4 percent after a 0.3 percent gain in September that was larger than previously estimated. Incomes climbed 0.5 percent.
Orders for U.S. goods meant to last several years unexpectedly decreased in October, the Commerce Department also said. Demand for so-called durable goods dropped 3.3 percent, the biggest plunge since January 2009, after a revised 5 percent jump in September that was larger than previously estimated.
Stock-index futures rose and Treasury securities fell after the reports. Futures on the Standard & Poor's 500 Index maturing next month increased 0.7 percent to 1,186.8 at 8:48 a.m. in New York. The yield on the 10-year Treasury note, which moves inversely to prices, rose to 2.83 percent from 2.78 percent late yesterday.
Jobless benefits applications were projected to fall to 435,000 from 439,000 initially reported for the prior week, according to the median forecast of 48 economists in a Bloomberg survey. Estimates ranged from 420,000 to 450,000. The Labor Department revised the prior week's figure up to 441,000.
Effect of Holidays
Claims typically increase during the period between the Veterans Day and Thanksgiving holidays, and the Labor Department's seasonal adjustment process takes that into account. During the latest week, fewer Americans than usual filed claims, a Labor Department spokesman said as the figures were released, allowing seasonally adjusted filings to decrease more than forecast.
Fed policy makers, who began a second round of large-scale asset purchases to lift economic growth and reduce unemployment, disagreed over expanding record monetary stimulus this month, according to minutes of their Nov. 2-3 policy meeting released yesterday.
They also projected a fourth-quarter 2011 unemployment rate of 8.9 percent to 9.1 percent, compared with 8.3 percent to 8.7 percent in their previous forecast, released in July. For 2012, the jobless rate will be 7.7 percent to 8.2 percent, up from prior projections of 7.1 percent to 7.5 percent. The rate was 9.6 percent in October, marking 18 months at 9.4 percent or higher.
Four-Week Average
The four-week moving average of jobless claims, a less volatile measure than the weekly figures, declined to 436,000 last week from 443,500, today's report showed.
The number of people continuing to receive jobless benefits dropped by 142,000 in the week ended Nov. 13 to 4.18 million. They were forecast to fall to 4.28 million.
The continuing claims figure does not include the number of Americans receiving extended benefits under federal programs.
Those who've used up their traditional benefits and are now collecting emergency and extended payments decreased by about 262,000 to 4.66 million in the week ended Nov. 6.
The unemployment rate among people eligible for benefits, which tends to track the jobless rate, fell to 3.3 percent in the week ended Nov. 13, the lowest since Dec. 6, 2008, from 3.4 percent in the prior week.
States, Territories
Forty-seven states and territories reported a decline in claims, while six reported an increase. These data are reported with a one-week lag.
Initial jobless claims reflect weekly firings and tend to fall as job growth -- measured by the monthly non-farm payrolls report -- accelerates. That relationship has broken down in recent months as some companies continue to cut staff, while others expand, pointing to an uneven recovery.
The economy grew more than previously calculated in the third quarter, led by stronger consumer spending and fueled by labor income gains that may stoke demand into 2011. The revised 2.5 percent increase in gross domestic product compares with a 2 percent estimate issued last month, data from the Commerce Department showed yesterday.
Companies cutting jobs include Bethesda, Maryland-based Lockheed Martin Corp. The world's largest defense contractor said on Nov. 18 that it will close a plane components plant in Eagan, Minnesota, by 2013 and move work from its Middle River, Maryland, site next year, resulting in at least 400 job cuts.
Government agencies are also paring workers. New York City, facing a $3.3 billion deficit in next year's budget, will cut its workforce by more than 10,000 over the next year-and-a-half, Mayor Michael Bloomberg's budget office reported last week.
Before it's here, it's on the Bloomberg Terminal.
LEARN MORE