Ireland to Cut Spending by 20% as Aid Talks Climax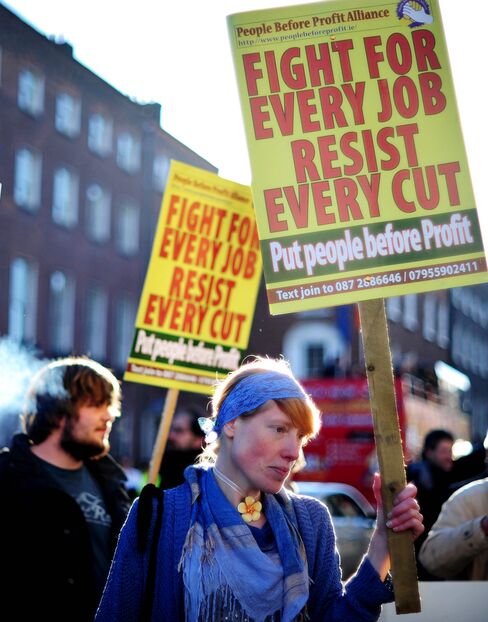 Ireland's government said it will cut spending by about 20 percent and raise taxes over the next four years as talks on a bailout of the country near conclusion.
Welfare cuts of 2.8 billion euros ($3.8 billion) and income tax increases of 1.9 billion euros are among the steps planned to narrow the budget deficit to 3 percent of gross domestic product by the end of 2014. The shortfall will be 12 percent of GDP this year, or 32 percent including a banking rescue.
Prime Minister Brian Cowen is racing to conclude talks with the European Union and the International Monetary Fund on an 85 billion-euro aid package as his governing coalition crumbles. EU Economic and Monetary Affairs Commissioner Olli Rehn said yesterday Ireland needs to pass next year's budget "sooner rather than later" as concerns mount the fiscal crisis may spread to other euro nations such as Portugal.
"We have to deliver on this stuff and at least set out some kind of road map that we intend to follow," said Alan McQuaid, chief economist at Bloxham Stockbrokers in Dublin. "It won't solve the euro zone problems" because "the market now is sniffing blood and it's looking for a big fight."
Bonds Fall
Irish bonds fell today after the country's credit rating was downgraded yesterday two levels by Standard & Poor's on estimates the cost of bailing out its banks will escalate.
The decline pushed the yield on the country's 10-year debt up 52 basis points to 9.17 percent. The premium investors charge to hold the debt over German bunds, Europe's benchmark, widened by 33 basis points to 619 basis points. The premium reached a record 652 basis points on Nov. 11.
The premium on Spanish 10-year bonds over bunds climbed to a euro-era record today. The dollar appreciated 0.3 percent to $1.3331 per euro at 2:09 p.m. in New York.
Ireland's reduced spending on welfare and higher personal tax are part of an overall plan to generate an additional 15 billion euros in the budget by 2014. The government said today it expects the economy to grow by an average 2.7 percent annually over the next four years.
S&P analyst Frank Gill said today that Ireland's rating could be cut again if the economy suffers a setback, the EU-IMF plan fails to stop outflows from banks, or if political consensus on the budget plan weakens.
"There's no question that economic projections for Ireland are highly uncertain at this point.," Gill said on a conference call. "It will depend on what happens to external demand."
Running Costs
While the biggest opposition parties have committed to the plan to reduce the deficit by that year to 3 percent of GDP, the threshold for euro members, they haven't yet published details on how they will achieve the target. Lawmakers are scheduled to vote on the 2011 budget on Dec. 7 in parliament.
The government plans to reduce national running costs by 7 billion euros and investment will drop by 3 billion euros. Pay for new entrants to the state workforce will be cut by 10 percent. The government also plans to whittle the minimum wage, currently 8.65 euros an hour, by 1 euro.
It will raise sales tax for consumers to 23 percent in 2014 from 21 percent and reduce tax breaks for pension payments. A property levy, called a site tax, will be introduced.
"Those who can pay the most will pay most, but no group can be sheltered," the government said in the report. "Postponing these measures will lead to great burdens in the future for those who can bear them."
Finance Minister Brian Lenihan will maintain Ireland's 12.5 percent corporate tax rate, criticized by some European governments such as Austria. Hewlett-Packard Co., the world's largest computer maker, said this week it may reconsider its investment in Ireland should the country raise its company tax rate as part of an aid accord.
The government wants to "put the economy on track to balanced growth," he said. "It's a rational and sensible plan. It will bring us out of this steep downturn."
Before it's here, it's on the Bloomberg Terminal.
LEARN MORE