Bernanke Reviews Fed Communications Amid Backlash on Purchases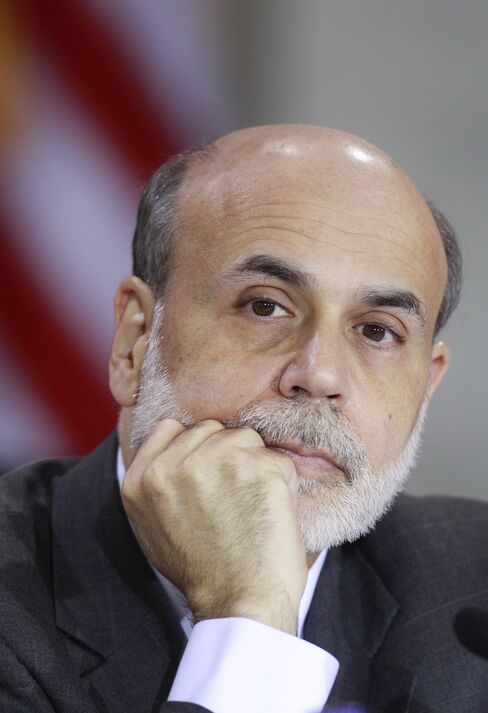 Federal Reserve officials are undertaking their broadest review of public communications in three years while confronting backlash from some politicians and foreign governments over a $600 billion monetary stimulus.
Central bankers are weighing whether Chairman Ben S. Bernanke should hold regular press conferences and where to draw the line between confidential policy discussions and officials' public comments, the Fed said yesterday in minutes of its Nov. 2-3 meeting and an Oct. 15 videoconference held by governors and regional presidents.
Holding press conferences and setting clearer limits on officials' remarks may let Bernanke better communicate his message on the benefits of a record Fed balance sheet, said Drew Matus, a former New York Fed staffer. Yields on 10-year Treasuries have risen since the decision, and the political assault on the Fed has prompted some economists to speculate that it may be reluctant to complete or expand the purchases.
"More communication is better from the chairman," said Matus, senior economist at UBS Securities LLC in Stamford, Connecticut. "Whenever the chairman steps back, the void is filled" by other officials who may confuse investors, Matus said. "If they do this right, there will be less of this confusion generated."
The minutes of the Federal Open Market Committee meeting showed that a minority of Fed governors and presidents were skeptical of the additional Treasury purchases, saying they may have a "limited" effect on the recovery, risk "unwanted" weakness in the dollar and risk a surge of inflation. Most policy makers favored the move, betting it would reduce interest rates and boost asset prices, aiding growth and employment.
Unemployment Forecasts
Fed officials also raised their unemployment projections for the next two years while lowering their 2011 growth outlooks. Some policy makers increased their long-run jobless- rate projection, signaling they see some further permanent effects from the recession on U.S. unemployment. The median range rose to 5 percent to 6 percent from 5 percent to 5.3 percent.
U.S. stocks remained lower after the report, with the Standard & Poor's 500 Index falling 1.4 percent to 1,180.73 at the 4 p.m. close of trading in New York after fighting broke out between North and South Korea and amid concern the European debt crisis would slow global growth. The yield on the benchmark 10-year note fell three basis points, or 0.03 percentage point, to 2.78 percent.
Inflation Target
The last broad review of communications in 2006-07 focused on how to give the public more information on policy objectives. Before that, Bernanke and some other officials advocated adopting a numerical inflation target, and others, including former Vice Chairman Donald Kohn, said they were more skeptical. Ultimately the Fed decided to double the frequency of published economic forecasts to four times a year and add a third year to its projections.
During the Oct. 15 videoconference, Fed officials discussed whether to adopt a numerical inflation or price-level objective and decided to retain the policy of giving policy makers' long-run inflation projections, yesterday's minutes said. Officials see price increases of 1.6 percent to 2 percent as consistent with their legislative mandate for stable prices, according to yesterday's report.
The issue may get more attention in the coming months. Last week, two Republicans, Tennessee Senator Bob Corker and Indiana Representative Mike Pence, held a joint press conference on their proposal to remove the Fed's full employment mandate and focus the central bank on stable prices alone. Corker plans to introduce legislation next year.
Press Briefings
Officials also discussed Oct. 15 whether it would be "useful" for Bernanke to "hold occasional press briefings to provide more detailed information" on the FOMC's outlook and decision-making than is included in the post-meeting statement.
Bernanke is the only head of a major central bank who doesn't give press conferences to explain actions and projections. European Central Bank President Jean-Claude Trichet and Bank of Japan Governor Masaaki Shirakawa each hold one after every policy meeting, while Bank of England Governor Mervyn King speaks once a quarter.
This year Bernanke has traveled around the country for several on-the-record, unscripted discussions with screened audiences, including students in Jacksonville, Florida, on Nov. 5. Still, having press conferences is "tricky" and may not necessarily work in Bernanke's favor, said John Silvia, chief economist at Wells Fargo Securities LLC in Charlotte, North Carolina.
Getting Message Across
"It may be more difficult to get the message across," said Silvia, a former congressional economist. "Ben Bernanke is not running for public office and may not be as attuned as a congressman dealing with questions from the media."
The FOMC triggered a stock selloff with its statement on Aug. 10, which investors took as a signal the economy will falter. Bernanke waited until Aug. 27 to clarify that signal, saying in a speech that the Fed "will do all that it can" to keep the recovery going and that the "preconditions" are in place for improved growth in 2011.
Since Aug. 27, inflation expectations and stock prices have risen.
The breakeven rate for 10-year Treasury Inflation Protected Securities, the yield difference between the inflation-linked debt and comparable maturity Treasuries, has risen to 2.1 percentage points from 1.63 percentage points on Aug. 27. The Standard & Poor's 500 Index has climbed 11 percent.
China, Germany
Bernanke's words have competed for news coverage with criticism by China and Germany, a letter from 23 people, including former Republican officials and economists, calling for a halt to the purchases. Another letter from four top Republican lawmakers expressed "deep concerns" over the plan.
In the days after this month's decision to buy more assets, Bernanke published an op-ed article explaining it in the Washington Post, discussed it in Jacksonville and defended it before an audience of current and former Fed officials at a conference in Jekyll Island, Georgia.
Policy makers offered a range of views on the asset purchases, dubbed QE2 for the second round of quantitative easing. Fed Governor Kevin Warsh said he was "less optimistic than some" about the program's benefits, and many other policy makers gave speeches or interviews.
"Now is the time to strike if the chairman wants to regain ground lost," said Diane Swonk, chief economist at Mesirow Financial Inc. in Chicago, which oversees about $44 billion.
'Frenzied Pitch'
"Bernanke has to figure out how to put the genie of communication back into a bottle," she said. "I doubt we would see as much backlash to QE2, as legitimate as some of it is, if the debate hadn't reached such a frenzied pitch from within the walls of the Federal Reserve to the public so quickly."
Bernanke will be in Columbus, Ohio, for a "Conversation on the Economy" with business leaders on Nov. 30, at the same time that a House Oversight subcommittee is holding a hearing on the Fed's stimulus and potential changes in the central bank's role.
"At the end of the day it gets to a very basic philosophical debate about Fed openness," said Stephen Stanley, a former Richmond Fed researcher who's chief economist at Pierpont Securities LLC in Stamford, Connecticut. "We're getting a sense of what it means to be a transparent Fed."
Before it's here, it's on the Bloomberg Terminal.
LEARN MORE