Rousseff Appoints Tombini as Brazil Central Bank Chief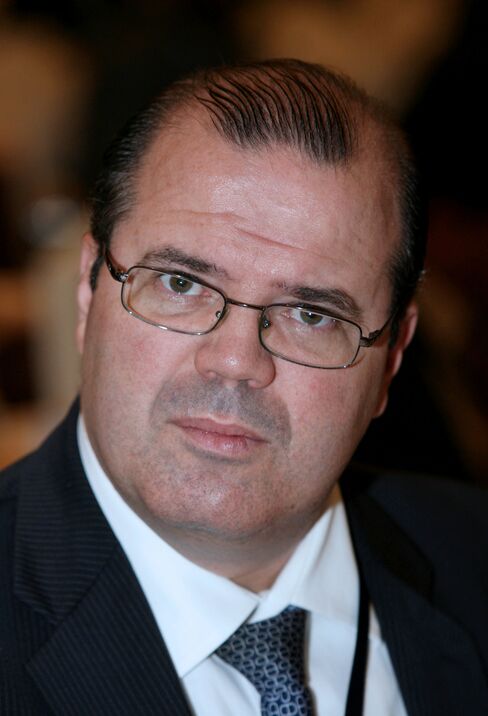 Brazilian President-elect Dilma Rousseff will cut spending, avoid new expenditures and maintain the central bank's operational autonomy to target an annual 4.5 percent inflation, Finance Minister Guido Mantega and newly appointed central bank President Alexandre Tombini said.
Rousseff named Tombini as central bank chief, Mantega as finance minister and Miriam Belchior as planning minister starting Jan. 1, when Rousseff takes over the presidency from Luiz Inacio Lula da Silva. Belchior said the government will also seek to improve the quality of government outlays.
"Now is the time to cut spending," Mantega told reporters in Brasilia, alongside Tombini and Belchior.
The 46-year-old Tombini, who has served as a board member since 2005, will replace Henrique Meirelles, 65, Brazil's longest-serving central bank chief. "Dilma told me that in the inflation-targeting system there is no half-autonomy, but only full operational autonomy," Tombini said.
Yields on Brazil's longer-term interest-rate futures headed to the biggest decline in four months after Mantega said he will seek to cut spending to allow inflation and borrowing costs to drop.
Yields Plunge
The yield on the contract due January 2017 plunged 21 basis points, or 0.21 percentage point, to 12.08 percent at 2:22 p.m. New York time. That would be the biggest drop on a closing basis since July 21.
The yield on the contract maturing in July 2011 jumped nine basis points to 11.39 percent on speculation Tombini will act early to contain consumer prices. The real strengthened 0.8 percent to 1.7215 per dollar, from 1.7357 yesterday.
By tapping Tombini, Rousseff is seeking to extend policies that helped Brazil win its first investment grade rating in 2008, said Tony Volpon, a Latin America strategist at Nomura Securities in New York.
"The fact that it is him instead of someone else ensures the central bank won't be taken by a new heterodox philosophy -- that there will be continuity," Volpon said in a phone interview.
Meirelles, appointed in 2003, will remain at the post until the end of Lula's administration on Dec. 31. "This is the right moment to end the mission," Meirelles told reporters in Brasilia today. "Mission accomplished."
Approval Needed
Tombini, who has a doctorate in economics from the University of Illinois, will need to be approved by the Senate.
Before joining the Brasilia-based central bank, Tombini was the senior adviser to Brazil's executive director at the International Monetary Fund. He's one of eight people who vote to set interest rates in Brazil. The individual votes aren't made public.
Rousseff appointed Belchior as planning minister, replacing Paulo Bernardo. The president-elect invited Bernardo to her cabinet in a position that will be determined later, he told reporters in Brasilia.
The extra yield investors demand to hold Brazilian debt rather than U.S. Treasuries has fallen to 189 basis points from 1,446 basis points on Dec. 31, 2002, the day before Lula took office, according to JPMorgan Chase & Co.'s EMBI+ index.
"Tombini is an excellent choice for the central bank, his nomination should be well received by the markets," Marcelo Carvalho, head of Latin American research at BNP Paribas in Sao Paulo said in an e-mail. "He is highly qualified, has a solid academic background, important international experience and a strong professional reputation."
Latin America's biggest economy will expand 7.6 percent this year, the fastest pace in more than two decades, according to the median forecast in a central bank survey of about 100 economists.
Futures Contracts
Yields on interest rate future contracts rose across the board on Monday amid speculation that Rousseff would replace Meirelles and end the bank's operational autonomy, potentially skewing policy in favor of economic growth at the expense of faster inflation.
"Tombini has a good education, he's a professional," said Pedro Tuesta, a Washington-based economist for Latin America at 4Cast Inc. "The problem is that this gives the impression that Dilma wants to have greater control of the central bank. I'm not saying that's the way it is. She gives us that impression, and the impression has a certain base."
Central bank policy makers are appointed and removed by the country's president and aren't limited by set terms. Lula appointed Meirelles to replace Arminio Fraga at the start of his term.
Benchmark Rate
Traders are wagering policy makers will be forced to resume interest rate increases early next year and push the benchmark interest rate to as high as 12.75 percent by the end of 2011, according to Bloomberg estimates based on interest rate futures.
"There's a wide gap between the market pricing in what is needed and what some policy makers are hoping to be able to accomplish," said Gray Newman, chief Latin America economist at Morgan Stanley in New York, who expects the bank to raise rates to 12.5 percent next year.
"There's a showdown coming," said Newman. "The market is expecting a pretty significant series of rate hikes and yet I think the new policy team is trying to adopt measures that will allow the central bank to cut rates."
Rising Inflation
Bond traders are betting Brazil will miss its inflation target for the first time since 2003 as commodity prices jump and concern builds that Rousseff will fail to curb spending.
Investor expectations for annual inflation over the next two years, implied by the yield difference between the government's inflation-linked and fixed-rate notes, rose to 6.68 percent as of yesterday, the highest since November 2008. That gap, known as the breakeven rate, tops the 6.5 percent upper limit in the bank's target range for consumer price increases.
By tapping a policy maker who has worked under Meirelles, a former head of global banking at FleetBoston Financial Corp. for more than five years, Rousseff may be seeking to ease investor concerns.
"The Brazil market has matured enough that the change in a member of the central bank doesn't imply great movements in the market as long as we know the philosophical position of the new central banker," said Alfredo Coutino, Latin America director for Moody's Analytics. "A person from the same board should bring relative calm to the markets."
Before it's here, it's on the Bloomberg Terminal.
LEARN MORE