Oracle Wins $1.3 Billion From SAP in Downloading Case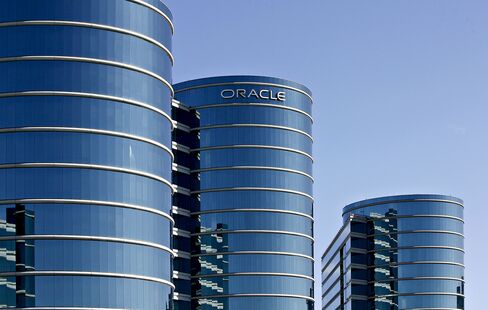 Oracle Corp. won a $1.3 billion jury verdict against rival SAP AG, the world's largest maker of business application software, for copyright infringement by a now-defunct software maintenance unit.
The jury yesterday awarded the damages after an 11-day trial in federal court in Oakland, California. Oracle sued SAP in 2007 claiming its U.S.-based unit made hundreds of thousands of illegal downloads and several thousand copies of Oracle's software to avoid paying licensing fees and steal customers.
SAP got a "toxic Christmas present from Oracle," Thomas Becker, a Commerzbank AG analyst, said today. "$1.3 billion is a bold number and the amount is higher than we expected."
The verdict, which came after one day of deliberations, is the biggest ever for copyright infringement and the largest U.S. jury award of 2010, according to Bloomberg data. The award is about equal to SAP's forecasted net income for the fourth quarter, excluding some costs, according to the average estimate of analysts surveyed by Bloomberg.
SAP spokesman Bill Wohl said the German software maker will pursue all available options, including post-trial motions and will appeal if necessary. "This will unfortunately be a prolonged process and we continue to hope that the matter can be resolved appropriately without more years of litigation."
SAP, based in Walldorf, Germany, has reserved $160 million for the litigation.
Lower Provisions
"The provisions which they made were much lower than the ruling," Theo Kitz, an analyst at Merck Finck in Munich, said today. "The judge may reduce the award and they can appeal, but I don't expect the reduction will be large."
Shares of SAP today dropped as much as 1.6 percent to 35.63 euros and were down 1 percent at 35.85 euros as of 12:18 p.m. in Frankfurt trading. Oracle yesterday gained as much as 1.9 percent to as high as $27.70 in extended U.S. trading after the verdict.
SAP spokesman Guenther Gaugler said via phone today that the jury award won't have an effect on its operating business and forecast. The company on Oct. 27 reiterated its full-year outlook of non-IFRS software and software-related service revenue growth of 9 percent to 11 percent at constant currency rates. It expects 2010 non-IFRS operating margins to be in the 30 percent to 31 percent range.
Oracle said in its lawsuit that the copyrighted software was used by SAP's U.S.-based TomorrowNow unit to offer technical support to customers of companies that were acquired by Oracle, to lure the customers to buy products from SAP, and to deprive Oracle of support revenue for future product development.
'Liability Shield'
TomorrowNow had a program to automate the downloading of the software from Oracle's customer-service websites, which at one point crashed Oracle's computer systems, according to the evidence at trial.
SAP's executive board knew that TomorrowNow might be accessing Oracle's software when it considered buying the unit, according to evidence at trial. SAP acquired TomorrowNow in 2005 and kept it incorporated as a separate entity as a "liability shield," Oracle attorneys said.
Jurors mulled a verdict that at first ranged from $519 million to $3 billion, said the jury foreman, who declined to give his name. The panel decided on an award that represented the fair market value of the license SAP should have negotiated with Oracle rather than trying to estimate Oracle's lost profits from infringement, he said.
'Fair Number'
The panel looked at "the scope, the duration and the timing" of TomorrowNow's conduct, the foreman said. The $1.3 billion, which was less than the $1.7 billion Oracle's expert had recommended, took into account all the elements of damages to Oracle that had occurred, he said.
"We thought that was a fair number," the foreman said.
The executive board's involvement in overseeing and approving the $10 million acquisition of the 30-employee subsidiary, which occurred just days before Christmas of 2004, showed how valuable TomorrowNow was to SAP, said one of the jurors, Joe Bangay.
"If you take something from someone and you use it, you have to pay," Bangay, 57, an auto body technician, said.
Geoffrey Howard, an attorney for Redwood City, California-based Oracle, said before the verdict that the breadth of the illegal downloading was "unprecedented" in the software industry.
'Guilt and Liability'
"For more than three years, SAP stole thousands of copies of Oracle software and then resold that software and related services to Oracle's own customers," Oracle President Safra Catz said in an e-mailed statement. "Right before the trial began, SAP admitted its guilt and liability; then the trial made it clear that SAP's most senior executives were aware of the illegal activity from the very beginning."
Oracle has used more than 65 acquisitions worth more than $42 billion since the beginning of 2005 to become the second-largest supplier of business applications after SAP.
Just before the trial began, Oracle Chief Executive Officer Larry Ellison said his company would show evidence that former SAP CEO Leo Apotheker, now CEO of Hewlett-Packard Co., another Oracle rival, had overseen the TomorrowNow's downloads. Oracle elected not to show Apotheker's videotaped testimony, and said it was unable to subpoena him to appear as a witness.
Mylene Mangalindan, an HP spokeswoman, said Nov. 19 that Oracle had 'been trying to harass'' Apotheker, who had a limited role in TomorrowNow. Oracle competes with HP in the market for computer servers.
'Grossly Exaggerated'
SAP didn't contest that it was liable for the infringement by TomorrowNow, which it closed in 2008. SAP lawyers told jurors that Oracle's damage estimate was grossly exaggerated and SAP owed about $40 million for infringement.
TomorrowNow garnered just 358 customers out of about 3,000 potential customers, and only 86 of them bought products from SAP and a small portion of those customers converted to SAP because of the infringement, company lawyers told the jury.
Damages should be based on the amount of profits Oracle lost and SAP gained from the customers who left Oracle due to the infringement, Bob Mittelstaedt, SAP's attorney, told the jury. He declined to comment after the verdict.
The verdict is the 23rd-biggest jury award of all time, according to Bloomberg data. The largest jury award in a copyright-infringement case previously was $136 million verdict by a Los Angeles jury in 2002 in a Recording Industry Association of America lawsuit against Media Group Inc. for copying and distributing 1,500 songs by artists including Elvis Presley, Madonna and James Brown, according to Bloomberg data.
The U.S. Justice Department and the Federal Bureau of Investigation are investigating "some facts and circumstances" involved in Oracle's lawsuit, according to an Aug. 5 court filing by SAP. Kyle Waldinger, an assistant U.S. attorney in San Francisco who attended the trial, declined to comment Nov. 1.
The case is Oracle Corp. v. SAP AG, 07-01658, U.S. District Court, Northern District of California (Oakland).
Before it's here, it's on the Bloomberg Terminal.
LEARN MORE