Stocks Drop, Dollar Gains on Korea Clash, Europe Debt Concerns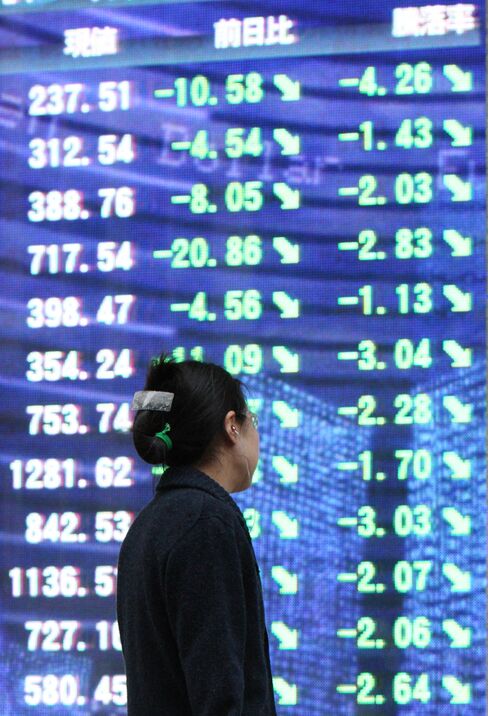 Stocks sank, dragging the MSCI Emerging Markets Index down the most in five months, while the dollar and the Swiss franc rallied as fighting broke out between North and South Korea and concern grew Europe's debt crisis will spread. Copper slid as China's banks approached lending limits.
The MSCI gauge of stocks in developing nations lost 2.6 percent and the Standard & Poor's 500 Index slid 1.4 percent at 4 p.m. in New York. The dollar and franc appreciated against most peers. South Korean won forwards slipped the most in six months. Ten-year Treasury yields decreased 4 basis points, while credit default swaps protecting European government debt rose to a record. Copper, lead and zinc slumped, while gold advanced.
U.S. equities followed European shares lower after South Korea returned fire following North Korea's shelling of Yeonpyeong island. China's biggest banks are close to reaching annual lending quotas and plan to stop expanding loan books, according to four people with knowledge of the matter. The Federal Reserve lowered its outlook for U.S. economic growth.
"We're in this very fragile growth state," said Matthew Kaufler, a Rochester, New York-based money manager at Federated Investors Inc., who helps oversee $341.3 billion. "When you have these other issues -- the sovereign-debt crisis in Europe, concern about Chinese growth, geopolitical unrest in North Korea and a massive insider trading scandal -- that's going to undercut confidence."
Two-Day Slump
The S&P 500 fell for a second day and extended its retreat from a two-year high on Nov. 5 to 3.7 percent. Microsoft Corp., JPMorgan Chase & Co. and Walt Disney Co. lost at least 2.3 percent to lead declines in 29 of 30 stocks in the Dow Jones Industrial Average today, sending the gauge down 142.21 points, or 1.3 percent, to 11,036.37. Hewlett-Packard Co. had the only advance, climbing 2.2 percent after its earnings and forecast topped analysts' estimates.
The U.S. economy grew at a 2.5 percent annual rate in the third quarter, more than the 2 percent previously calculated, as companies increased shipments abroad and Americans boosted spending. A separate report showed purchases of existing homes decreased 2.2 percent to a 4.43 million annual rate, the National Association of Realtors said. Economists projected sales would decline to a 4.48 million pace, according to the median forecast in a Bloomberg News survey.
'Fear Day'
"It's a fear day," said Don Wordell, a fund manager for Atlanta-based RidgeWorth Capital Management, which oversees about $62 billion. "You have Europe debt worries, tension in Korea, hedge-fund investigation, weak housing report. There's a tremendous amount of bad news to absorb. That's not going to encourage risk appetite."
Fed policy makers disagreed over expanding record monetary stimulus this month, with a majority seeing a boost to growth and employment and a minority concerned about risks to inflation and the dollar. Most officials at the Nov. 2-3 meeting saw additional securities purchases as keeping interest rates low and boosting asset prices, the Fed said in minutes of the session released today.
Fed officials raised their unemployment projections for the next two years while lowering their 2011 growth outlooks. For 2012, the jobless rate will be 7.7 percent to 8.2 percent, up from prior projections of 7.1 percent to 7.5 percent. The rate was 9.6 percent in October, marking 18 months at 9.4 percent or higher. Officials said the economy will expand by 3 percent to 3.6 percent next year and 3.6 percent to 4.5 percent in 2012.
Insider Trading Probe
Equities also slid the last two days as former traders of SAC Capital Advisors LP were implicated in a probe of insider trading. SAC received a U.S. request for documents, said a person familiar with the matter. The Federal Bureau of Investigation yesterday searched Level Global Investors LP and Diamondback Capital Management LLC, both founded by former SAC employees.
Wellington Management Co., the Boston-based money manager that oversees $598 billion, also got a request for documents, according to a person familiar with the firm.
The Hang Seng China Enterprises Index tumbled 2.9 percent. One-month won forwards dropped 3.9 percent after losing as much as 4.2 percent.
The Stoxx Europe 600 Index slid 1.5 percent and the Stoxx 50 tumbled 2.6 percent, the most since August. Banco Santander SA, Spain's largest lender, lost 4.7 percent. Bank of Ireland Plc tumbled 23 percent, extending yesterday's 19 percent slump. Barclays Plc slid 2.1 percent after the U.S. Securities and Exchange Commission said the U.K. lender got two transfers totaling about $1.3 billion from Lehman Brothers Holdings Inc. in September 2008 that may have violated securities laws.
Treasury Auction
Treasuries remained higher after the U.S. sold $35 billion of five-year securities, the second of three note auctions this week totaling $99 billion. The five-year yield slipped three basis points to 1.39 percent.
The extra yield investors demand to hold Spanish 10-year bonds instead of bunds, the region's benchmark government securities, climbed to a euro-era record of 236.1 basis points, surpassing the previous high of 232.6 basis points reached on June 17. Spain sold 3.26 billion euros of three- and six-month treasury bills today, less than the maximum target set for the auction, the Bank of Spain said.
Irish Bonds
The Irish-German 10-year yield gap widened 42 basis points to 586 basis points, or 5.86 percentage points, while the Greek-German spread increased 13 basis points to 928 basis points. The Markit iTraxx SovX Western Europe Index of credit-default swaps on 15 countries climbed 4.5 basis points to a record 181.5, while contracts insuring Spanish and Portuguese banks' riskier subordinated bonds jumped, according to CMA, a data provider.
Irish Prime Minister Brian Cowen said last night he would seek elections after his government's budget passes. Ireland decided to request emergency international aid on Nov. 21 to help shore up its banks.
Ireland risks a "major bank run" unless European officials act quickly to calm the financial turmoil in the nation, Pacific Investment Management Co. Co-Chief Investment Officer Mohamed A. El-Erian said today in an interview on "Bloomberg Surveillance" with Tom Keene. Deposits at Allied Irish Banks Plc have dropped by about 13 billion euros since the start of the year, or about 17 percent, the bank said last week.
"The numbers so far have shown that the Irish banking system has been bleeding deposits," El-Erian said in Bloomberg Radio interview on "Bloomberg Surveillance" with Tom Keene. "It will seriously undermine the prosperity of this country for a generation. The first thing they must do is execute on what they announced this weekend -- which is a big external aid package and steps by the Irish government."
Greece will need to make an "extra effort" to cut its deficit to receive more emergency aid, European Union and International Monetary Fund officials said.
Euro Slumps
The euro depreciated 1.9 percent to $1.3372, dropping below $1.34 for the first time since September, and declined 2.1 percent against the yen. The Dollar Index, which tracks the U.S. currency against those of six trading partners, rose 1.3 percent to 79.674 for a second straight advance.
Copper futures for March delivery dropped 1.4 percent to $3.711 a pound in New York, while oil slipped 0.6 percent to $81.25 a barrel in New York. The S&P GSCI Index of commodities pared its loss to 0.4 percent after tumbling as much as 1.5 percent. Gold for December delivery advanced 1.5 percent to $1,377.60 an ounce. Cotton fell to a one-month low, slumping the exchange limit 6 cents to $1.1179 a pound in New York.
China's regulators are monitoring banks' loan balances on a daily basis to ensure the official target of 7.5 trillion yuan ($1.1 trillion) in new lending for 2010 isn't exceeded, the people said. China's government in the past month stepped up a campaign to limit credit expansion after inflation quickened and property prices surged.