Irish EU-IMF Rescue Would Dwarf Greek Bailout on Bank Costs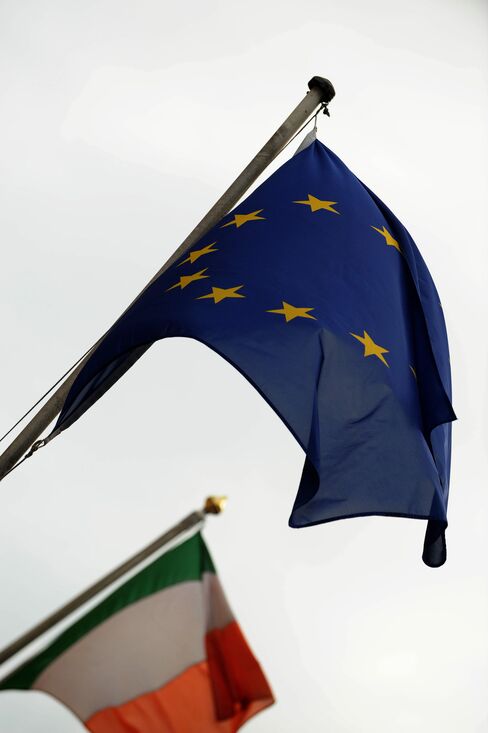 Ireland will seek emergency international aid totaling as much as 60 percent of the size of its economy, dwarfing the Greek bailout, to save its banks and bolster its finances.
Ireland will ask for about 95 billion euros ($130 billion) from the European Union and International Monetary Fund, Goldman Sachs Group Inc. estimates. UniCredit SA put the package at as much as 85 billion euros, while Deutsche Bank AG sees a 90 billion-euro plan. The 110 billion-euro aid for Greece in May was the equivalent of 47 percent of its gross domestic product.
The cost of bailing out Ireland will be inflated by the price of shoring up its banking system, which Goldman puts at almost a third of the total request. The bursting of the real- estate bubble in 2008 pushed its banks close to collapse and plunged the country into recession.
"Good news in the short run does not mean problem solved," Ken Wattret, chief euro-area economist at BNP Paribas in London, wrote in a note to investors today. "As we saw with Greece, securing financial support does not eradicate the underlying problem: the need for multi-year fiscal austerity to win back the markets confidence over the outlook for the public finances. That is going to be tough."
Peripheral Risk
Ireland moved toward accepting a bailout under pressure from EU and European Central Bank leaders to stem contagion across Europe's so-called peripheral markets. The extra yield investors demand to hold 10-year Irish debt over German bunds jumped to a record 652 basis points on Nov. 11. Portuguese and Italian spreads also rose to records this month.
Ireland will tap the 750 billion-euro European Financial Stability Facility set up in May as a financial lifeline for the rest of the euro region after Greece needed an emergency bailout of three-year loans from the EU and IMF.
The cost of a bailout on the Irish scale for Portugal, seen as the next weakest link among the EU's high-deficit countries, would cost 100 billion euros, based on a package of 60 percent of GDP. For Spain, whose banks have also come under strain from the collapse of its real-estate bubble, a bailout of 60 percent of GDP would cost 632 billion euros. For Italy, the region's second-most indebted nation after Greece, the figure would be 912 billion euros.
Before it's here, it's on the Bloomberg Terminal.
LEARN MORE