Lack of Hiring to Restrain U.S. Economy in 2011, Survey Shows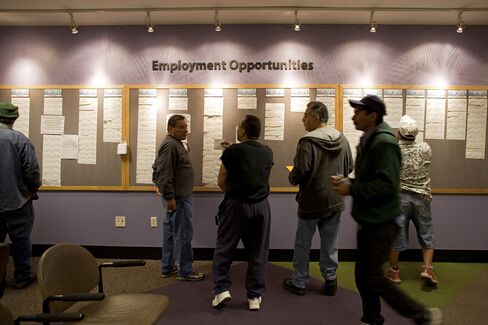 The economy in the U.S. will fail to strengthen in 2011 as companies limit hiring and consumers curb spending, a survey showed.
Gross domestic product will increase 2.6 percent next year after growing 2.7 percent in 2010, according to the median forecast of 51 economists surveyed by the National Association for Business Economics from Oct. 21 to Nov. 4.
"Growth is expected to be moderate," Richard Wobbekind, president of the group and associate dean of the Leeds School of Business at the University of Colorado-Boulder, said in a statement. "Panelists remain concerned about high levels of federal debt, a continuing high level of unemployment, increased business regulation and rising commodity prices."
A diminishing need to replenish inventories, the winding down of government stimulus and households' drive to pay off debt will restrain growth, the survey showed. The economists polled said the world's largest economy will add fewer jobs than they predicted last month.
Employment next year will climb by 136,000 a month on average, down from the 153,000 they projected in October, the survey showed. This month's canvass was completed before the Labor Department reported on Nov. 5 that employers added 151,000 workers to payrolls last month, beating the median estimate of economists surveyed by Bloomberg News.
The unemployment rate will be 9.4 percent or higher through the middle of 2011 before dropping to 9.2 percent by the end of next year, according to economists surveyed.
Consumer spending will expand 1.7 percent in 2010 and 2.4 percent in 2011, the survey showed. Median projections in October for this year and next were 1.5 percent and 2.3 percent, respectively.
Inflation Forecast
Respondents also said inflation in 2011 will remain below the Federal Reserve's estimates. Economists forecast the central bank's preferred inflation gauge, the personal consumption expenditures price index excluding food and energy, will rise 1.3 percent next year after a 1.1 percent gain in 2010. Fed policy makers have a long-run inflation forecast of 1.7 percent to 2 percent, the level they see as consistent with achieving legislative mandates for maximum employment and stable prices.
About one-third of those surveyed said a Fed decision to buy more Treasury securities could diminish the risk of deflation, and another third said the action could increase the risk of "undesirable" inflation. Policy makers on Nov. 3 announced a plan to buy another $600 billion in government debt through June.
The Fed's so-called quantitative easing program will not prevent borrowing costs from rising, the survey showed. The yield on the 10-year Treasury note will increase every quarter next year, finishing at 3.25 percent by the end of 2011. The yield at the end of the third quarter this year was 2.51 percent.
The biggest threat to the economy was "excessive federal debt," according to those surveyed, exceeding concern over unemployment and either inflation or deflation, the report said.
The U.S. deficit will narrow to $1.1 trillion in 2011 from $1.3 trillion this year, according to the median forecast.