Guggenheim Pays Former Director Triple Salary of Current Chief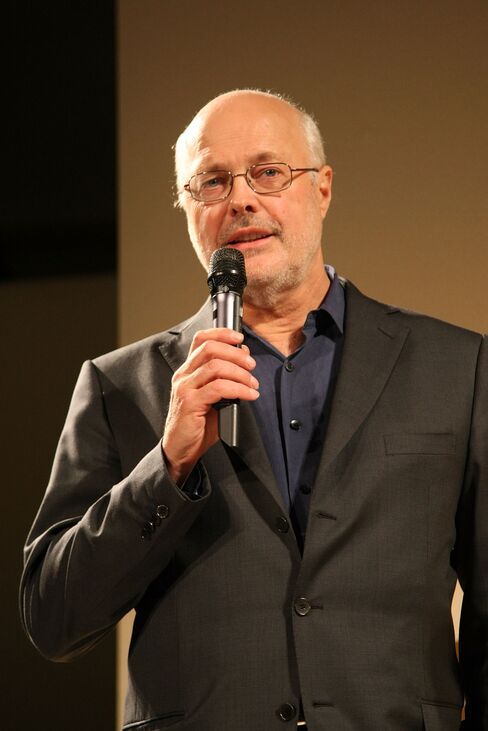 The Solomon R. Guggenheim Museum's Art Awards on Dec. 8 will dispense prizes for artist of the year and curator of the year but nothing for consulting gig of the year.
If it did, the Guggenheim Foundation's former director, Thomas Krens, would be a favorite to win.
On Friday, the foundation disclosed in its 2009 tax return that it paid Krens' company, Global Cultural Asset Management, $816,295 last year for overseeing plans to build a Guggenheim in Abu Dhabi. Krens also received a second and final $1 million installment of a $2 million bonus and severance awarded when he resigned as the Guggenheim Foundation director in 2008.
Richard Armstrong, current director of the Solomon R. Guggenheim Foundation and Museum, received $612,550 in his first full year in the post, according to the tax return.
Ken Berger, president of Charity Navigator, which evaluates non-profit organizations on efficiency and effectiveness, called Krens's payout the latest in a line of excessive packages in the arts. He said it raises questions about whether the federal government should deem the Guggenheim and other big-paying cultural institutions non-profit organizations.
"The idea that we're creating a class of millionaires at public charities defies common sense," he said. "This is the hot button issue today. How can this be a charity?"
Previously head of the Carnegie Museum of Art in Pittsburgh, Armstrong took over in November 2008.
In addition to running the Guggenheim Foundation's Frank Lloyd Wright-designed museum in Manhattan, he oversees Guggenheim museums in Venice, Berlin and Bilbao, Spain, as well as the developing Abu Dhabi site.
20 Years
Krens's severance bonus was "in recognition of 20 years of service and the successful completion of certain performance goals," the return said.
As for the consulting, "he was compensated as the senior adviser for international affairs, developing and overseeing all aspects of the Guggenheim Abu Dhabi," said Betsy Ennis, a Guggenheim spokeswoman.
In his 20-year tenure, Krens built overseas branches, including the Bilbao Guggenheim, and collaborated with Russia's State Hermitage Museum in Las Vegas. He also doubled the size of the Peggy Guggenheim museum in Venice.
Some critics complained that he diluted the organization with commercially driven exhibits and the international expansion. In 2005, the foundation's largest benefactor and chairman, Peter Lewis, chairman of auto insurer Progressive Corp., resigned from the board, reportedly because he disagreed with Krens's strategy.
Few Candidates
Melissa Berman, president of Rockefeller Philanthropy Advisors, said seven-figure pay is often justified at complex arts organizations because of a scarcity of executives qualified to run them.
"There aren't a lot of people who have the depth on the arts side and ability to manage and fundraise," she said.
Charity Navigator's Berger disagrees. "Because of the economy, we're seeing an influx of phenomenally competent people applying to leadership positions of non-profit organizations," he said.
Armstrong's pay is comparable to chiefs of some other, much smaller New York museums, based on their most recent tax returns. The Guggenheim's $61 million budget is five times that of the New Museum of Contemporary Art on the Bowery, yet his compensation is comparable to the $600,430 listed for Lisa Phillips, the New Museum's director. And Armstrong earned less than the $680,097 attributed to Adam Weinberg, director of the Whitney Museum of American Art. The Guggenheim's budget is nearly double that of the Whitney.
Job Cuts
In 2009, the Guggenheim Foundation's deficit narrowed to $12.3 million in 2009 from $14.6 million in 2008, as expenses declined more than revenue. Contributions and grants fell 22 percent to $20.3 million. In the first half of 2009, the Fifth Avenue museum cut about 25 jobs, or 8 percent of its positions, after the foundation's endowment shrank 18 percent in the nine months ended June 2009.
The Art Awards, a fundraiser for the Guggenheim and non-profit gallery White Columns, will be held at 8 p.m. on Dec. 8 at the nightclub Webster Hall.
Before it's here, it's on the Bloomberg Terminal.
LEARN MORE