Cape Wind Power-Contract Granted in Loss for Kennedys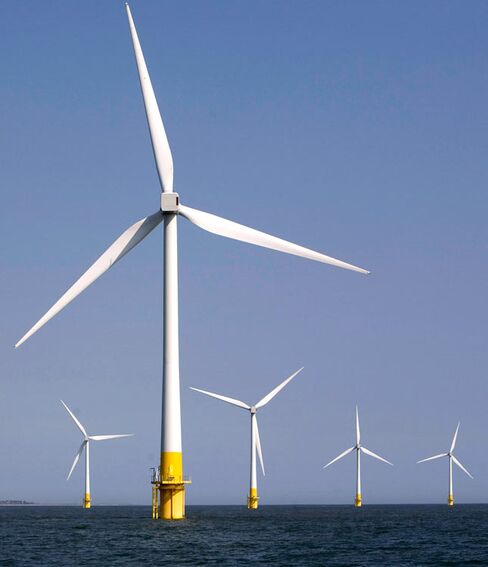 Cape Wind may become the first U.S. offshore wind farm after Massachusetts regulators approved a contract permitting it to sell electricity, overcoming critics including the Kennedy family and Wal-Mart Stores Inc.
The Massachusetts Department of Public Utilities posted the decision on its website today. The state's governor, Deval Patrick, supported the project as a way to reduce greenhouse gas emissions and increase renewable energy production.
The contract with utility National Grid Plc may pave the way for an additional 6,300 megawatts in various stages of development, said Charlie Hodges, an offshore wind analyst at Bloomberg New Energy Finance in London. The U.S. generates more power from wind than any country, all of which is based on land.
"This is a significant win for Cape Wind and may help build momentum for other offshore wind projects," Hodges said before the announcement.
Massachusetts agreed to let National Grid Plc, a London- based company that delivers power to about 3.3 million customers in the U.S. Northeast, buy half of Cape Wind's output for 18.7 cents per kilowatt-hour. That price will increase 3.5 percent annually for the 15 years of the contract.
Expensive Electricity
That rate is more than three times the average wholesale power price in the region of $55.02 a megawatt-hour, or 5.5 cents per kilowatt-hour, over the past year.
The developer, closely held Cape Wind Associates LLC, wants to install as many as 130 Siemens AG offshore turbines about 5 miles off mainland Cape Cod, in an area known as Horseshoe Shoal. The project would spread over 25 square miles and would generate as much as 468 megawatts of power.
At that size, the project would cost about $2.43 billion, excluding transmission lines that would be needed to deliver the electricity to Nantucket and Cape Cod, Hodges said.
The timing of the approval will also make it harder for Cape Wind to tap a federal treasury grant program for 30 percent of the systems cost, which may deter some investors, Hodges said. Power projects that want the grant must begin construction this year unless congress extends it.
"The difficult part is finding anyone to finance it," Hodges said.
Kennedy Opposition
The late Senator Edward Kennedy fought the project for almost a decade up to his death last year. Cape Wind backers have said he was concerned the turbines would spoil view from the family's seaside estate on Cape Cod. Environmentalist Robert F. Kennedy Jr. has called the project a "boondoggle" that will cost taxpayers billions of dollars and threaten the local fishing industry.
Wal-Mart objected to being charged transmission fees that the state says are needed to spread the costs of the project, even though the world's biggest retailer won't be buying any of Cape Wind's output. Wal-Mart has already invested in wind turbines and solar panels at its stores in Massachusetts, and buys additional power from other suppliers.
The Alliance to Protect Nantucket Sound in Hyannis, a group of homeowners whose ocean views would be affected, estimates Cape Wind amounts to a premium on electricity of more than $4 billion over 15 years, said President Audra Parker.
When completed, the wind farm may generate enough power for more than 200,000 average U.S. homes, the Interior Department said when it approved a lease for the Cape Wind site in April. It will also cut carbon-dioxide pollution from traditional coal-fired power plants by 700,000 tons a year, the equivalent of removing 175,000 cars from the road annually.