Westfield Raises $1.4 Billion in Stratford Stake Sale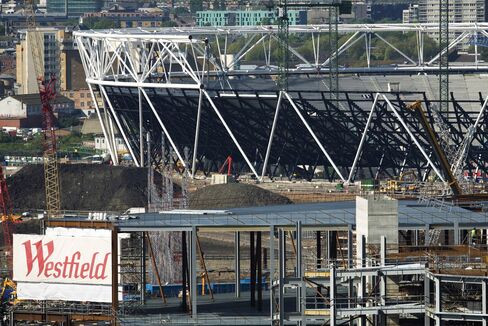 Westfield Group, the world's largest owner of shopping centers, will sell a 50 percent stake in Europe's biggest mall to Dutch and Canadian retirement funds for 871.5 million pounds ($1.4 billion).
APG Algemene Pensioen Groep NV, the manager of Europe's biggest retirement plan, and the Canada Pension Plan Investment Board will each buy 25 percent of Stratford City next to the 2012 Olympic site in east London, Westfield said in a regulatory filing today. Westfield shares gained the most in almost six months.
"The group will significantly improve its return on invested capital from the development and will remain a long-term investor, property manager and developer" of the center, Westfield Managing Director Steven Lowy said in the statement.
Westfield, whose existing assets include London's White City mall, said it will book a development profit of about 300 million pounds on Stratford City as a result of the deal. It expects to complete Stratford City, which has 1.9 million square feet (176,000 square meters) of retail and entertainment space, in the third quarter of 2011. About 75 percent of the space is already leased or committed, the company said.
The stock advanced 33 cents, or 2.8 percent, to A$12.15 in Sydney trading, paring this year's decline to 3.1 percent. It was the biggest gain since May 28.
Marks and Spencer
The mall will have more than 300 outlets, including stores operated by Marks & Spencer Group Plc, the U.K.'s largest clothing retailer; John Lewis Partnership Plc, owner of the eponymous department-store chain; and Waitrose Ltd., John Lewis's supermarket unit, the company said today.
Westfield is retaining ownership of the rest of the development, which includes 1.1 million square feet of office space, two hotels, apartments and parking for 5,000 cars. Four million people live within 45 minutes of Stratford City.
The investment in Stratford City is the third by the Canadian fund in U.K. commercial real estate in less than a year. In August, it bought a stake in an office in London's main financial district together with U.K. developer Hammerson Plc. The two also teamed up to buy Scotland's second-biggest mall in December.
Westfield's plan to spin off a trust owning stakes in its 54 Australian and New Zealand malls led Standard & Poor's to put the Sydney-based company's credit rating under review earlier this month. Westfield Retail Trust plans to raise A$3.5 billion ($3.46 billion). The company will seek backing for the new trust in a shareholder vote on Dec. 9.