China Stock Index Declines After Reserve Requirement Increase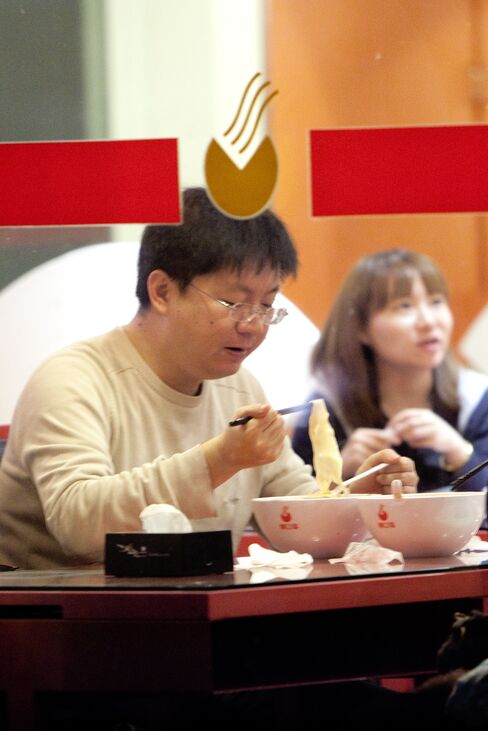 China's benchmark stock index fell for the first time in three days as banks declined after policy makers boosted the amount of money that lenders must set aside, overshadowing gains for consumer staple producers.
China Construction Bank Corp. dropped 2.3 percent after the central bank ordered a 50 basis point increase in reserve ratios. Poly Real Estate Group Co. lost 1.2 percent on concern mortgage lending will decline. Gansu Dunhuang Seed Co. paced an advance by agricultural companies after Goldman Sachs Group Inc. said grain prices will rise next year, while ZTE Corp. rose among telecommunication companies on speculation the government will provide support to the technology industry.
Investors "should use this opportunity to buy on dips for organic growth sectors, such as agriculture machinery, software and advanced manufacturing and even the consumer sectors, like food and beverage, department stores and supermarkets," said Steven Sun, head of China equity strategy at HSBC Holdings Plc, in an interview with Bloomberg Television today.
The Shanghai Composite Index, which tracks the bigger of China's stock exchanges, dropped 4.20, or 0.2 percent, to 2,884.37 at the 3 p.m. close, extending declines after its biggest two-week decline since May on speculation that monetary tightening will crimp economic growth. More than two stocks rose for each that fell today on the gauge, which swung between gains and losses more than 10 times. The CSI 300 Index slid 0.2 percent to 3,171.94.
Price Controls
The reserve ratio increase announced by the People's Bank of China on Nov. 19 to cool the fastest rise in consumer prices in two years was the second in two weeks. The move came after Premier Wen Jiabao held a Cabinet meeting earlier last week and called for a crackdown on speculation in agricultural goods, saying price controls may be needed on "daily necessities."
Regional authorities must report before Nov. 30 on their progress in stabilizing prices of essential services and goods including food, the State Council said in a Nov. 20 circular on its website. The notice also formally stated measures to ease inflationary pressures as formulated in the meeting chaired by Wen.
A gauge tracking financial companies slid 1.2 percent, the most among the CSI 300. Construction Bank, the country's second-largest lender, lost 2.3 percent to 4.67 yuan, the lowest close since Oct. 12. Agricultural Bank of China Ltd., the third biggest, retreated 1.1 percent to 2.65 yuan. Poly Real Estate, the second-largest developer, declined 1.2 percent to 12.25 yuan.
Stocks 'Cap'
"When a country is in an inflation-fighting mode, it's typically not good for equities," said Jim Oberweis, who oversees $10.3 billion as the president of Oberweis Asset Management Inc., in Lisle, Illinois, on Nov. 19. "The growth story is still positive, but I'm a little concerned that inflation will be a cap on the stocks."
The Shanghai Composite has lost 8.7 percent since reaching a seven-month high on Nov. 8 on speculation the government will raise interest rates and impose price controls.
Officials are seeking to rein in the money supply after the Federal Reserve expanded U.S. stimulus with a plan to buy $600 billion of Treasuries, spurring capital flows into Asia.
Inflows of money from the trade surplus, foreign direct investment, and investors betting on gains by the yuan threaten to propel consumer prices after unprecedented lending by banks flooded the economy with cash from late 2008. Consumer prices rose 4.4 percent in October from a year earlier.
"People had thought we were nearer the end of the China tightening cycle, and China is now giving a very clear indication that they're very intent on conquering inflation," Philippe Langham, who manages the $653 million RBC Emerging Market Fund in London, said in an interview on Nov. 19. "The tightening is being extended further than market participants had thought."
Interest Rates
HSBC Holdings Plc, BNP Paribas SA, Citigroup Inc., Credit Suisse Group AG, UBS AG and Australia & New Zealand Banking Group Ltd. are among lenders predicting that the central bank will add this year to the quarter-point increase that took the benchmark one-year lending rate to 5.56 percent and the one-year deposit rate to 2.5 percent.
The reserves ratio will probably be raised by a further 50 to 100 basis points before year-end, said Lu Zhengwei, a senior economist at Industrial Bank Co. in Shanghai. It's "very likely" the central bank will also increase interest rates as early as the first half of December, when November inflation figures are due, he said.
Consumer Staples
Gansu Dunhuang Seed climbed 1.3 percent to 31.94 yuan and Shandong Denghai Seeds Co. increased 0.6 percent to 66.30 yuan. Goldman Sachs initiated coverage of the two companies with "neutral" ratings.
China's grain prices will "rise steadily" at about 10 percent next year, benefiting the nation's seed and fertilizer companies, according to a Goldman report by Jessie Pinglun Lai and Chris Shiu.
Other producers of consumer staples also gained. Kweichow Moutai Co., the nation's biggest maker of baijiu liquor by market value, rose 1.9 percent to 178.51 yuan. Inner Mongolia Yili Industrial Group Co., the largest dairy producer by sales, soared 2.7 percent to 41.77 yuan.
Indexes tracking telecommunications and technology stocks rose at least 4 percent. ZTE, China's second-biggest phone-equipment maker, gained 5.9 percent to 28 yuan, the most since Oct. 8. Zhejiang Dali Technology Co., which develops infrared imaging technology, jumped by the 10 percent daily limit to 37.40 yuan.
The stocks are expected to benefit from the government's next five-year plan starting 2011, Citic Securities analysts led by Chen Hualiang wrote in a note today. The Shanghai Composite may fluctuate around the 2,800-point level in the "short term" because inflation may ease and the government will strike a balance between growth and tighter lending, they wrote.
Before it's here, it's on the Bloomberg Terminal.
LEARN MORE