Wells Fargo Pays Citigroup $100 Million Over Wachovia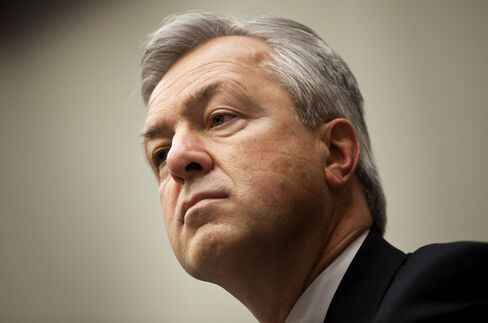 Wells Fargo & Co. agreed to pay $100 million for scuttling Citigroup Inc.'s takeover of Wachovia Corp. with a higher bid during the depths of the financial crisis.
The payment to New York-based Citigroup resolves "all claims related to this dispute," Citigroup and San Francisco- based Wells Fargo said today in a joint statement.
Citigroup was seeking as much as $80 billion in damages after alleging breach of contract in its 2008 deal to acquire Wachovia. Wells Fargo has reported more than $20 billion in profits since it bought the Charlotte, North Carolina-based company, while adding about $450 billion in deposits and Wachovia's branch network along the East Coast.
"You could look at it as being the equivalent of a breakup fee," said Bert Ely, a banking consultant based in Alexandria, Virginia. "That's not an unreasonable way to do it because in effect Citi didn't get the deal."
Wells Fargo paid $12.7 billion in 2008 for the entirety of Wachovia, trumping Citigroup's $2.16 billion bid for the lender's banking operations in a proposal that included backing from the Federal Deposit Insurance Corp. Wells Fargo's purchase, originally for $15.1 billion, required no FDIC guarantees.
Citigroup later needed a $45 billion government bailout and is still partly owned by taxpayers. Wells Fargo accepted $25 billion in U.S. rescue funds that it has since repaid.
'Unjust Enrichment'
Citigroup named Wachovia and Wells Fargo in a lawsuit alleging breach of exclusive contract and interference, according to company filings. In one complaint, the bank sought $20 billion in compensatory damages, $20 billion in "unjust enrichment damages" and $40 billion in punitive damages, according to the filings.
"We are glad to put this matter behind us, and we look forward to our two institutions working together constructively in the future," Wells Fargo said in the statement.
Wachovia Chief Executive Officer Robert Steel was told by the FDIC in September 2008 that his bank's situation posed a "systemic risk" to the financial system and that he should begin talks with Citigroup, Steel said earlier this year in testimony to a panel probing the bank's near collapse.
Citigroup and Wachovia signed a Sept. 29 agreement to join operations, which was trumped less than a week later by Wells Fargo's bid. Wells Fargo announced the purchase of Wachovia on Oct. 3, three days before Citigroup's agreement was set to expire, according to Wells Fargo's year-end 2008 filing. Citigroup filed suit the next day and dropped its bid on Oct. 9.
"The settlement amount is trivial, I think, a very modest, low amount relative to what Citi was claiming in damages," said Bill Bradway, the founder of banking consultants Bradway Research LLC. "$100 million in the big scheme of things for Wells is more or less a drop in the bucket."