Tsunami Survivor Petra Nemcova Aids Kids With Happy Hearts Gala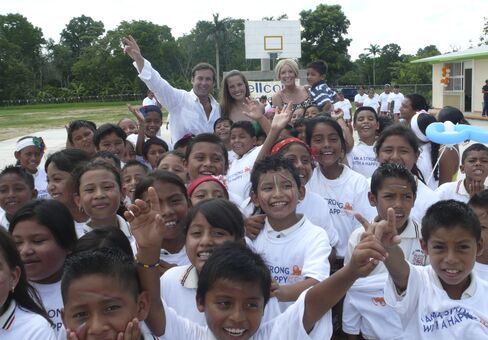 The 2004 tsunami that devastated countries around the Indian Ocean killed model Petra Nemcova's fiance and photographer, Simon Atlee, and left her immobile in a hospital with her pelvis broken in four places. She had a lot of time to think about the victims.
"When the tsunami happened, I wanted to help in any possible way," said Nemcova, 31, who had been swept from her hotel room in Phuket, Thailand, when the massive wave hit.
In 2006, she started Happy Hearts Fund, a nonprofit focused on rapidly rebuilding schools in disaster-stricken areas. The first project was rebuilding and expanding the Chao Thai Mai School in Thailand.
"If children aren't able to go school, that doesn't allow for healing and growth," said Nemcova, Happy Hearts' president and chairman in an interview. Children know education is "their ticket to a brighter future."
Happy Hearts has raised more than $10 million for school supplies and rebuilding programs in about a dozen countries including Peru, Sri Lanka and Haiti. Nemcova is using her star power to lure patrons to "A Magical Adventure," a Thai-themed and child-friendly fundraiser tonight to help her nonprofit expand its mission. Manhattan's Metropolitan Pavilion will be turned into a small theme park with an elephant environment (without the animals), floating river market, temple and music stage.
Damien Hirst's "St. Elmo's Fire," a multicolored skeleton sculpture, will be among the lots in a silent auction. Notable guests include the Edge (David Evans) of the rock band U2, actor and former fashion model Jason Lewis (HBO's "Sex in the City") and supermodels Veronica Varekova and Karolina Kurkova.
Kingdom Honored
The evening's honorees include the Kingdom of Thailand and lawyer Edith Lutnick, executive director of the Cantor Fitzgerald Relief Fund, which has aided those affected by 9/11 and Hurricane Katrina as well as other charities.
Grammy Award-winning producer and composer Quincy Jones will receive Happy Hearts' lifetime achievement award for his philanthropy. ING Latin America, which is partnering with Happy Hearts to build schools in Mexico, will also be honored. Singer and actor Jennifer Hudson and rapper John Forte will perform.
"Quincy has inspired so many individuals and so many decision makers to do great things for others on so many different levels," Nemcova said.
Born in the Czech Republic, Nemcova was spotted by a talent scout and began a modeling career that eventually landed her on the cover of Sports Illustrated's 2003 swimsuit issue.
After launching her charity, she hired Phillip Caputo, a corporate lawyer with nonprofit experience, in 2007 to serve as Happy Hearts' executive director. Caputo had set up the Hello Friend/Ennis William Cosby Foundation in 1997 in honor of the slain son of actor Bill Cosby and his wife, Camille. The foundation aids those with learning disabilities.
Russell Simmons
Happy Hearts now has 10 full-time staffers and part-time consultants and a $1.5 million budget. Its advisory board includes philanthropist Russell Simmons, chairman and chief executive officer of Rush Communications; Aronsson Group LLC founder Jeffry Aronsson; former Yale University President Benno C. Schmidt Jr.; and Simon de Pury, chairman of the auction house Phillips de Pury & Co.
"I just so wanted to stay in Thailand and rebuild," Nemcova said. "I had skills because my father was a builder, but I knew I could provide more help by coming back to New York."
Happy Hearts Fund's "A Magical Adventure" is tonight at the Metropolitan Pavilion, 125 W. 18th Street in Manhattan, from 6 p.m. to 10 p.m. Information: +1-203-216-3406 or http://www.happyheartsfund.org/donate.