Russian Massacre Sparks Corruption Probe After Decade of Terror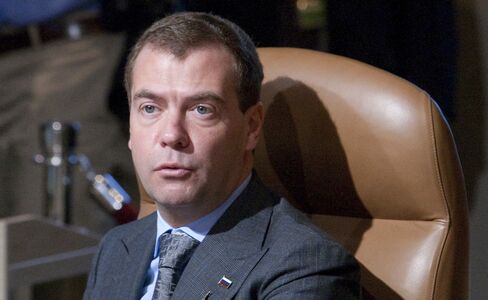 The Russian government plans to investigate a decade of unsolved crimes in two southern regions after the murders of 12 people focused attention on allegations that local officials aided a gang terrorizing the region.
Members of three families, including four children, were killed Nov. 5 at a cottage in the town of Kushchevskaya, police say. The suspects are allegedly members of a gang that has operated in the Krasnodar and Rostov regions since the 1990s, said Alexander Bastrykin, head of the Investigative Committee of the Prosecutor General's Office.
Teams of investigators have been sent to the region to uncover any links between the gangsters and local officials, said Vladimir Vasiliev, head of the Security Committee of the State Duma. President Dmitry Medvedev has made fighting corruption one of his main goals and plans to reorganize police nationwide after reports of illegal arrests and beatings.
"This case will make us assess the situation across the country; this is about the new police law," Vasiliev told reporters yesterday in Moscow after meeting with Bastrykin. "We need to go there and work with people so residents understand this gang doesn't represent the Krasnodar region or Russia."
Bastrykin said he will travel to Kushchevskaya personally to meet with residents and receive their complaints.
Federal investigators have arrested six people in connection with the Kushchevskaya case, including the alleged gang leader, Sergei Tsapok, a member of the municipal parliament for Kuschshevsky district Tsapok's elder brother, Nikolai, helped found the gang in the mid-1990s and was killed in 2002, according to the committee.
Authorities 'Compromised'
"We think these are not the final arrests," Bastrykin said. "There are two main motives that could be behind this crime. One is a robbery and the second is the revenge for the killing of the elder brother."
Investigators will review information about the gang previously published in the local media, Bastrykin said.
The newspaper Komsomolskaya Pravda published the results of its first investigation of violence in the region of 73,000 people four years ago, saying many complaints of rapes and other attacks weren't accepted by police. Komsomolskaya Pravda this week reported that members of the gang raped more than 220 girls over the past 16 years.
Residents were unwilling to provide police with information about the suspects in the Kushchevskaya killings because local officials are "compromised," Vasiliev said. As a result, the investigation is being conducted by teams assigned by federal authorities, he said.
Russia is the world's most corrupt major economy, according to Berlin-based Transparency International's 2010 Corruption Perceptions Index released Oct. 26. It ranked 154th among 178 countries, alongside Tajikistan and Kenya.
Criminal cases will be opened against local officials if evidence of their involvement is uncovered, Bastrykin said.
"We have a law that allows us to give life sentences to officials if they are cooperating with gangs," Vasiliev said.
Before it's here, it's on the Bloomberg Terminal.
LEARN MORE