Democrats Planning Test Votes on Bush-Era Tax Cuts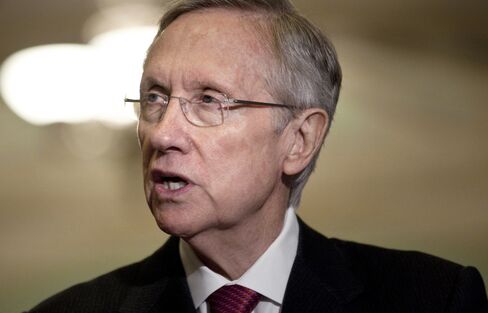 Democratic leaders in Congress said they would vote on extending some or all of the 2001 and 2003 income tax cuts with just weeks to go before their scheduled expiration, even as a deal remained elusive on an approach that Congress could pass.
House Speaker Nancy Pelosi, a California Democrat, said yesterday she plans to schedule a vote in early December on legislation that would retain lower tax rates and increased credits that apply only to the first $250,000 of a married couple's gross income or $200,000 of a single person's.
"That is the plan," she said.
House Republicans would do everything they can to block the Democratic bill, said John Boehner, the House minority leader who is expected to become the speaker in January.
In the Senate, Majority Leader Harry Reid said he wants to schedule votes on that measure and on a Republican proposal that would also extend tax cuts that benefit taxpayers with higher incomes. Democrats support the expiration of tax cuts that benefit couples who earn more than $250,000 a year and individuals with an annual income over $200,000; Republicans want a permanent extension of all the tax cuts, including those for the highest earners.
'Fixate' on Middle Class
"We have to make sure that we do everything in our power to fixate on these tax cuts for the middle class," Reid, of Nevada, said after Senate Democrats discussed the matter in private for several hours yesterday.
Reid didn't say when such votes might be held. The tax cuts expire Dec. 31.
Pelosi plans to take up President Barack Obama's plan to extend the cuts only for middle-income taxpayers when the House returns from its Thanksgiving recess. The president plans a Nov. 30 White House meeting with congressional leaders of both parties.
Because the Democrats' bill wouldn't extend all of the tax reductions, Republicans call it a tax increase and argue that it would hurt businesses whose owners report their profits on their individual tax returns.
'Job-Killing'
"We will oppose their job-killing tax hike and do everything we can to stop it," Boehner, of Ohio, said in a statement today. "Republicans made a pledge to America to permanently stop all of the tax hikes scheduled for Jan. 1, and that's what we're going to fight for."
Although Republicans are in the minority in the House, they would have the power to block a move by Democrats that would try to advance the bill under a procedure that requires a two-thirds majority. Democrats may use such a maneuver because it would prevent Republicans from offering an alternative proposal for a vote.
Unless Congress acts, marginal income tax rates will rise across the board, tax credits that benefit families will be slashed, and rates on capital gains and dividends will increase. In addition, a federal tax on estates worth more than $1 million will be resurrected after expiring for 2010.
Expiration of all of the tax cuts enacted in President George W. Bush's administration would add $2,600 annually to the tax burden of a median-income family earning about $70,000 a year, according to Clint Stretch, managing principal at the consulting firm Deloitte Tax LLP in Washington.
$5 Trillion Cost
Extending the tax cuts permanently would cost the government $5 trillion in revenue and interest on the debt over the next decade, the Congressional Research Service reported last month.
House Majority Whip James Clyburn said he strongly supports extending the tax cuts for most taxpayers, though he doesn't view action in December as essential.
"Some people would say that if it doesn't get solved, then you've got a big deficit reduction taking place, which is also a good thing," the South Carolina Democrat said in an interview on C-SPAN's "Newsmakers" scheduled to air on Nov 21. "So there is a bright side to this no matter what you do."
Failure to extend all the tax cuts would subtract 1 percentage point from growth in the gross domestic product, according to an estimate released yesterday by Barclays Capital, reducing projected growth in 2011 from 2.8 percent to 1.8 percent, with "sharply lower growth" in the first quarter.
The 2.8 percent growth estimate assumes the cuts for higher-income taxpayers would expire. If they are extended, the Barclay's estimate is for 3 percent GDP growth in 20l1.
Test for Parties
Votes in the Senate on the competing proposals would test whether either party has the 60 votes needed to overcome procedural hurdles. Neither plan is likely to garner that many votes and get through the Senate, based on comments from senators yesterday.
"That won't stop people from getting a tax hike," said Don Stewart, a spokesman for Senate Republican leader Mitch McConnell of Kentucky.
A rejection of both measures would give Senate leaders a clearer picture of where their members stand as they begin negotiations on compromise plans.
That's important because even failed votes can be a precursor to success, California Democrat Barbara Boxer said earlier this week.
"At some point, there's going to be that sensible center," she said.
Several Senate Democrats emerged from the meeting yesterday saying they hadn't reached a consensus on a strategy for extending any or all of the Bush-era tax cuts.
"It's probably going to remain fluid until 15 minutes before there is an agreement," said Senator Ron Wyden of Oregon.