Gasoline Refining Margins Double on Outages: Energy Markets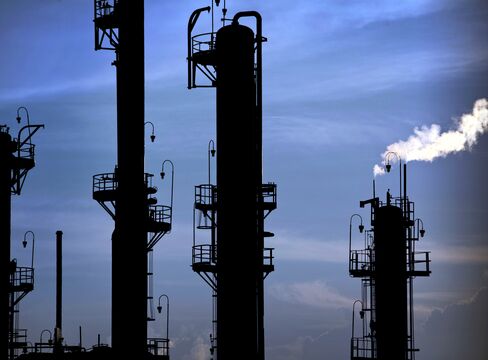 Refiners' profit from turning oil into gasoline more than doubled this month as plants along the U.S. East Coast shut for repairs and imports from Europe declined in the aftermath of a French strike.
The return from processing crude into motor fuel, the so-called crack spread, fell to $10.72 a barrel today on the New York Mercantile Exchange after Hess Corp. said it finished repairs at its New Jersey refinery.
The spread reached $11.74 yesterday, the biggest margin ever for this time of year, from $4.44 Nov. 8, according to data compiled by Bloomberg. East Coast refinery run rates fell to an all-time low in October and imports slid to the least in a year, the Energy Department said.
"We're seeing the effects of both scheduled and unscheduled refinery outages as well as lower imports," said Andy Lipow, president of Lipow Oil Associates LLC in Houston. "In addition, permanent closures of refineries are beginning to affect the balance of products in the Atlantic Basin. There is no place to make up the shortfall."
Gasoline for December delivery fell 3.23 cents to $2.196 a gallon today. The premium of the December over the January contract slipped to 6.89 cents after reaching 6.98 cents yesterday, the widest gap for the two contracts closest to expiration since August and the largest for this time of year since at least 1987, according to data compiled by Bloomberg.
European refinery throughput sank in October to 11.5 million barrels a day, a 19-year low, the International Energy Agency said Nov. 12. French labor unrest forced 12 plants to curtail output, boosting fuel prices across the continent and curbing exports just as the maintenance season at U.S. refiners began. ConocoPhillips, Irving Oil Corp., Sunoco Inc. and Hess refineries with a combined capacity of 973,800 barrels a day started repairs from September through early November.
Fuel Supplies Fall
U.S. gasoline inventories dropped in seven of the past eight weeks, to 207.7 million barrels as of Nov. 12. They are 3.5 percent above the five-year average, from a 15 percent surplus in September. On the East Coast, stockpiles fell 19 percent since September to 50.2 million barrels, a two-year low.
The shortage has boosted the New York Harbor spot market, with reformulated gasoline for prompt delivery more than quadrupling since Nov. 4 to 13 cents over futures yesterday, according to data compiled by Bloomberg, the highest level since September 2009. The premium fell to 11.5 cents today.
Imports declined to 562,000 barrels a day, the least since February 2004, according to the Energy Department. Shipments to the East Coast fell to 491,000 barrels a day.
Refinery Rates
Regional refineries processed 845,000 barrels a day of oil in the week ended Nov. 12, up from a record low of 766,000 barrels a day in the week ended Oct. 29, according to government data that started in 1992.
"In aggregate, we still have excess capacity, but regionally the East Coast has become tighter," said Antoine Halff, head of energy research at Newedge USA LLC in New York and former principal administrator at the IEA. "That means it's more vulnerable."
ConocoPhillips is starting a crude unit at its 250,000-barrel-a-day Bayway refinery in Linden, New Jersey, that was shut in September for work, two people with knowledge of the situation said Nov. 17.
Work at Irving Oil's 298,800-barrel-a-day Saint John refinery in New Brunswick is expected to be completed by the end of the week, Sam Robinson, a spokeswoman for the plant, said Nov. 15. Hess is preparing to restart its Port Reading, New Jersey, fluid catalytic cracker after repairs following a Nov. 10 power failure.
Sunoco Refinery
Sunoco shut an alkylation unit Nov. 10, according to Jeff Moran, a spokesman for Philadelphia's health department. A reformer and a hydrotreater were also shut for repairs until the first week of December, a person familiar with the plans said.
"The refinery outages in the Northeast have really reduced the selling compared with crude over the past few days," said Matt Smith, a commodities analyst for Summit Energy in Louisville, Kentucky.
Refinery closures in the East Coast and Europe have totaled about 1.2 million barrels in the past two years, leaving less spare capacity. Sunoco, Valero Energy Corp., Royal Dutch Shell Plc and Western Refining Inc. shut 541,000 barrels a day of refining in the East Coast and refiners idled about 660,000 barrels of capacity in Europe.
"Valero shut Delaware City, Sunoco shut Eagle Point, Shell shut Montreal East and so the refinery capacity around the periphery of the Northeast has been reduced over the last 12 months," said Tim Evans, an energy analyst at Citi Futures Perspective in New York.
Refiners with plants producing gasoline in the East Coast that may benefit from the higher margins include Citgo Petroleum Corp., ConocoPhillips and Sunoco.
Colonial Pipeline
The U.S. East Coast is more vulnerable to supply disruptions and now has a greater dependency on pipelines that link it with Gulf Coast production hubs, Halff said.
Colonial Pipeline Co., which operates the largest pipeline linking U.S. Gulf Coast refineries to East Coast markets, limited shipment on its main gasoline lines for the past eight shipping cycles because demand exceeds capacity.
"The vulnerability that has crept up in the system doesn't come from the aggregated amount of refineries that have been shut down or kept open," Halff said. "It comes from the redistribution geographically of capacity."
The spread may narrow as refineries return from maintenance and the rising premium in New York attracts European cargoes. At least 10 cargoes have been booked this month to carry fuel to the East Coast from Europe, as many as in all of October, according to data from Clarkson Research Services Ltd., a unit of the world's biggest shipbroker.
"We finish refinery maintenance, particularly at the ConocoPhillips Bayway refinery and Northeast supplies will pick up again," Evans said. "We finish restocking product inventories in France following their refinery strikes in October, and we might see more gasoline imports available."