Derivatives, `Volcker' Rules May Be House Republican Targets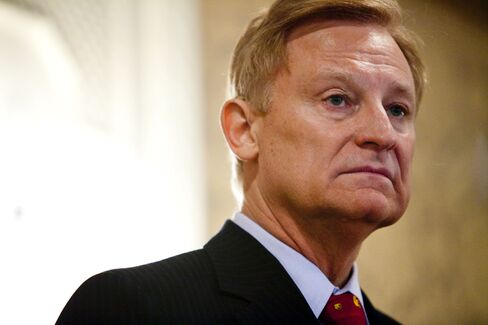 U.S. House Republicans, probably blocked by a Democratic Senate and White House from making major changes to the financial-regulation overhaul, are preparing procedural tactics to influence how the new law is applied.
The Dodd-Frank Act, enacted in July over near-unanimous Republican opposition, requires agencies including the Commodity Futures Trading Commission, Securities and Exchange Commission and Federal Deposit Insurance Corp. to craft hundreds of rules. Republican lawmakers and aides have been researching how they might use resolutions, budget measures and investigative hearings to ensure the final language meets their expectations.
One procedure being considered by House Republicans is a little-used "resolution of disapproval," through the 1996 Congressional Review Act, which can be deployed to target a specific regulation.
"We are committed to conducting aggressive oversight to bring the Administration's actions to light," said Alabama Representative Spencer Bachus, the Republican in line to be chairman of the House Financial Services Committee. "The Congressional Review Act should be a tool for Congress to use to demand greater efficiency and accountability throughout the federal bureaucracy."
Republicans, who will take power in the House in January, have already voiced concerns with the so-called Volcker rule to bar banks trading on their own accounts and new derivatives rules designed to push the $615 trillion over-the-counter market onto regulated clearinghouses and exchanges -- two issues that have garnered much attention from Goldman Sachs Group Inc., JPMorgan Chase & Co. and Bank of America Corp., according to meetings posted on the Web sites of the federal regulators.
Reminiscent of 1994
The shots across the regulatory bow are reminiscent of the period after the electoral shift in 1994, which gave Republicans a net gain of 54 seats to swing into power in the House. They promised to cut down on rules and regulations being implemented by President Bill Clinton's administration.
Bachus and Representative Darrell Issa, the California Republican in line to lead the House Oversight and Government Reform Committee, have said that they will lean heavily on investigations and hearings to rein in parts of the new law they deem too restrictive on the banking industry.
Republican control of the House Appropriations panel, which determines funding for agencies such as the CFTC and the SEC, has raised concerns among the Democrats who crafted the bill.
Barney Frank
"They have a right to try and do whatever they want to do, but what I worry about most is inadequate funding for the SEC and CFTC," said Representative Barney Frank, the Massachusetts Democrat who is the outgoing chairman of the Financial Services panel and co-author of the law.
Republican Leader John Boehner, the Ohio representative in line to become the House speaker, has said he wants to return all spending to where it stood in fiscal 2008 -- when agencies like the CFTC had some of the lowest staff levels in decades.
"If there is some kind of across-the-board budget cut, that's going to starve the agencies," said Jeffrey Lubbers, a professor of practice in administrative law at the American University's Washington College of Law. "Agencies have a lot more to do and a lot fewer people to do it right now."
While Republican lawmakers have been open about their intention to keep a close eye on agency budgets, they haven't spoken publicly about their power to include restrictions, or riders, in the spending bills that would bar regulators from writing specific rules.
Lawmakers' Influence
The restrictions couldn't be permanent, and wouldn't apply to rules that have been completed. Still, riders could increase lawmakers' influence on regulators in need of funding to manage their new responsibilities under the law.
The procedural pressure will be backed by an onslaught of letters and briefing requests from staff to the agencies, lawmakers said. Bachus, who will find out if he is the next chairman when the Republican Steering Committee meets in early December, sent two letters in as many weeks to agencies drafting rules, both of which warned of dangers in increasing regulation on the industry.
"We are concerned that the current regulatory climate is having the effect of discouraging access to the U.S. capital markets," Bachus wrote in a Nov. 12 letter with Representative Kevin McCarthy, a California Republican, to SEC Chairman Mary Schapiro.
Resolution of Disapproval
Another possible tool is the resolution of disapproval. If Republicans decided to try it, they would use the Congressional Review Act passed in 1996 by a Republican House and Senate. The measure created a mechanism by which Congress can review and disapprove "virtually all federal agency rules," according to a 2008 Congressional Research Service report on its use.
It is unlikely that such a resolution would clear the Democrat-run Senate or President Barack Obama's White House. Still, the pressure of forcing regulators to fight back has at times been enough to slow or reshape a particular rule.
The only resolution of disapproval to become law was signed by President George W. Bush. It targeted a proposal from the Occupational Safety and Health Administration to set ergonomics standards for businesses. Opposed by Republicans, the rules were delayed for years in the appropriations process before Bush approved the resolution nullifying them in 2002.
Even without the prospect of a presidential signature, lawmakers can have an impact on the rule-writing process, said Lubbers, the American University professor, who wrote a book on federal rulemaking.
"A threatened appropriations rider or a threatened resolution of disapproval might force the agencies to rethink what they are doing," said Lubbers. "Just the fact that it hasn't been used all that much, people notice it."
Before it's here, it's on the Bloomberg Terminal.
LEARN MORE