Qantas Says Half of A380 Fleet May Need Engine Fix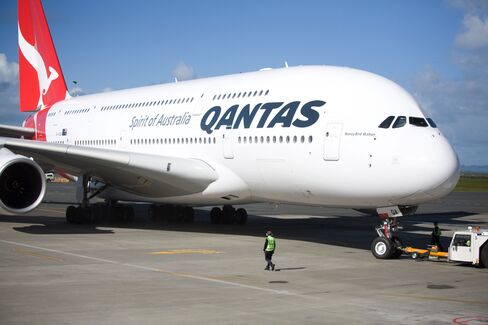 Qantas Airways Ltd. said half of the global fleet of A380 superjumbos using Rolls-Royce Group Plc turbines may need their engines fixed to replace a faulty part that caused a blowout on a Qantas jet earlier this month.
The engine maker may have to remove as many as 40 Trent 900 power plants from the aircraft to replace a part that led to the explosion on Nov. 4, Qantas Chief Executive Officer Alan Joyce told reporters in Sydney today. Each A380 is powered by four engines, and there are 21 in service with Rolls-Royce turbines. Joyce didn't specify the time frame of the required switches.
Qantas has grounded its entire fleet of six A380s since the incident, while Singapore Airlines Ltd. and Deutsche Lufthansa AG have switched some engines on their aircraft. Airbus said today that it will press Rolls-Royce for full financial compensation caused by the disruption, after the planemaker's CEO Tom Enders said last week deliveries may suffer next year.
"This is basically a recall," said Ronald Bishop, a senior lecturer in aviation at Central Queensland University in Australia. "It must be a big worry to them if they are taking so many engines off."
Falling Stock
Rolls-Royce, based in London, has said it will miss its profit target because of the incident. The stock fell as much as 6 pence or 1 percent, to 593.5 pence in London today, and has lost 3.6 percent since the Nov. 4 blowout. European Aeronautic, Defense & Space Co., the parent of Airbus, slipped as much as 11 cents, or 0.6 percent, to 17.21 euros in Paris trading.
Qantas itself has changed three turbines and grounded its A380s for about two weeks following the blowout. The carrier's preliminary assessment has led Qantas to believe that 14 engines may need to be replaced, according to Joyce.
Lufthansa said today that it will switch another engine, after already exchanging a power plant after the incident. The German carrier has four A380s and the youngest fleet among the three airlines using the Rolls-Royce engines. Singapore has 11.
While Lufthansa and Singapore Airlines have been flying their A380s normally, they have intensified the number of checks they perform on the jets. The European Aviation Safety Agency, on Nov. 10 issued a so-called airworthiness directive to A380 operators with Trent engines, requiring them to inspect each engine after 10 cycles, and later every 20 cycles.
No Faults Found
So far, the inspections have revealed no faults, Singapore Airlines spokesman Nicholas Ionides said. Roger Hunt, a spokesman for Rolls-Royce in Sydney, declined to comment.
One cycle is equal to a flight from one point to another, so a round trip from Frankfurt to Beijing would constitute two cycles. The Singapore and Lufthansa A380s complete about 1.5 cycles a day, or 10 a week, indicating inspections will occur twice a month. Any anomalies found in an engine, such as leaking oil, would require removal of the engine from service until the part could be swapped, according to the EASA directive.
Qantas, based in Sydney, may be able to get more Rolls-Royce engines from in-production A380s if needed, Joyce said. Airbus has said it work with Rolls-Royce in helping to provide engines on aircraft being prepared for delivery next year.
Delivery Target
Singapore Air, whose A380s can seat 471 passengers, continues to work with Rolls-Royce, and any replacements are to be confirmed by the engine-maker, Ionides said. The carrier has already replaced one single engine on three planes after discovering oil stains. Lufthansa said the remaining 15 engines on its A380 fleet already contain a newer generation of a component recommended by Rolls-Royce and can remain in service.
Airbus is slated to hand over more than 20 A380s next year, with most of them going to existing customers. Gulf carrier Emirates, the biggest customer for the A380, and Air France-KLM Group fly superjumbos fitted with engines made by a General Electric Co. and Pratt & Whitney joint venture.
Qantas is due to receive its seventh A380 before the end of the year, Chief Financial Officer Gareth Evans told a conference in Sydney today. The list price for the model is $327 million, although clients typically negotiate discounts and get incentives for early orders.
The Australian carrier has yet to say when its A380s will return to service and Kearns declined to comment on a report in the Australian Financial Review today that the grounding will last until at least early December.
Before it's here, it's on the Bloomberg Terminal.
LEARN MORE