Lufthansa Swaps Second Airbus Engine, Flies New A380 to Tokyo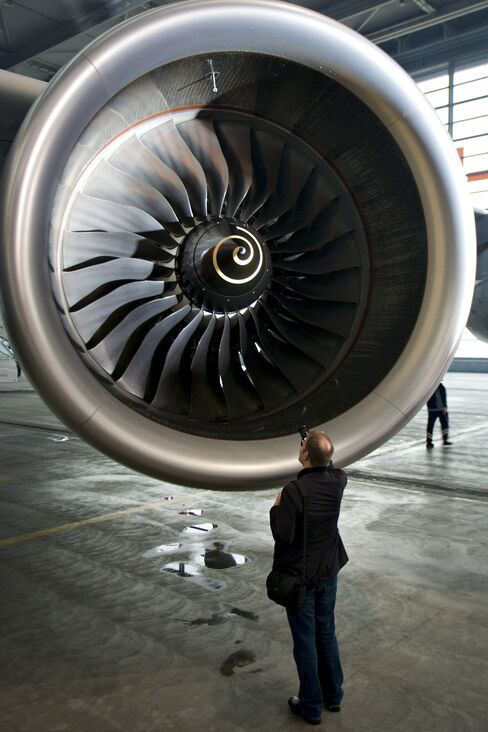 Deutsche Lufthansa AG, Europe's second-biggest airline, will replace a second Rolls-Royce Group Plc engine on one of its Airbus SAS A380 planes after identifying a component that may be linked to a turbine explosion on a Qantas Airways Ltd. plane this month.
Lufthansa concluded after discussions with Rolls-Royce that a Trent 900 engine on its first super-jumbo plane, delivered in May, contained an unspecified part of an older generation, spokesman Thomas Jachnow said in a telephone interview today. Rolls-Royce may send a new power plant as a replacement as Lufthansa has no suitable spare engines, he said.
The German carrier will today put a new A380 superjumbo it received this week into passenger service, the first since Qantas grounded its entire A380 fleet after an engine blowout resulted in an emergency landing on Nov. 4. Rolls-Royce may swap 40 Trent 900 engines, about half of all units in service, and replace them with turbines from jet assembly lines, Qantas Chief Executive Officer Alan Joyce said today.
"I have no doubt whatsoever that Rolls Royce will deal with this issue, and that the problem will be completely resolved within a few weeks or months," Air France-KLM Group CEO Pierre-Henri Gourgeon said last night.
Air France, Europe's biggest airline, has four A380s that are powered by engines from the Engine Alliance of General Electric Co. and United Technologies Corp.'s Pratt & Whitney.
Lufthansa will continue to perform checks at least every ten flight cycles as required by the European Aviation Safety Agency, Jachnow said.
'Younger Generation'
The Cologne, Germany-based carrier, which will fly its fourth A380 today to Tokyo from Frankfurt, is the only European airline to have A380s with Trent 900 engines that are in operation. The carrier replaced one turbine last week as a "precautionary measure."
The remaining 15 engines contain the module recommended by Rolls-Royce as they belong to a younger generation, Jachnow said today. Flight schedules are unchanged, he said.
Lufthansa rose 24.5 cents, or 1.5 percent, to 16.22 euros at 11:57 a.m. in Frankfurt. The stock has gained 38 percent this year, valuing the carrier at 7.4 billion euros ($10.1 billion). Rolls-Royce, based in Derby, England, added 0.2 percent to 600.5 pence in London.
Lufthansa, which is scheduled to receive four more A380s in the first half on 2011, said yesterday that there was no indication from Airbus that future deliveries might be affected.