JPMorgan Is Lehman's Next Deep-Pocket Target After Barclays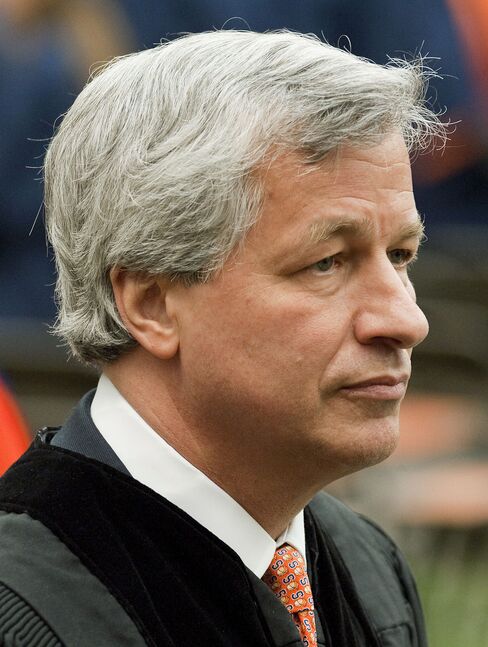 Lehman Brothers Holdings Inc., whose $11 billion suit against Barclays Plc is drawing to a close, is going after JPMorgan Chase & Co. as the next deep pocket to pay creditors in the biggest U.S. bankruptcy.
Lehman sued JPMorgan for $8.6 billion in collateral and tens of billions in damages, claiming the bank and Chairman James Dimon helped cause its collapse. The second-biggest U.S. bank twice asked a judge to dismiss the lawsuit. It said it was protected by a law governing the $467 trillion market for swaps and repurchase agreements when it lent Lehman's failing brokerage $100 billion a day during the 2008 financial crisis.
JPMorgan's defense hinges on so-called "safe harbor" laws, which allow clearing banks handling securities trades to take collateral from dealers without getting sued if a bankruptcy occurs later. Debtors can undo some transfers of assets done close to a bankruptcy filing. Banks invoke safe-harbor laws to oppose return of the money.
"Lehman has some viable claims here, so the real question is going to be the scope of the safe-harbor provisions," said Stephen Lubben, a bankruptcy professor at Seton Hall University School of Law in Newark, New Jersey.
JPMorgan, based in New York, has argued in court papers that safe-harbor laws "present an insurmountable legal obstacle to Lehman's lawsuit." Losing that argument may hurt confidence in the market for swaps, repos and securities contracts, lawyers said.
A victory for Lehman would help its creditors, who the company has said stand to get an average of 15.8 cents on the dollar without any contribution from JPMorgan, which last month reported third-quarter net income of $4.42 billion.
'Chain Reaction'
Without safe harbors, Lehman's bankruptcy might have brought down other firms in a "chain reaction" as banks stopped lending to them, JPMorgan told U.S. Bankruptcy Judge James M. Peck in Manhattan in an Oct. 19 request to have the case dismissed. Lehman hasn't filed a written response yet.
In Lehman's favor is an attitude among bankruptcy judges that "all creditors should be equal in bankruptcy, but the safe harbor says some have advantages," said Guy Dempsey, a lawyer in New York with Katten Muchin Rosenman LLP who specializes in derivatives and bank regulation.
Some judges think safe-harbor laws are clear, and they leave it alone, he said. "Others conclude the law is not clear so they need to interpret and modify it," he said.
Peck, who handles Lehman's bankruptcy, has at least twice ruled against Lehman creditors who asserted that their rights trump safe-harbor laws. Metavante Corp. and Swedbank AB appealed his rulings in a higher court. Metavante later decided to settle with Lehman; Swedbank's appeal is ongoing.
2011 Trial
JPMorgan spokesman Joseph Evangelisti declined to comment, as did Peck, through his assistant Lynda Calderon. Peck may rule on the Barclays case in January or February and hold hearings on the suit against JPMorgan next year, said lawyers in the two cases.
Dimon promised former Lehman Chairman Richard Fuld he would return collateral a day before Lehman's bankruptcy filing, and didn't do so, Lehman said in a September filing. Earlier, it accused JPMorgan of using its "life and death power" as clearing bank to the brokerage "to siphon billions of dollars in critically needed assets."
Lehman hasn't proved Dimon promised anything, JPMorgan said in a filing.
Swaps trades, protected by safe harbor, total $467 trillion globally, the International Swaps and Derivatives Association, or ISDA, estimates. The figure doesn't show how much money is at risk because many trades offset each other. Daily loans in the so-called tri-party repo market where JPMorgan lent money to Lehman were $2.8 trillion in 2008, according to the bank.
Split Argument
JPMorgan says all of its dealings with Lehman and its brokerage were governed by safe harbors. Peck might say the bank can't be sued for taking collateral from Lehman's brokerage to support its trades, and that it can be sued for taking assets from the Lehman holding company, Lubben said.
Arguably, taking collateral from the brokerage's parent wasn't directly related to repo trades, so it wasn't protected by safe harbor, he said.
Lehman, once the fourth-largest investment bank with assets of $639 billion, foundered on Sept. 15, 2008, because of risky real estate bets and too much debt, including repos that it tried to hide from investors, according to bankruptcy examiner Anton Valukas's report.
Lehman might have grounds to sue JPMorgan, he said. The suit is scheduled to be tried by Peck in 2012.
The bankruptcy case is In re Lehman Brothers Holdings Inc., 08-13555, U.S. Bankruptcy Court, Southern District of New York (Manhattan). The adversary case is Lehman Brothers Holdings Inc. v. JPMorgan Chase Bank NA, 10-03266, U.S. Bankruptcy Court, Southern District of New York (Manhattan).
Before it's here, it's on the Bloomberg Terminal.
LEARN MORE