Goldman Sachs Names Record List of Managing Directors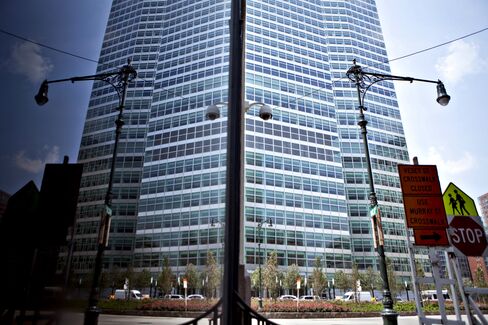 Goldman Sachs Group Inc., the most profitable securities firm in Wall Street history, promoted a record number of employees to managing director, boosting their pay and status as investment banks recover from the financial crisis.
The 321 appointments, up from 272 last year and 259 in 2008, were detailed in an internal memo obtained by Bloomberg News. The announcement came a day after the New York-based company selected 110 people to become partners, a designation that means they share in a special pool of compensation.
Goldman Sachs Chairman and Chief Executive Officer Lloyd Blankfein, 56, has presided over an expansion of the firm, with the total number of employees rising to 35,400 from about 24,000 when he took over in mid-2006. In promoting more employees this year, the company is rewarding people who stayed through the financial crisis, said Charles Peabody, an analyst at Portales Partners LLC.
"It's a function of trying to regain loyalty after turbulent times," said Peabody, who is based in New York and recommends investors buy Goldman Sachs stock.
Managing directors are one level below the highest rank of partner. While they typically receive higher pay than more junior employees, they don't share in the special bonus pool reserved for partners.
Most Women Ever
Yesterday's promotions include the largest group of women ever, making up 24 percent of the new class, said Lucas van Praag, a spokesman in New York. Women make up 19 percent of all managing directors, including the new class, he said. Van Praag said "over 10 percent" of this year's new partners are women and declined to give a more specific figure.
Goldman Sachs was sued in September by three former employees who alleged that they faced discrimination in pay and fewer opportunities for promotion than men. Goldman Sachs has said the suit is without merit.
While half of the new managing directors are based in the Americas, 28 percent are in Europe, the Middle East and Africa and 22 percent are in Asia, van Praag said. He said the figures represent a marginal increase in the number outside the Americas.
About 45 percent of the new partners are based in the Americas, with 29 percent in Europe, the Middle East and Africa and 26 percent in Asia.
"That, I think, is reflective of where their growth is going to be," Peabody said of the hires outside the Americas.
The following is a list of the new managing directors from the internal memo:
James B. Adams
Geoffrey P. Adamson
Yashar Aghababaie
Nicole Agnew
John F. Aiello
Ahmet Akarli
Ali A. Al-Ali
Jorge Alcover
Moazzam Ali
Paolo Aloe
Shawn M. Anderson
Gina M. Angelico
John J. Arege
Paula G. Arrojo
Richard J. Asbery
Scot M. Baldry
Gargi Banerjee
Amit Bansal
Thomas J. Barrett
Roger K. Bartlett
Renee Beaumont
Stephen E. Becker
Mick J. Beekhuizen
Stuart R. Bevan
Ron Bezoza
Nick Bhuta
Christopher Biasotti
David R. Binnion
James Black
Michael Bogdan
Charles P. Bouckaert
Marco Branca
Didier Breant
Kelly Reed Brennan
Craig T. Bricker
Nellie Bronner
Kimberley Burchett
Sara Burigo
James M. Busby
Elizabeth A. Byrnes
Alvaro Camara
Ramon Camina Mendizabal
Tavis C. Cannell
Michael J. Casabianca
Jacqueline M. Cassidy
Leor Ceder
Gaurang Chadha
Brian D. Chadwick
Eli W. Chamberlain
Gilbert Chan
Kevin M. Chan
Isaac J. Chang
Devin N. Chanmugam
Francis S. Chlapowski
Dongsuk Choi
Stephen L. Christian
Peter I. Chu
Vania Chu
Susan M. Ciccarone
Emmanuel D. Clair
Bracha Cohen
Darren W. Cohen
Antony Courtney
Christopher J. Creed
Timothy J. Crowhurst
Helen A. Crowley
Elie M. Cukierman
Matthew J. Curtis
Jason S. Cuttler
Sterling D. Daines
Kevin Daly
Rajashree Datta
Samantha Davidson
Adam E. Davis
Sally Pope Davis
Raymond E. de Castro
Gilles M. Dellaert
Wim Den Hartog
George J. Dennis
Sara V. Devereux
Diana R. Dieckman
Avi Dimor
Lisa A. Donnelly
Igor Donnio
Mark T. Drabkin
Tilo A. Dresig
Thomas K. Dunlap
Steven M. Durham
Michael S. DuVally
Masahiro Ehara
Grant M. Eldred
Manal I. Eldumiati
Charles W. Evans
Anne Fairchild
Craig R. Farber
John W. Fathers
Lev Finkelstein
Warren P. Finnerty
Elizabeth O. Fischer
John J. Flynn
Veronica Foo
Francesca Fornasari
Christian L. Fritsch
Andrew J. Fry
Charles M. Fuller
Ruth Gao
David M. Garofalo
Lisheng Geng*
Luke F. Gillam
Lisa M. Giuffra de Diaz
Matthew J. Glickman
Parameswaran Gopikrishnan
Luke G. Gordon
Pooja Grover (IBD)
Patricia R. Hall
Anna Hardwick
John L. Harrisingh
Peter M. Hartley
Taimur Hassan
Gerrit Heine
Caroline Heller
Richard I. Hempsell
Isabelle Hennebelle-Warner
Jeremy P. Herman
Matthias Hieber
Amanda Hindlian
Darren S. Hodges
Edward Y. Huang
Simon Hurst
Edward McKay Hyde
Nagisa Inoue
Marc Irizarry
Shintaro Isono
Benon Z. Janos
Ronald Jansen
Darren Jarvis
Mikhail Jirnov
Benjamin R. Johnson
Richard Jones (GIR)
Mariam Kamshad
Makiko Kawamura
Christina Kelerchian
Andre H. Kelleners
Sven H. Khatri
Sandip Khosla
David A. Killian
Melinda Kleehamer
Maxim B. Klimov
Adriano Koelle
Goohoon Kwon
Thymios Kyriakopoulos
Laurent-Olivier Labeis
David R. Land
Lambert M. Lau
Sandra G. Lawson
David H. Leach
Terence Leng
Deborah A. Lento
Gavin J. Leo-Rhynie
Leon Leung
Ke Li
Qunmei Li**
Xing Li*
Sabrina Y. Liak
Jason R. Lilien
Kirk L. Lindstrom
Amy M. Liu
Bernard C. Liu
Nelson Lo
Kyri Loupis
Yvonne Low
Joshua Lu
Yvonne Lung
John G. Macpherson
Premal Madhavji
Marcello Magaletti
Todd M. Malan
Uday Malhotra
Upacala Mapatuna
Kristerfor T. Mastronardi
Ikuo Matsuhashi
Francois Mauran
Brendan M. McCarthy
Patrick E. McCarthy
Michael J. McCreesh
Mathew R. McDermott
Charles M. McGarraugh
Sean B. Meeker
Christopher J. Millar
Vahagn Minasian
Matthew R. Mitchell
Ryan C. Mitchell (EQ)
Christine Miyagishima
Igor Modlin
Michael Moizant
Petra Monteiro
Heather L. Mulahasani
Eric Murciano
Colin D. Murphy
Paul M. Mutter
Balachandra L. Naidu
Arvind Narayanan
Mani Natarajan
Antti K. Niini
Tomoya Nishikawa
Daniel Nissenbaum
Kevin Ohn
Thomas A. Osmond
Diana Y. Pae
David C. Page
Elena Paitra
Chrisos Papavasiliou
James Park
Katherine J. Park
Kyung-Ah Park
Ian L. Parker
Karen M. Parry
Benjamin R. Payne
Thomas G. Pease
Andrew J. Pena
Stuart R. Pendell
Ricardo H. Penfold
Jerry Z. Peng
Andrew Philipp
Sasa Pilipovic
Giovanna Pomilio
Asahi M. Pompey
Ling C. Pong
Michael A. Pope
Raya Prabhu
Macario Prieto
Joshua Purvis
Xiao Qin
Philippe Quix
J Ram
Rajiv Ramachandran
Maximilliano Ramirez
Gary M. Rapp
Felicia J. Rector
Christopher C. Rollins
Colin J. Ryan
Maheshwar R. Saireddy
Ricardo F. Salgado
David Sancho
Ian P. Savage
Bennett J. Schachter
Bruce J. Schanzer
Martin L. Schmelkin
Laurie E. Schmidt
Alexander A. Schnieders
Joseph Schultz
Dirk Schumacher
Carsten Schwarting
Thomas Schweppe
Dmitri Sedov
Ram Seethepalli
Stacy D. Selig
Kunal Shah (FICC, EMEA)
Tejas A. Shah
Alasdair G. Share
Kevin C. Shea
William Q. Shelton
Jie Shen*
Jason E. Silvers
Ales Sladic
Howard D. Sloan
Michelle D. Smith
Stephanie P. Smith
Thomas J. Smith
Sangam Sogani
Robert A. Spencer
Thomas G. Stelmach
Thomas A. Stokes
Sinead M. Strain
Phillip B. Suh
Jamie Sutherland
Anton Sychev
Brian A. Tafaro
Hideaki Takada
Konnin Tam
Bong Loo Tan
Yasuko Taniguchi
Daniel W. Tapson
Richard M. Thomas (Finance)
Francis S. Todd
Christos Tomaras
Lale Topcuoglu
Thomas A. Tormey
Chi Keung Tse
Weidong Tu**
Reha Tutuncu
Mei Ling Tye
Allen Ukritnukun
Nicholas A. Valtz
Nicholas J. van den Arend
Emile F. Van Dijk
Dirk-Jan M. Vanderbroeck
Alexandra S. Vargas
Peter G. Vermette
Matthew P. Verrochi
Cynthia L. Walker
Sindy Wan
Freda Wang
Yi Wang**
Mitchell S. Weiss
Greg R. Wilson
Mark J. Wilson
Gudrun Wolff
Isaac W. Wong
David J. Woodhouse
Stuart J. Wrigley
Jerry Wu*
Jihong Xiang**
Ying Xu
Lan Xue
Yoshiyuki Yamamoto
C.T. Yip*
Eugene Yoon
Angel Young
Daniel M. Young
Raheel Zia

*Employee of Goldman Sachs Gao Hua Securities Company Limited
**Employee of Beijing Gao Hua Securities Limited