Irish Bonds Outperform German Bunds on Aid Talks, Stock Gains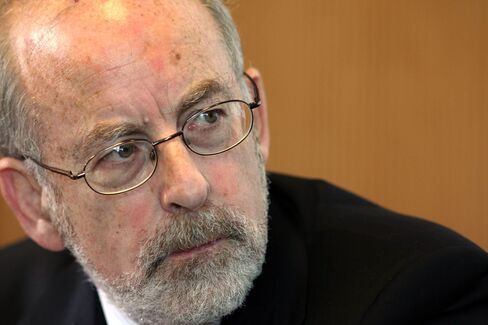 Irish bonds outperformed German debt as the government moved closer to asking for international aid, with central bank Governor Patrick Honohan saying the nation may seek a "large loan."
The extra yield, or spread, investors demand to hold 10-year bonds of Portugal and Greece instead of benchmark bunds also fell as stocks surged across the region, driving investors from the safest assets. Honohan said he expects Ireland to tap a loan worth "tens of billions." Greek bonds gained as the government said it plans to cut its budget gap by 5 billion euros ($6.8 billion) next year. The yield on the German 10-year security jumped to the highest since Aug. 2.
"There's a sense of inevitability about Irish aid," said Sean Maloney, an interest-rate analyst at Nomura International Plc in London. "It can alleviate one of the uncertainties that are out there and give these markets some temporary relief."
Irish 10-year yields dropped two basis points to 8.31 percent as of 4:25 p.m. in London. The spread over bunds, Europe's benchmark government securities, narrowed 13 basis points to 542 basis points, according to Bloomberg generic data. The bund yield advanced 10 basis points to 2.70 percent, after climbing to 2.71 percent.
Portuguese 10-year bonds yielded 405 basis points more than bunds, down from 411 basis points yesterday. Greek 10-year securities offered a yield premium of 886 basis points compared with German equivalents, down from 903 basis points yesterday.
Spanish securities fell as the nation sold 3.65 billion euros of 2020 and 2041 bonds. The yield on the 10-year security rose nine basis points to 4.73 percent.
Stocks Gain
The benchmark Stoxx Europe 600 Index advanced 1.4 percent, extending yesterday's 0.5 percent gain. The gauge plunged the most in four months Nov. 16 on concern that Ireland's debt woes may spread to other euro-area nation.
Honohan, speaking in an interview with Irish state broadcaster RTE, said he expects that "a loan will be made available and drawn down as necessary" by the Irish government, and that the interest rate may be around 5 percent.
"It is my expectation that will happen, absolutely," said Honohan. "It will be a large loan."
Greece's government plans to cut the budget shortfall by 5 billion euros next year by cutting state spending and increasing sales taxes to meet targets under a European Union-led rescue.
The deficit will decline to 7.4 percent of gross domestic product, or 17 billion euros, from 9.4 percent of GDP this year, according to an e-mailed statement from the Athens-based Finance Ministry today. That compares with a target of 7.6 percent under the May agreement with the EU and IMF to secure 110 billion euros in emergency loans.
Spanish Auction
Spanish 10-year yields climbed 15 basis points to 4.80 percent, the most since July 15. The nation sold 4.85 percent bonds due in October 2020 at an average yield of 4.615 percent, compared with 4.144 percent last time they were auctioned on Sept. 16. It sold 2041 debt at an average yield of 5.488 percent, compared with 5.077 percent at the September auction.
The 10-year auction attracted bids worth 1.84 times the amount sold, compared with a bid-to-cover ratio of 2.32 at the previous sale. The 30-year bonds attracted a bid-to-cover ratio of 2.05, versus 2.1.
"The auction was decent taking into account the highly risky environment for periphery," Chiara Cremonesi, a fixed-income strategist at UniCredit SpA in London, said in a note. "Supply pressure should weigh on Spain into year-end."
Fully Funded
France auctioned 2.5 billion euros of 3.75 percent notes maturing in 2013 at an average yield of 1.18 percent, compared with 2.03 percent at an Oct. 21 sale, according to Agence France Tresor. The securities attracted bids worth 2.24 those offered, versus 1.98. France also sold 2.5 billion euros of 3 percent 2014 notes at an average yield of 1.64 percent and a bid-to-cover ratio of 2.08, and 3 billion euros of 2 percent 2015 notes at an average yield of 2 percent and a bid-to-cover of 2.44.
France also sold inflation-linked bonds due in July 2022 and July 2040.
While Ireland is fully funded until the middle of next year, the yield on Irish 10-year bonds soared to a record 652 basis points above bunds on Nov. 11. Portugal's yield spread over Germany climbed to a record 484 basis points the same day.
Irish government bonds lost investors more than 12 percent this year, compared with an 8.8 percent decline for Portuguese bonds, according to indexes compiled by Bloomberg and the European Federation of Financial Analysts Societies. German securities returned 7.5 percent, France rose 7.1 percent and U.S. Treasuries earned 7.4 percent in the period, the indexes showed. Greek bonds lost 19 percent.
Before it's here, it's on the Bloomberg Terminal.
LEARN MORE