De Niro Starts $25,000 Artist Prize in Father's Name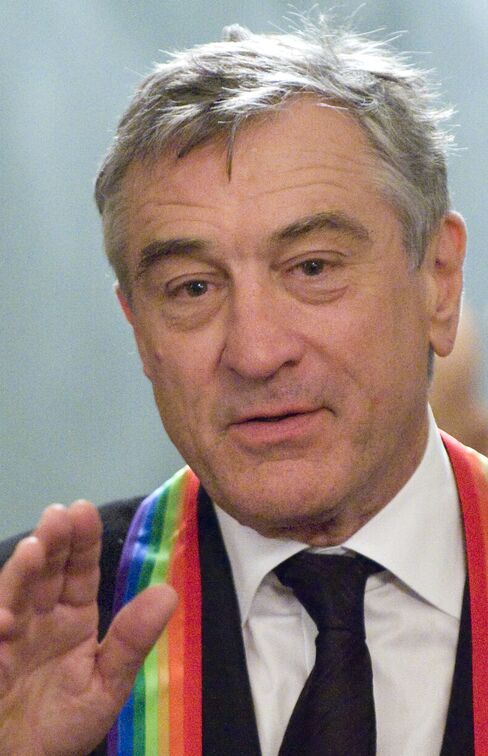 Nov. 18 (Bloomberg) -- Actor Robert De Niro has established a $25,000 annual prize for a U.S. painter in honor of his artist father.
Robert De Niro Sr. died in 1993 of prostate cancer on his 71st birthday. He exhibited paintings and drawings in galleries and museums. He also worked in a frame shop, taught and did commissioned portraits, among other jobs.
At a reception Wednesday evening at his father's last studio, in Soho, De Niro said that he aimed to aid artists and promote his father's art.
"This is my calling, if you will, to make sure my father's legacy is there forever," he said at the reception, which was catered by Nobu, the Japanese restaurant he co-owns.
De Niro has kept the studio -- where his father had a Maltese dog named Napoleon, two parrots and a white rabbit named Bunny -- intact. It is filled with De Niro Sr. paintings and drawings, as well as his bicycle.
"When my father passed away, I wanted to preserve this for my kids, to know what their grandfather did," De Niro said.
The first Robert De Niro Sr. Prize, for so-called mid-career artists, will be awarded next year. It will be administered by the Tribeca Film Institute, a nonprofit co-founded by De Niro.
The prize will recognize "an American artist whose work over a considerable period of time has made a significant contribution to the field of painting," according to a press release. A committee of "distinguished individuals in the art world," as yet unnamed, will select the winner from among three finalists, the release said.
After some two years of U.S. Bankruptcy Court proceedings, the actor recovered paintings by his father from Salander-O'Reilly Galleries. Proprietor Lawrence B. Salander pleaded guilty to fraud and grand larceny this year and was sentenced to six to 18 years. He's at Downstate Correctional Facility, in Fishkill, New York, according to the website of the New York State Department of Correctional Services.
DC Moore Gallery now represents the De Niro Sr. estate. "The way he abstracted figures and simplified them is really beautiful," the gallery's president, Bridget Moore, said in an interview.
To contact the reporter on this story: Philip Boroff in New York at pboroff@bloomberg.net.
To contact the editor responsible for this story: Manuela Hoelterhoff at mhoelterhoff@bloomberg.net.