Rapping Hamsters Help Kia Allay Quality Concerns as Sales Soar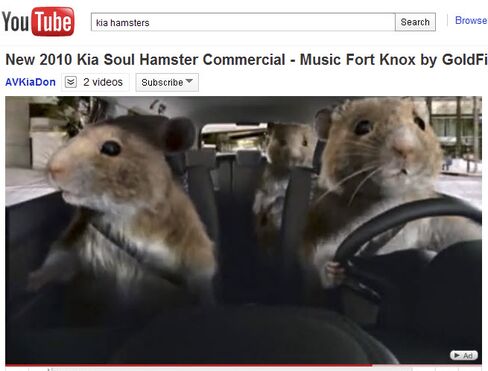 Nov. 18 (Bloomberg) -- Rapping hamsters and unemployment near a 26-year high are helping Kia Motors Corp. log record sales in the U.S. even as its cars plummet in quality surveys.
Kia's U.S. sales gained 15 percent this year through October, outpacing General Motors Co., Toyota Motor Corp. and Honda Motor Co. That rate would push Kia, whose lineup sells for about $8,000 less than the industry average, to its highest annual U.S. sales ever.
South Korea's second-largest carmaker is defying a drop in quality rankings by J.D. Power & Associates as 9.6 percent unemployment spurs demand for inexpensive cars. Commercials featuring rodents driving the boxy Soul and characters from the children's show Yo Gabba Gabba! have also raised the company's profile in the U.S.
"People are looking for value in this market, and they're looking at brands they might not have considered in the past," said Rebecca Lindland, an analyst with IHS Automotive, based in Boston. "The advertisements are so good and are helping to create a buzz for the models."
Kia's cars sell for an average of $21,598, compared with the industry average of $29,494, said Edmunds.com, an auto-industry data provider based in Santa Monica, California.
The company's stock has more than doubled so far this year, making it the best-performing member of the benchmark Kospi 50 index. The shares were unchanged at 50,000 won in Seoul yesterday.
Electrical Recall
Kia dropped 10 places to 25th in J.D. Power's initial quality survey of mass-market and luxury brands, and Consumer Reports magazine recommended only three of eight models. The company recalled about 104,000 vehicles worldwide this year because of an electrical wiring problem that can cause fires, prompting Jeong Sung Eun to resign as vice chairman in September.
Kevin Reglein, of Cedar Falls, Iowa, bought a 2011 Sportage LX because of a roomy rear seat and a design that "set it apart." After 200 miles, the SUV's engine light came on.
A dealership mechanic installed new wires, and three days later the vehicle was towed back, Reglein said. It stayed there nine days while parts were shipped from South Korea, he said.
Still, "Kia fixed the problem and so far I love the vehicle," Reglein said.
Customers also complained about wind noise and the interior design in Kia's Forte compact, said Raffi Festekjian, director of automotive product research for Westlake Village, California-based J.D. Power.
A separate survey on vehicle dependability, assessing the quality of models on the road for three years, rated Kia 20th.
Behind Hyundai
Those ratings lag behind affiliate Hyundai Motor Co., South Korea's largest automaker, which placed seventh in quality and 11th in dependability. The two companies share vehicle platforms, engines, parts suppliers and a chairman.
Consumer Reports, published by Yonkers, New York-based non-profit Consumers Union, recommends five of seven Hyundais.
"The image of Kia's old models with poor quality hasn't completely disappeared," Charles Bang, director of the division overseeing quality at Hyundai and Kia in Seoul, said in an e-mail.
"But it's not correct to say there's a huge quality gap between Hyundai's and Kia's cars because both carmakers now build their vehicles based on the same platforms, under the supervision of the same quality-management controlling center."
The automakers opened a new center in Namyang, 48 kilometers (30 miles) southwest of Seoul, this year to complement one in the capital. The companies said they plan to produce 40 models with six shared platforms by 2013, an increase from 32 models with 18 platforms last year, said Michael Choo, a Kia spokesman in Seoul.
Most October Sales
In 1999, a year after Hyundai bought a controlling stake in Kia, they shared 18 percent of 740 parts suppliers. By 2009, they shared 78 percent of 400.
"The new cars they're bringing out are much more competitive, but it takes time to change that perception," said Jeremy Anwyl, chief executive officer of Edmunds.com.
Kia's revamped U.S. lineup is led by the new Sorento and Sportage sport-utility vehicles, the Soul wagon, and the Forte and Optima cars. It sold 299,223 vehicles in the first 10 months, with its best October ever, it said Nov. 2.
GM's sales through October increased 6.6 percent, Honda's 4.3 percent and Toyota's 0.6 percent.
Kia's market share of 3.1 percent is up 0.1 percentage point from a year earlier, according to sales statistics compiled by Woodcliff Lake, New Jersey-based researcher Autodata Corp.
Kia may sell about 359,000 cars and light trucks in the market this year, based on its current sales rate. Its U.S. sales peaked at 305,473 units in 2007.
Yo Gabba Gabba!
In South Korea, Kia's market share through October this year is 33 percent, compared with 22 percent during the same period in 2007, according to Korea Automobile Manufacturers Association data. It has sold 395,247 vehicles this year.
"I am very much satisfied with Kia cars' performance and durability," Kim Kyong Ryol, 67, said after signing a contract this month in Seoul for a new Forte.
In the U.S., brand awareness is "probably the biggest issue" for Kia, Tom Loveless, vice president of U.S. sales, said in an interview last month.
The company expects the 2011 Optima sedan, sold in Korea as the K5 and due in the U.S. in December, and revamped Sportage and Sorento to enhance its image with younger buyers and families, Loveless said. The commercials are also part of that push, he said.
Michael Mincey of Orlando, Florida, said Soul's design, "peppy" driving feel and affordable price led him to buy his first Kia this year. The Soul's interior is comparable to his Jeep from Chrysler LLC, and its fuel economy is better, he said.
"A friend mentioned the Soul because he liked the commercials," Mincey said. "I took a look, went for a test drive, did my research and I was sold."
To contact the reporters on this story: Alan Ohnsman in Los Angeles at +1=323-782-4236 or aohnsman@bloomberg.net; Sookyung Seo in Seoul at sseo10@bloomberg.net
To contact the editor responsible for this story: Kae Inoue at kinoue@bloomberg.net