Friendly Publisher Seeks Classifieds as IPads Boost Growth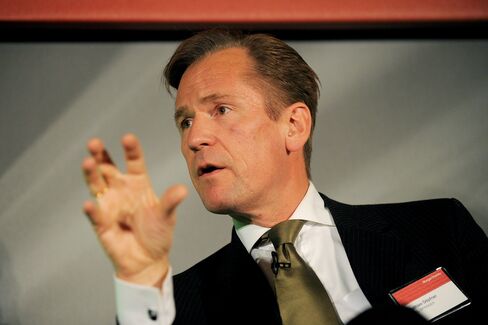 European publishers, rushing to develop ever glossier applications for Apple Inc.'s iPad, are turning to an old-fashioned prop for growth: the classified ad.
Hit by falling circulation as readers increasingly get their information from the Internet, publishers of newspapers and magazines are buying up online classified-ad sites, mostly for real estate, jobs and cars. The moves are aimed at regaining ground in an advertising market they once dominated and that has been taken over by websites where posts can be placed for free.
"The motivation to develop online classifieds is very strong," said Alex DeGroote, a media analyst at Panmure Gordon in London. "Traditionally, classifieds were what supported the journalism."
Germany's Axel Springer AG, whose publications include "Bild" and "Die Welt," and Norway's Schibsted ASA, which puts out "Aftenposten" and "Dagens Medisin," are among companies that have been on the prowl for such classified sites.
Schibsted in September bought control of French site leboncoin.fr, an online marketplace for cars, apartments and other sales, in a deal that valued it at about $540 million. Trinity Mirror in the U.K. last month took full control of Fish4, adding to its digital classified portfolio, which includes SmartNewHomes, SecsInTheCity and totallylegal.
Axel Springer offered $629 million for French property site SeLoger.com in September, or 25 times estimated 2011 earnings. Some shareholders, including Groupe Arnault, the investment company controlled by billionaire Bernard Arnault, have rejected the bid as too low. It is also investing in two sites in India.
'More to Win'
"We use the reach we have established with the brands in order to establish strong classified ad platforms," Axel Springer Chief Executive Officer Mathias Doepfner said at the Morgan Stanley Technology, Media & Telecommunications Conference in Barcelona yesterday. "Only six percent of traditional revenue came from classifieds. We have a lot more to win in the digital space than we have to lose in the print space."
U.S. newspapers' ad revenues plunged to $24.8 billion last year from $48.6 billion in 2000, according to the Newspaper Association of America. Classified ads have taken the worst hit of any ad category, declining 68 percent since Craigslist began rolling out its business nationwide in 2000.
While publishers want to buy classified-ad sites, they may be hamstrung by a tendency for sites to be "natural monopolies," with advertisers flocking to those with the greatest number of buyers and sellers, said Paul Richards, an analyst at Numis Securities in London.
High Prices
What that means is that there are very few coveted sites available for sale, and those that are command high prices, he said. Rightmove Plc, the operator of the U.K.'s largest residential property site, for example, currently trades at about 21 times estimated full-year earnings.
"There still are interesting assets," said Axel Springer's Doepfner. "On the Internet, the winner takes all, and in the classified business that really seems to be true. Perhaps the No. 2 can be profitable, but after that it really gets difficult."
The hunt for online ad revenue has also found publishers rapidly experimenting with new delivery models for news, from the iPhone and other smartphones to the iPad and other tablets.
Devices like the iPad are "a revolution for the press," Laurent Dassault, whose family holding company owns Paris's Le Figaro, said at the Forum d'Avignon media conference in France this month.
Paywalls
While the new devices may give publishers a small boost, they are far from a panacea, said Charlie Kim, the head of the Americas media practice at consulting firm Bain & Company.
"Newspapers are still feeling the crisis every day," he said. "The willingness to pay for certain types of content on the iPad or similar tablets is similar or slightly higher than the willingness to pay on normal computers."
Another effort to make money from following readers online has involved putting up paywalls.
Newspapers with paywalls, such as the Financial Times, say niche audiences that pay and can be targeted by advertisers are more valuable than visitors who don't subscribe and find articles from search engines such as Google Inc. News Corp. launched its first U.K. paid-for websites in early July.
"Subscription models are the most attractive for customers and companies and I think we'll be pursuing more of these things by and large," James Murdoch, News Corp.'s head of European and Asian operations, said yesterday at the conference in Barcelona.
'Serious Error'
News Corp. is also working on a project that will allow the company to bundle several digital journalistic subscription offerings on one platform to create a wholesale marketplac.
The Times and Sunday Times, owned by Rupert Murdoch's News Corp., said earlier this month that they attracted more than 105,000 paying online customers to the papers' websites and tablet computer applications.
Those developments are encouraging for advertisers, who will be better able to target marketing efforts, Maurice Levy, chief executive officer of France's largest advertising company, Publicis SA, said in an interview.
Sophisticated consumers "expect to be known and to be catered to," he said. "Newspapers made a very serious error by giving away content for free."
'Nature of Beast'
Newspaper groups' most recent earnings have reflected a rebound in advertising revenue as well as new sales of digital editions for tablet computers.
News Corp. earlier this month said first-quarter advertising revenue rose by an average of 13 percent at its global newspapers, helping push operating profit from publishing up 51 percent.
Berlin-based Axel Springer reported a 46 percent increase in earnings before interest, taxes, depreciation and amortization in the first nine months of the year.
Publishers must be "prepared to try things and move on to the next thing," said Douglas McCabe, an analyst at Enders in London. "That is the nature of the beast at the moment."
Before it's here, it's on the Bloomberg Terminal.
LEARN MORE