Paul Calello, Credit Suisse Investment Bank Chief, Dead at 49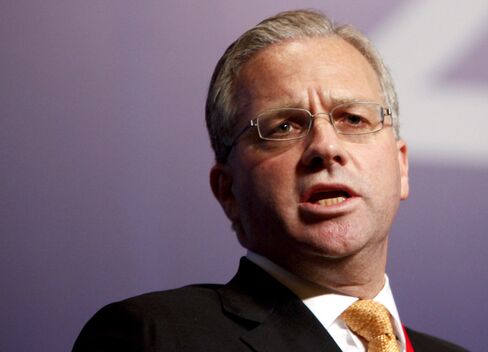 Paul Calello, who as head of Credit Suisse Group AG's investment bank managed the unit through the financial crisis and helped build the company's operations in Asia, has died. He was 49.
Calello died yesterday at his home in New York of non-Hodgkin's Lymphoma, the Zurich-based bank said in a statement. After he was diagnosed on September 2009, Calello stepped down as chief executive officer of the investment bank to undergo treatment. He relinquished his title almost 10 months later to acting CEO Eric Varvel and became chairman of the unit.
"Paul Calello was an outstanding leader, and a down-to-earth, very human colleague who forged strong relationships and made a positive difference in the world around him," Credit Suisse CEO Brady Dougan, 51, said in an e-mailed statement. "We will miss him greatly."
Calello and Dougan were part of the Bankers Trust Corp. team that left in 1990 to start Credit Suisse Financial Products, a derivatives subsidiary of the Swiss bank. Dougan and Calello ascended the ranks as derivatives -- contracts with values derived from assets or events -- became an increasingly important money-maker for Wall Street.
Calello "loved the people side of the business, which is a little bit unusual for a guy who grows up as a trader who knows the technical side and the math side as well," said Wilson Ervin, a senior adviser to Dougan, who said he first met Calello in the early 1990s. "He loved jumping into new things."
The son of social workers, Calello grew up in Boston and received a bachelor's degree in economics from Villanova University in 1983 and an MBA from Columbia University's Business School in New York in 1997. He later became a member of the board of overseers at Columbia Business School, which in October announced the establishment of the Paul Calello Professorship in Leadership and Ethics. The permanent chair was endowed by a group of Credit Suisse colleagues.
'Rare Guy'
"I knew him in Asia when times were really good and he was a terrific manager, but I also knew him in New York when times were bad," said Glenn Hubbard, dean of the business school. "It's a rare guy who's good in both good times and bad."
Calello stood out as a leader during the financial crisis by advising the Federal Reserve Bank of New York on policy matters and reforming Credit Suisse's compensation system, said Hubbard, who served as chairman of President George W. Bush's Council of Economic Advisors from 2001 to 2003. In a January article Calello co-wrote with Ervin for the Economist, they suggested creating a "bail-in process" that would require failing banks to rely on debt holders instead of taxpayers for new capital.
First Jobs
Calello started his career with research jobs at the Federal Reserve in Boston and Washington before joining Bankers Trust. He was on a short list of candidates to replace Timothy F. Geithner as president of the New York Fed in 2009, after Geithner was nominated to be Treasury secretary. William Dudley, who ran the New York Fed's financial-markets division, got the job.
Always interested in politics and policy, Calello would have liked to find a way to go into a government position, said Alex Gibney, his brother-in-law.
"He felt very strongly that he wanted to give back," said Gibney, a film director who is married to Calello's wife's sister. "He felt that in the public sector there were not enough people who had operated in the financial sector at the top of the game who were then going back in to try to help out."
20-Year Career
Calello held jobs in London, Hong Kong, New York and Tokyo. He served as global head of fixed-income derivatives and commodities from 1992 to 2000 and became a member of the bank's executive board in 1997. In 2002, Calello became chairman and CEO of Credit Suisse's investment bank in the Asia-Pacific region and in 2006 he gained responsibility for all the bank's activities in Asia.
"When we asked him to go out to Hong Kong he very quickly understood the opportunities in Asia and really embraced it and had a great attitude about it," said John Mack, who was head of Credit Suisse's investment bank at the time and is now chairman of New York-based Morgan Stanley. "He was a real leader."
While Calello was running the business in Asia, Credit Suisse won roles arranging the $22 billion initial public offering of Industrial & Commercial Bank of China Ltd., the $9.2 billion IPO of China Construction Bank Corp. and the $3.5 billion IPO of China Life Insurance Co.
Beijing Orphanage
Calello's wife, Jane DeBevoise, who he met when they were both working for Bankers Trust in Tokyo, was a Chinese art expert who spoke Mandarin, Gibney said. While in Tokyo in 1991, the couple adopted a daughter, Jin, from China. Less than a year later, on Jan. 14, 1992, Calello's wife gave birth to triplet sons, David, James and Peter, according to Gibney.
All the children speak Mandarin as well as English, and in recent years they've worked for an orphanage in Beijing.
"Both he and Jane were very serious about that, they wanted their kids to be really connected to the real world, do real service things," Ervin said.
When Dougan was promoted to Credit Suisse CEO in May 2007 from running the investment bank, Calello succeeded him and moved to New York from Hong Kong. As the financial crisis engulfed Wall Street, Calello and Dougan curbed risk-taking and helped Credit Suisse avoid government bailouts required by competitors like UBS AG and Citigroup Inc.
Attended Lehman Meeting
Calello, who attended the 1998 emergency meeting at the New York Fed that helped engineer a rescue of hedge fund Long-Term Capital Management LP, was again at the Fed a decade later for a weekend meeting that unsuccessfully tried to save Lehman Brothers Holdings Inc.
"Paul wasn't one of those statesmen who let other people get into the details, he's was a very high-energy, plugged-in guy," Ervin said. "Paul could have really done any job here at the bank that he wanted to do."
In December 2008, responding to criticism of bonuses following the financial crisis and bank bailouts, Calello used some of the illiquid loans and bonds weighing down the lender's balance sheet to pay bankers.
Instead of cash or stock, managing directors and directors received a stake in a pool of about $5 billion of leveraged loans and commercial mortgage-backed debt. The plan was described as "monstrously clever," by Dirk Hoffman-Becking, an analyst at Sanford C. Bernstein Ltd. in London. As of August 2009, the pool was said to have returned 17 percent.
Enjoyed Public Duties
An athlete who said he preferred running and cycling to watching sports like baseball, Calello lived in Brooklyn Heights and sometimes commuted to his downtown Manhattan office on a Vespa. He also said he relished the public duties of his job, such as hosting client lunches at the World Economic Forum in Davos, Switzerland, as well as speaking to the press.
"He wasn't a typical Wall Street banker, he had many, many facets," said Citigroup Inc. Vice Chairman Stephen Volk, a former colleague at Credit Suisse who said he and his wife often visited Calello when they were in Hong Kong. "He was more like they used to make them in the old days."
Calello was a member of the Foreign Policy Association board of directors, the board of the New York Philharmonic and the Council on Foreign Relations. He also served as a trustee to the Credit Suisse Foundation.
"We had a strategy session where we were talking about the long-term, 10-year strategy of the New York Philharmonic five weeks ago and it was all afternoon and he was there participating," said Lazard Ltd. Vice Chairman Gary Parr, who is chairman of the Philharmonic.
'I'm Lucky'
During a visit with Calello at the hospital, Gibney said his brother-in-law brushed off any sympathy.
"He kind of stopped me and said, 'Look I've got a great family. I've been places and seen things I never imagined I would when I was growing up. I'm lucky,'" Gibney said.
Gibney said Calello, whose guitar-playing repertoire included "No Woman, No Cry" by Bob Marley & The Wailers, spent his last weekend singing with his children and died at home with his wife.
In addition to his wife and four children, Calello is survived by his mother, Mary Cronin Calello, and his father, Albert Thomas Calello Jr.; three sisters, Cathy Staples, Ann Groccia and Kristan Bishop; his mother-in-law, Lillie DeBevoise, and 13 nieces and nephews.
*T *T
Before it's here, it's on the Bloomberg Terminal.
LEARN MORE