Fed Needs Inflation Focus Only, Some Republicans Say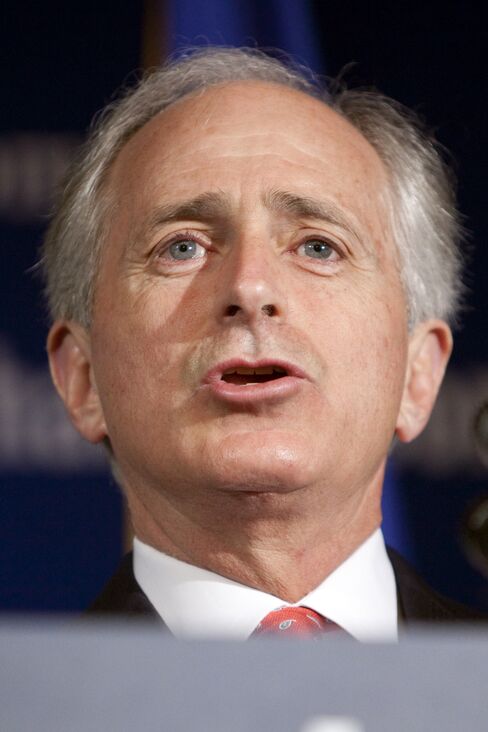 Republican lawmakers said they want to compel the Federal Reserve to focus solely on controlling inflation, potentially upending a congressional mandate that has shaped monetary policy for more than 30 years.
Representative Mike Pence, chairman of the House Republican Conference, said he introduced a bill today requiring the Fed to promote price stability while no longer seeking maximum employment. Senator Bob Corker, a member of the Senate Banking Committee, backed a single mandate for the Fed, saying its dual role is "confusing to the market." The proposal also has support from Representative Paul Ryan, a Wisconsin Republican, who will chair the House Budget Committee in the next Congress.
A 1977 amendment to the Federal Reserve Act requires the central bank to promote both stable prices and full employment. The Fed's Nov. 3 decision to buy $600 billion of Treasuries in a bid to reduce unemployment has drawn criticism from officials in China, Germany, and Brazil and U.S. economists such as John Taylor and Michael Boskin.
"I can never remember a time in my career when politicians are criticizing the Fed for being too easy," said Stephen Stanley, chief economist at Pierpont Securities LLC in Stamford, Connecticut. "The Fed has certainly spent down a lot of its credibility through the crisis by being very interventionist."
Fed spokeswoman Michelle Smith said the central bank "is not seeking a change to its statutory mandate," and "the dual mandate is appropriate."
Championed by Bernanke
Republicans are advocating a monetary strategy that was championed by Chairman Ben S. Bernanke before he joined the Fed. Bernanke, a former Princeton University professor, co-wrote a book on inflation targeting in 1999, where he said that when inflation is adopted as the primary goal, policy makers "are accepting the reality of what monetary policy can and cannot do."
The Fed chairman is still interested in making the central bank's inflation goal more explicit in a way that conforms with the full employment goal, which changes over time. Today, the public must dig into an appendix in Fed minutes released once a quarter to find that central bankers have a long-run goal for prices of 1.7 to 2 percent, and a full-employment estimate of 5 percent to 5.3 percent.
'Bipolar Mentality'
Corker said today that the Fed's dual role "can create sort of a bipolar mentality," and that his proposal would not prevent the Fed from addressing any threat of deflation or its program to buy Treasuries.
Congress should consider setting a target for inflation because the Fed's actions can cause "a lot of confusion for all concerned," Corker, who is from Tennessee, said in an interview today with Bloomberg Television. Corker said he met yesterday with Bernanke, who "is doing the best that he can."
"The onus for growing jobs in this country should not fall on the Fed," Pence, of Indiana, said during a press conference today. "It should fall on policy makers in this administration and in the coming Congress."
He wants the proposed legislation to be considered in Congress's current lame-duck session, said Matt Lloyd, the communications director for the Republican conference.
Pence joined critics yesterday after an open letter from former Republican government officials and economists asked Bernanke to halt the expansion of monetary stimulus. He said the Fed's second round of quantitative easing will monetize the U.S. government's debt and ignite inflation.
Fiscal Policy
By "restraining the Fed and giving clarity to its mission focused singularly on sound monetary policy, we can avoid future short-term fixes that have long-term inflationary consequences," the 51-year-old lawmaker said.
House Republican Leader John Boehner of Ohio, who will become speaker when the newly elected Congress convenes in January, declined to comment today when asked whether he would put Pence's legislation to a vote.
House Financial Services Committee Chairman Barney Frank said yesterday that "it would be a very dumb fight" for Republicans to press legislation to change the Fed's mandate.
"The notion that the Fed should be indifferent to unemployment is a terrible idea, damaging to the economy," the Democrat from Massachusetts told reporters.
Goes to Obama
Before any House-approved bill can become law, it has to be passed by the Senate and then go to President Barack Obama for his signature.
"We ought to be very careful before we do anything to politicize the Fed, and legislation is subject to that problem," said Michigan Senator Carl Levin, a Democrat who sits on the Small Business and Entrepreneurship Committee.
Democrats still control both houses during the lame-duck session that began yesterday. Republicans gained at least 60 House seats in the Nov. 2 election, enabling the party to seize a majority in the chamber in January. Republicans gained six seats in the Senate, trimming the Democrats' control to 53-47.
"I would not be surprised to see it pass the House," said Sarah Binder, a senior fellow at the Brookings Institution in Washington. "It is an easy way to show your anti-inflationary credentials, and you've got cover from some economists." Still, "it would die in the Senate," Binder said.