Paulson Trims Bank of America Stake, Sells Goldman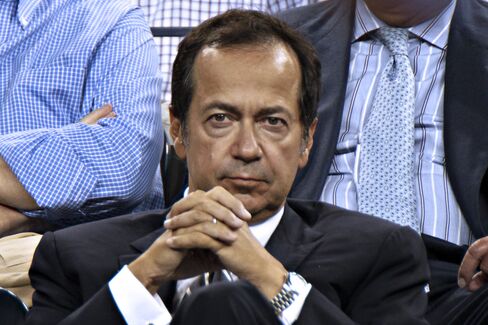 Paulson & Co., the hedge fund run by John Paulson, trimmed positions in Bank of America Corp., Wells Fargo & Co. and Citigroup Inc. in the third quarter and sold off Goldman Sachs Group Inc. as regulatory changes and disputes over faulty mortgages threatened to hurt bank profits.
Paulson, whose New York-based hedge fund has $33 billion in assets, sold 30 million Bank of America shares in the quarter, or about 18 percent of his stake, according to a regulatory filing yesterday. The billionaire's position in the Charlotte, North Carolina-based bank was valued at $1.8 billion as of Sept. 30. Bank of America shares fell 8.8 percent in the quarter.
Revenue at U.S. banks shrank in the third quarter, led by Goldman Sachs and Citigroup, as tighter capital rules and restrictions on bank trading are squeezing lenders. Banks also may be forced to repurchase as much as $179.2 billion in mortgages that were packed into securities, according to Christopher Gamaitoni, vice president of research at Compass Point Research & Trading LLC in Washington.
"For the hedge funds, I think a lot of the easy money had been made in bank shares," said Doug Ciocca, managing director at Renaissance Financial Corp. in Leawood, Kansas, which oversees $2 billion in assets. "From here it will be harder to swallow a process of financial reform and that will impact profits, especially when the banks are struggling with their identity."
Citigroup, Wells Fargo
Paulson's fund also cut its Citigroup stake by 16 percent, yesterday's filing with the U.S. Securities and Exchange Commission showed. The firm still owned $1.7 billion in shares of the New York-based bank.
Paulson trimmed his Wells Fargo stake by 11 percent, holding 15.5 million shares in the San Francisco-based bank valued at $389 million as of Sept. 30.
He cut his position in JPMorgan Chase & Co. by 29 percent, keeping a $190 million stake in the New York company, and sold his entire holding in New York-based Goldman Sachs, valued at about $144.4 million at midyear.
Paulson told clients at a recent meeting he doesn't see a significant risk that banks may be forced to buy back mortgages, said a person who was present and asked not to be identified because the fund is private. A spokesman for Paulson declined to comment.
Biggest Seller
Paulson was the biggest seller of Bank of America among hedge funds, which in aggregate sold a net 34.9 million shares in the quarter, according to data compiled by Bloomberg.
Hedge funds added a net 510.8 million shares to existing stakes in Citigroup during the quarter. That was their fourth-largest net addition, behind Potash Corp. of Saskatchewan, Genzyme Corp. and Apple Inc., the Bloomberg data show.
The combined net revenue of the six largest U.S. banks fell by an average of 8 percent in the third quarter from a year earlier, driven by declines in everything from trading at Goldman Sachs to home lending at Bank of America. New laws restricting account and credit-card fees, as well as derivatives and capital rules, are also squeezing lenders.
Bank of America and other banks halted foreclosures after court documents surfaced showing employees at some of the largest mortgage firms signed foreclosure paperwork without checking the accuracy, throwing home seizures into doubt. The bank, along with Wells Fargo, instituted a review of the procedures and attorneys general in all 50 states are investigating.
Paulson's largest fund, Advantage Plus, rose 2.5 percent this year through Oct. 31. Funds that bet on corporate events such as mergers and bankruptcies have climbed 8.6 percent on average, according to Chicago-based Hedge Fund Research Inc.
Paulson & Co. had been betting on an economic recovery by 2012, before the firm scaled back its bullish investments. Paulson, 54, said in September that he believes the global recovery remains intact, and that he expects to make money in the next two years with the stocks of companies going through bankruptcies, restructurings and reorganizations.
Before it's here, it's on the Bloomberg Terminal.
LEARN MORE