European Stocks Drop as Rio Tinto, HSBC Retreat; Infineon Jumps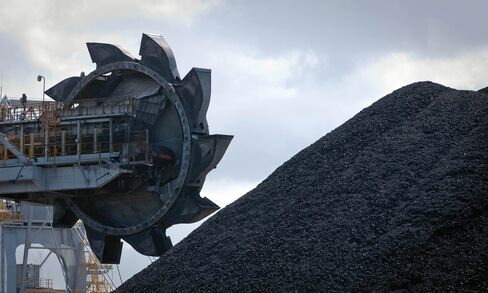 Nov. 16 (Bloomberg) -- European stocks tumbled by the most in four months amid concern that China will have to take measures to cool inflation and as Ireland held talks over a financial rescue amid the resurgent debt crisis.
Rio Tinto Group paced declines by mining stocks, losing 4.8 percent as metals prices plunged. HSBC Holdings Plc and BNP Paribas SA slipped more than 2 percent. Vivendi SA dropped 3.1 percent after saying earnings at its SFR unit fell. Infineon Technologies AG surged 4.2 percent as it announced a share buyback and its first dividend in a decade.
The benchmark Stoxx Europe 600 Index slumped 2.3 percent to 265.98 at the close in London, the biggest one-day drop since July 1. The gauge fell 0.7 percent last week as mounting concern about the cost of bailing out Ireland's banks led to a surge in the cost of insuring bonds from Europe's most indebted nations.
"Emerging markets, especially China, are facing more and more inflationary pressures," said Markus Steinbeis, head of equity portfolio management at the Unterfoehring, Germany-based unit of Pioneer Investments KGmbH, which oversees about $221 billion globally. "It's a trigger for the market right now to calm down and take some profits. In the longer term, a political solution for problems in the euro zone must be found."
Price Limits
Chinese Central Bank Governor Zhou Xiaochuan said China is under "pressure" from capital inflows as a state newspaper said price controls could be imposed to cool the fastest inflation in two years. Zhou reiterated government goals of "moderate" credit growth and stronger liquidity management at a forum in Beijing today. The China Securities Journal said price limits are possible for food, citing unidentified sources.
Ireland is in talks with European and International Monetary Fund officials about a bailout that would shore up the state's finances as well as enable it to inject capital into the country's banks, said a European official with direct knowledge of the talks.
Irish officials have held talks with the European Commission, the European Central Bank and the IMF in the past days, the person said. Irish assessments of banking losses held up to scrutiny in those discussions, the person said.
An Irish central bank spokesman declined to comment. An Irish finance ministry spokesman also declined to comment directly today and referred to a statement issued on Nov. 14. Prime Minister Brian Cowen said late yesterday that no formal application had been made for EU support.
Threatened to Block
National benchmark stock indexes fell all 18 western European markets except Iceland. The U.K.'s FTSE 100 tumbled 2.4 percent. France's CAC 40 slid 2.6 percent, while Germany's DAX lost 1.9 percent.
Stocks extended declines after Austria threatened to block its next transfer of European Union funds because Greece isn't meeting tax revenue and deficit-cutting targets.
Austrian Finance Minister Josef Proell said Greece's progress in meeting its commitments "doesn't give us any reason to approve the December tranche." The Greek budget deficit for last year was revised to 15.4 percent of gross domestic product from 13.6 percent by the EU yesterday.
BHP Billiton Ltd., the world's largest mining company, and Rio Tinto fell 3.7 percent to 2,318 pence and 4.8 percent to 4,120 pence, respectively, leading European basic-resource shares to the worst performance among 19 industry groups in the Stoxx 600. Kazakhmys Plc tumbled 6.1 percent to 1,421 pence.
Tighten Policy
"Speculation that the central bank will tighten monetary policy continues to dog the market," said Wang Cheng, a strategist at Guotai Junan Securities Co. in Shanghai. "The market will be under pressure for the coming three to 12 months from the threat of measures to cool inflation."
Salzgitter AG slid 4.7 percent to 50.80 euros after Deutsche Bank AG downgraded Germany's second-largest steelmaker to "hold" from "buy."
Copper resumed a decline in London and New York. Aluminum, zinc, nickel, lead and tin also fell.
HSBC lost 2.5 percent to 665 pence, while BNP Paribas, France's largest bank, dropped 3.5 percent to 51.53 euros. A gauge of the region's banks fell 3.1 percent, among the worst performers in the Stoxx 600.
Vivendi, owner of the world's largest video-games company, lost 3.1 percent to 19.86 euros. Adjusted third-quarter net income rose 6.7 percent to 688 million euros ($936.5 million), Paris-based Vivendi said in an e-mailed statement. Analysts had predicted profit of 649 million euros. Earnings before interest, taxes, depreciation and amortization at Vivendi's SFR unit slid 1 percent.
"Operating momentum at SFR is weakening," UBS AG analysts Polo Tang and Kiran Ganesh in London wrote in a report today. "Weakening trends at SFR are likely to remain an area of focus for investors."
Eiffage, Acciona
Eiffage SA slumped 6.8 percent to 34.38 euros. Deutsche Bank AG is managing the sale of a 1.9 percent stake in France's third-largest construction company, the German bank said, without identifying who commissioned the sale.
Acciona SA declined 6.6 percent to 55.15 euros, the lowest price since October 2004. The Spanish construction company said its nine-month net income dropped 3.3 percent to 101 million euros ($137 million).
Petroleum Geo-Services ASA sank 8.9 percent to 78.85 kroner. The world's third-biggest surveyor of oil and natural-gas fields raised 1.6 billion kroner ($267 million) in a private placement to finance the purchase of two Ramform vessels.
ITV, Taylor Wimpey
ITV Plc declined 5.6 percent to 67.1 pence as the U.K.'s biggest commercial broadcaster predicted television advertising growth will slow in the fourth quarter. "The economic outlook for 2011 is uncertain and we continue to plan on a cautious basis," Chief Executive Officer Adam Crozier said in a statement.
Infineon gained 4.2 percent to 6.22 euros. Europe's second-biggest chipmaker reported fiscal fourth-quarter profit of 390 million euros. That beat the average estimate of analysts in a Bloomberg survey for a profit of 216.2 million euros.
Infineon proposed a dividend of 10 cents a share for the year ended September, the first since a payment for fiscal year 2000. The company will also propose to shareholders a buyback of as many as 10 percent of the company's shares, Chief Executive Officer Peter Bauer said in a conference call today.
To contact the reporter on this story: Julie Cruz in Frankfurt at jcruz6@bloomberg.net.
To contact the editor responsible for this story: David Merritt at dmerritt1@bloomberg.net.