South Korea Raises Rate for Second Time This Year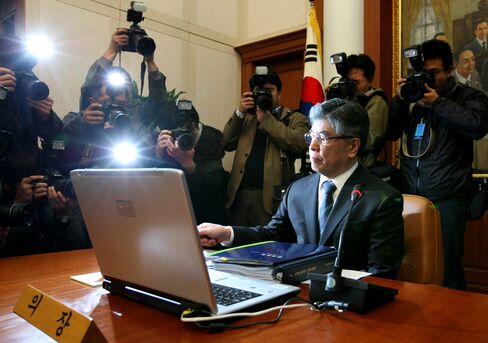 The Bank of Korea increased interest rates for the second time this year, and dropped a reference to keeping borrowing costs "accommodative," after inflation surged past the central bank's ceiling.
The bank raised the seven-day repurchase rate by 0.25 percentage point to 2.5 percent, it said in a statement in Seoul today. Six of 13 economists surveyed by Bloomberg News predicted the decision, with the rest seeing no change. Governor Kim Choong Soo raised the rate from a record-low 2 percent in June.
The won climbed the most in two weeks against the dollar as the rate move countered the impact of plans to curb capital flows into Asia's fourth-largest economy. South Korea, along with economies from Thailand to Taiwan, is struggling to contain price pressures while at the same time avoid exchange-rate gains that may imperil export growth.
"The central bank made it clear that they will keep raising interest rates," said Oh Suk Tae, an economist at SC First Bank Korea Ltd. in Seoul. "The crisis is over and monetary policy" is now set for "normalization," he said.
Bonds rallied after the decision, while stocks dropped. Yields on the 3.75 government bond due June 2013 tumbled nine basis points, the most in a month, according to the Korea Stock Exchange. The Kospi stock index lost about 1 percent. The won advanced 0.4 percent to 1,126.94 per dollar as of 12:22 p.m. in Seoul, according to data compiled by Bloomberg.
Shift in Language
The central bank dropped its pledge to keep monetary policy "accommodative" for the first time since the global financial crisis. "Looking ahead, the committee will conduct monetary policy in such a way as to help the economy maintain price stability, while sustaining sound growth," it said.
While the benchmark isn't currently at a neutral level, the economy isn't ready for "normal" rates yet, Governor Kim said after the decision. Kim said last week that inflation will accelerate to a 3.4 percent pace next year from a 3 percent rate in 2010 because of rising pressure from demand in the economy.
Consumer-price inflation accelerated to a 20-month high of 4.1 percent in October. The central bank aims for 2 percent to 4 percent on average through 2012.
The won's 7.8 percent appreciation since June, the third-biggest climb in Asia excluding Japan, may help pare price pressures. Based on Bank of Korea models, a 1 percent gain in the won has at least the same effect on inflation as a quarter-point rate increase, Kwon Young Sun, an economist at Nomura Holdings Inc. in Hong Kong, said in a note last week.
Won's Impact
Currency appreciation has already begun to have some impact, with a moderation in export gains contributing to economic growth slowing to a 0.7 percent quarterly pace in July to September, half the gain of the previous three months. Kim forecasts the annual rate to slow to around 4.5 percent next year from 6 percent in 2010.
South Korea today joined India and Australia in boosting borrowing costs this month even as policy makers express concern about the effect of stronger currencies. The BOK had paused in its rate campaign for months, citing concern that growth in advanced economies was slowing.
"The focus of Asian policy makers has shifted decisively from the prospect of weaker growth and external demand to concerns about rising inflation pressures," Brian Jackson, senior emerging markets strategist at the Royal Bank of Canada in Hong Kong, said in a note.
Samsung Earnings
A stronger exchange rate risks further crimping gains in South Korea's overseas shipments, which account for about half the $832.5 billion economy. Samsung Electronics Co., the world's biggest maker of televisions, memory chips and flat screens, last month forecast weaker fourth-quarter earnings partly because of the appreciation.
South Korea is preparing a "system" of measures in designed to counter a surge in capital inflows, which policy makers from Brazil to China have blamed on monetary stimulus in developed economies, exacerbated by the U.S. Federal Reserve's move to buy $600 billion of Treasuries.
Finance Minister Yoon Jeung Hyun said at a parliamentary session in Seoul yesterday that a bond tax on overseas investors, a bank levy and strengthened rules covering foreign-currency derivatives at foreign banks are being considered.
The Bank of Korea's policy board will take such steps into account when deciding on the benchmark rate, Kim said today. The summit of the Group of 20 economies in Seoul last week will help to reduce currency tensions, he also said. Emerging nations have more room to act after the G-20 said in its Nov. 12 communique that they can take regulatory steps against capital surges.
"Korea won't be able to introduce capital controls strong enough to scare off foreign investors but most likely will take mild steps," said Oh at SC First Bank.
Governor Kim also has to contend with a falling property market and record household debt levels. Declines in home prices in Seoul and its surrounding areas have recently eased, the central bank said today.
-- With assistance Sarina Yoo in Seoul. Editors: Sunil Jagtiani, Chris Anstey