Minister Raja Quits Amid Multibillion-Dollar India Telecom Probe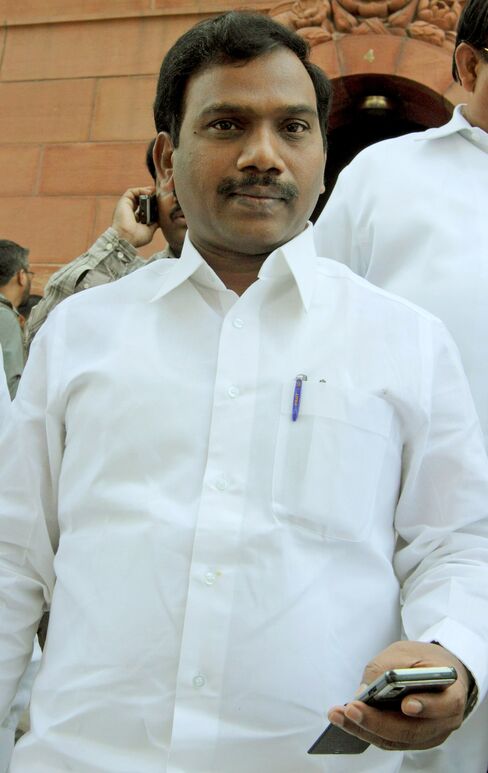 India's telecommunications minister Andimuthu Raja resigned after a year-long investigation into the multibillion-dollar auction of mobile-phone airwaves stalled parliament and triggered opposition calls for him to step down.
"In order to avoid embarrassment to the government and maintain peace and harmony in parliament, my leader has advised me to resign," Raja told reporters last night after submitting his resignation letter to Prime Minister Manmohan Singh. "My conscience is very clear."
The Central Bureau of Investigation has been examining the role of Raja and the Ministry of Communications in the pricing of second-generation airwaves since October last year. The country's Supreme Court will resume hearing public interest petitions today on alleged irregularities in the sale. Raja said yesterday that he will prove that his actions were in accordance with the law.
Selling licenses to mobile-phone operators based on a price determined in 2001 may have deprived the exchequer of 900 billion rupees to 1.4 trillion rupees ($20 billion to $31 billion) in revenue, the Hindustan Times reported on Nov. 12, citing an unreleased report from the Comptroller & Auditor General of India.
Raja's resignation follows protests by the opposition Bharatiya Janata Party that halted parliament last week. Raja is a member of the Dravida Munnetra Kazhagam, the political party that rules the southern state of Tamil Nadu and is a partner in Singh's federal governing coalition with 18 seats in the lower house of parliament.
'No Bearing'
The auditor's report concluded that Raja took "arbitrary decisions" and ignored advice from the prime minister as well as the ministries of law and finance, the Hindustan Times reported.
In a Nov. 11 statement to the Supreme Court, the Telecommunications Ministry said that no guidelines were violated and spectrum allocation was based on the government's policy to increase telephone density rather than maximize revenue. Reports of revenue loss were "misconceived," it said.
The DMK's main opponent party in Tamil Nadu had urged Singh to remove Raja and offered its support in parliament should the DMK withdrew its backing.
The federal ruling Congress Party has said the resignation of Raja will have "no bearing" on its "very strong" alliance with DMK, the Press Trust of India reported, citing party spokeswoman Jayanthi Natarajan.
Before it's here, it's on the Bloomberg Terminal.
LEARN MORE