Loehmann's Holdings Files Bankruptcy With Restructuring Deal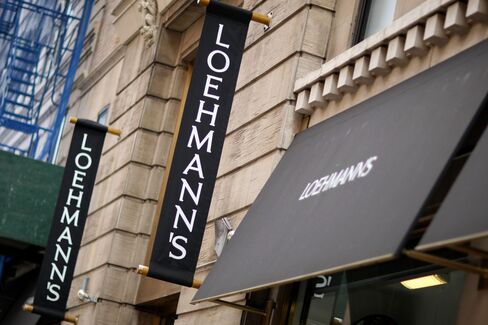 Loehmann's Holdings Inc., the seller of discounted designer goods, negotiated a restructuring plan with owner Istithmar Retail Investments and noteholder Whippoorwill Associates Inc. before filing for bankruptcy.
Loehmann's, which filed for bankruptcy today, said its plan to reorganize would cut debt by $115 million. Istithmar and Whippoorwill agreed to invest $25 million in the company, according to court papers.
"That plan will deleverage this company in a huge way," Frank Oswald, Loehmann's bankruptcy attorney, said today at a court hearing in U.S. Bankruptcy Court in Manhattan.
Loehmann's, founded in 1921 by Frieda Loehmann, blamed its bankruptcy on declining sales and an inability to carry its debt load. The retailer sells clothes from brands such as Michael Kors, Calvin Klein and Donna Karan. The Bronx, New York-based company operates 48 stores in 13 states and the District of Columbia, according to court papers. In its Chapter 11 petition, it listed assets of $204.5 million and debt of $232.7 million as of Oct. 30.
"The decline in economic conditions in several markets in which Loehmann's stores are concentrated, mainly California, the Northeast, Midwest and Florida, has had an adverse effect on Loehmann's financial condition," Joseph Melvin, the company's chief financial officer, said today in a court filing.
$45 Million Loan
At a hearing today, U.S. Bankruptcy Judge Robert Gerber said he would approve a portion of a $45 million loan that Loehmann's will use during its bankruptcy case. The company will borrow as much as $6 million of the loan from Crystal Financial LLC on an interim basis, according to court papers. It will return to court later for approval of the full amount of the loan.
The financing includes a rollup of $30 million of Loehmann's pre-bankruptcy debt into post-bankruptcy debt, Oswald said after the hearing.
Gerber said he would sign an order approving the financing after criticizing many of its terms, including a group of milestones that require Loehmann's to win court approval of its restructuring plan by Feb. 7. He called the deadlines "a very aggressive schedule."
"I don't like my debtors starting Chapter 11 with guns to their heads," he said.
Best Terms
Loehmann's attorneys said the terms were the best the retailer could negotiate and that the milestones were achievable.
"We need to get this company in and out just as quickly as we can," Oswald said.
Loehmann's began negotiating in August with Istithmar and the two largest noteholders, Whippoorwill and Plainfield Asset Management LLC. Whippoorwill, a White Plains, New York-based investment manager, supported the failed exchange and Plainfield didn't, court papers show.
In September, the company reached an agreement with Istithmar and Whippoorwill to pursue a restructuring through the exchange or a Chapter 11 plan, according to court papers.
"The proposed restructuring set forth in the original support agreement, however, was not supported by Plainfield," Chief Operating Officer Joseph Melvin said in court papers.
While noteholders representing about 92.4 in principal amount tendered their notes in accordance with the offer, the exchange offer wasn't consummated as it didn't achieve the required 97 percent acceptance, court papers show.
Notes Bought
Whippoorwill, which initially had 33.9 percent of the notes, bought Plainfield's holding, raising its share to 70 percent. Istithmar in turn agreed to purchase half of the notes previously owned by Plainfield.
In October, Loehmann said a holder of 35 percent of the notes agreed to the exchange. Wit Clay, a Plainfield spokesman, said today that the investment fund was that noteholder.
The current reorganization will be financed with a $25 million investment from Istithmar and Whippoorwill. The proposal, which requires court approval, calls for a $40 million exit loan. Recoveries to unsecured creditors haven't been estimated, according to court papers. Istithmar and Whippoorwill would get equity in the reorganized company.
"We look forward to working constructively through this process and achieving a consensual restructuring," Andy Watson, acting chief executive officer of Istithmar World PJSC, said in an e-mailed statement. Istithmar, owned by the Dubai government, bought Loehmann's in 2006.
1999 Bankruptcy
Loehmann's previously filed for Chapter 11 protection in May 1999 in Delaware amid increasing competition from discount chains. It emerged from bankruptcy the following year after cutting more than $140 million in debt, closing 25 stores and rejecting takeover offers from two rivals.
Loehmann's owes about $30.5 million under a credit revolver and there is about $750,000 in open letters of credit under a pre-bankruptcy credit agreement, court papers show.
The company is represented by lawyers from Togut, Segal & Segal LLP. Cleary Gottlieb Steen & Hamilton LLP said it is advising Istithmar on Loehmann's Chapter 11 case.
The case is In re Loehmann's Holdings Inc. 10-16077, U.S. Bankruptcy Court for the Southern District of New York (Manhattan).
Before it's here, it's on the Bloomberg Terminal.
LEARN MORE