Ireland's Resistance to EU Bailout May Rest on Crumbling Banks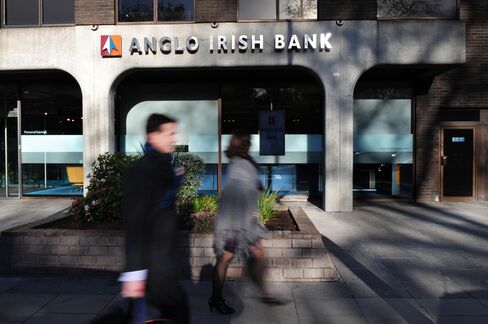 Ireland's sovereignty depends on the nation's biggest banks as the European Union presses the government to accept a bailout.
While the government says it won't need to raise money in the bond market until the middle of 2011, Irish lenders are depleting the collateral they need to get the emergency funding from the European Central Bank on which they depend. Corporate clients have pulled deposits from lenders including the country's biggest, Bank of Ireland Plc.
With its lenders frozen out of Europe's money markets and with their deposits shrinking, the Irish government may be forced to seek the bailout ministers have so far resisted. European Central Bank Vice President Vitor Constancio said today Ireland could use the European Financial Stability Facility to help prop up its banking system to restore investor confidence.
"It's totally clear that they absolutely must accept external support sooner or later," said Christoph Weil, an economist at Commerzbank AG in Frankfurt. Confidence in "the banking system is collapsing, and they can't stop it by themselves."
Bank of Ireland, the country's biggest lender by market value, said Nov. 12 it suffered "deposit outflows over a five-to six-week period in late August and early September." It didn't provide a figure. The lender lost 10 billion euros ($14 billion) in deposits in the period, Ciaran Callaghan, an analyst at Dublin-based NCB Stockbrokers, estimated today.
'Forced to Appeal'
Allied Irish Banks Plc had similar outflows since June, the Sunday Times reported yesterday, without saying where it got the information. Catherine Burke, a spokeswoman for the Dublin-based lender, declined to comment on the report.
The five-member ISEQ Financial Index has fallen 98 percent from its peak in February 2007. Bank of Ireland and Allied Irish account for about 80 percent of the benchmark by weighting.
If "evidence of a deposit flight in Ireland" accelerates, "then the prospect of additional support to the banking system could swamp the government's comfortable cash position," Paul Mortimer-Lee, London-based global head of market economics at BNP Paribas SA, wrote in a note today. "Equally, if the losses on the banks were to be revised up again, then with banks in a poor position to raise private capital, the government may be forced to appeal to the European Commission for support."
German Chancellor Angela Merkel's government is pushing Ireland to accept EU funds to stop a bond market sell-off across the region's periphery.
Finance Minister Brian Lenihan may ask his EU counterparts in Brussels tomorrow to consider allowing the nation's banks tap the EU's emergency fund, the Irish Independent said, without citing anyone.
Bank 'Burden'
Irish officials estimate the cost of rescuing the country's banks could total as much as 50 billion euros, equivalent to about a third of gross domestic product. Irish and international banks' loan losses in the country may total at least 85 billion euros, central bank Governor Patrick Honohan said on Nov. 11.
"Banks are a burden on the sovereign's back," NCB's Callaghan said. "If the banks were able to get access to a contingent facility from Europe, it would be of some relief to the sovereign."
Ireland was the first to introduce a bank guarantee in September 2008 as the country's financial system came close to collapse in the wake of the failure of Lehman Brothers Holdings Inc. The government took over Anglo Irish Bank Corp. in 2009, and is preparing to take a majority stake in Allied Irish after it struggled to raise enough cash to reach new capital targets.
Available Collateral
The cost of the bailout rose as the National Asset Management Agency, the body set up last year to take over lenders' risky commercial real-estate loans, applied deeper-than-expected discounts to the loans it was taking over.
Frozen out of wholesale markets, Irish lenders have become more and more reliant on ECB funding. The amount of ECB loans to Irish banks rose 7.3 percent to 130 billion euros in October from the previous month, Ireland's Central Bank said on Nov. 1. The data include both international and domestic banks operating in Ireland.
At the end of June, Bank of Ireland had 41 billion euros of collateral it could pledge with monetary authorities, including the ECB, in return for funding, the lender said in its half-year report in August. Today, the bank may only have about 12 billion euros of net collateral available after it turned to the ECB for loans, according to NCB'S Callaghan.
Allied Irish had 49 billion euros gross collateral at the end of June, according to the lender's interim report, published in August. Of that, 24 billion euros was still available to be pledged for ECB funding at the end of June. Allied Irish is slated to publish a trading update this week.
"The problem for the Irish state is that banking guarantee two years ago inextricably merged the country's banking problems with the sovereign," said Brian Lucey, associate professor of finance at Trinity College, Dublin. "It's an omelette that is impossible to un-scramble at this stage."
Before it's here, it's on the Bloomberg Terminal.
LEARN MORE