Vodafone Told to Set Aside $554 Million in India Tax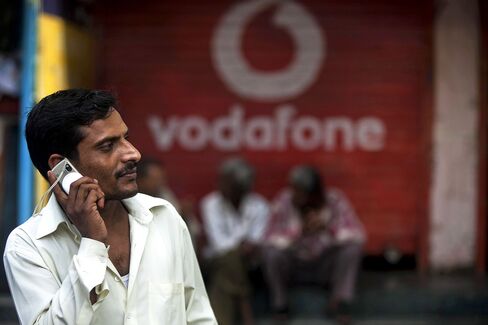 Vodafone Group Plc, the world's biggest mobile-phone company by sales, was ordered by India's Supreme Court to pay a deposit while it challenges a tax bill for the country's largest cross-border deal.
A Supreme Court panel headed by Chief Justice S.H. Kapadia told Vodafone today it has to set aside 25 billion rupees ($554 million) with the court within three weeks and submit bank guarantees for 85 billion rupees in eight weeks. India is seeking 112 billion rupees on Vodafone's purchase of Hutchison Whampoa Ltd.'s local mobile-phone unit three years ago.
The order means the company will likely reflect the deposit in future financial statements since Vodafone didn't set aside provisions for the payment, analysts said. A verdict against Vodafone in the trial may undermine the country's appeal for foreign investors, said Paul Marsch, an analyst at Berenberg Bank in London.
"There's a bigger issue regarding the clarity of the tax regime and the regulator regime that foreign companies operate under in the Indian market," Marsch said before the announcement. "There's no precedent for this situation."
Vodafone said it will provide the deposit and bank guarantee, adding that it is "confident that there is no tax liability resulting from this transaction and all the tax and legal advice it has received remains consistent with this view."
The stock dropped as much as 1.2 percent to 171.9 pence in London trading and was down 0.1 percent as of 11:32 a.m.
Buying Hutchison India
The deposit will be returned with interest if Vodafone wins the legal dispute, according to the court. The next hearing in the case will be on Feb. 24.
"It is not standard practice, especially at the Supreme Court level, although there's nothing that prevents something like this from being done," according to Akil Hirani, managing partner at Mumbai-based law firm Majmudar & Co. "Deposits in court are common in areas of banking, property, and so on, and now obviously you are seeing it happen in the tax space also."
Vodafone is challenging a ruling that it owes taxes for the 2007 purchase of Hutchison's Indian mobile-phone unit for about $11 billion. The court said Sept. 27 the company has to put up a deposit before judges will consider a request to bar the tax department from further collection efforts pending an appeal.
India is examining the tax implications for other mergers and acquisitions, S.S.N. Moorthy, chairman of the Central Board of Direct Taxes, said in New Delhi Oct. 26.
Offshore Transaction
Vodafone doesn't owe the Indian government taxes because the transaction was conducted offshore, with Vodafone's Dutch subsidiary, Vodafone International Holdings BV, acquiring CGP Ltd., a Cayman Islands holding company controlled by Hong Kong- based Hutchison, the company said.
The Dutch government is likely to step in and seek talks with the Indian government to discuss the tax issue under a formal tax treaty that will run parallel to the ongoing court process, Vodafone spokesman Ben Padovan said today via phone.
The Bombay High Court ruled Sept. 8 that Indian authorities have the jurisdiction to seek taxes from Vodafone because the underlying assets were in India. While Hutchison profited from the sale, the Indian tax department has pursued Vodafone, saying that in this case the company should have withheld the tax from its payment to Hutchison.
Hutchison reiterated today that the transaction should not be subject to tax in India.
'Raging Success'
When Vodafone announced its acquisition of Hutchison Essar shares, the British phone company's chief executive officer at the time, Arun Sarin, said he planned to make the India telecommunications venture a "raging success." Instead, the company in May took a $3.3 billion charge for the Indian unit, citing "intense price competition."
Vodafone competes against 14 operators in the world's second-largest market for mobile phone customers. Vodafone Essar Ltd., Vodafone's India unit, is the nation's third-largest operator, after Bharti Airtel Ltd. and Reliance Communications Ltd., with 114 million customers and a 17 percent share of the market at the end of August, according to data from India's telecommunications regulator.
-- With assistance from Tushar Dhara in New Delhi and Jonathan Browning in London. Editor: Anand Krishnamoorthy, Terje Langeland, Young-Sam Cho.