Rangel's Request for Delay of Ethics Trial Denied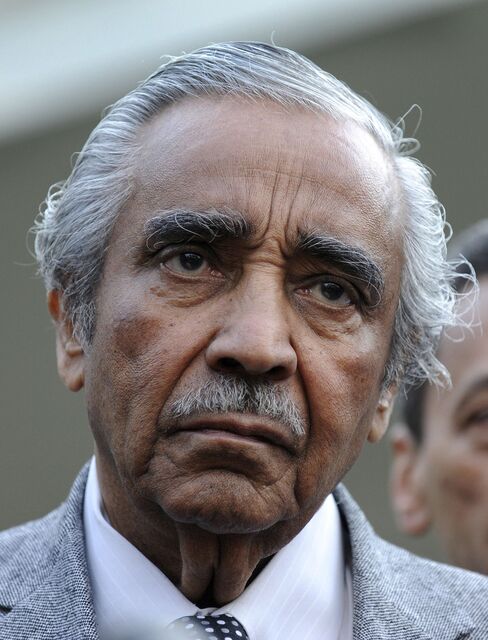 A U.S. House ethics subcommittee began closed-door deliberations on ethics allegations against Representative Charles Rangel of New York, who boycotted its hearing earlier today after being denied a postponement.
The subcommittee recessed for the day and will resume discussions tomorrow in Washington. The panel, comprised of four Democrats and four Republicans, heard testimony from chief counsel Blake Chisam without calling any witnesses.
Rangel sought the postponement at the start of the proceedings so he could find a lawyer. He said his previous attorneys dropped him last month after being paid $2 million in legal fees. Rangel said he didn't have the money to continue paying the law firm and needed to set up a legal defense fund to raise cash.
"Fifty years of public service is on the line," Rangel said. "I truly believe that I'm not being treated fairly and that history will dictate that, notwithstanding the political calendar, I am entitled to a lawyer during this proceeding."
Rangel told the panel that he wouldn't respond to the charges against him or participate in the hearing without legal counsel. He left the room as the eight subcommittee members adjourned to meet in closed session to consider the request for a postponement.
He didn't return when the subcommittee members re-convened, and Chairwoman Zoe Lofgren, a California Democrat, said the hearing would proceed as planned.
"These matters have been under way for a long time," she said.
Decision Urged
Chisam told the panel he believed the evidence against Rangel was clear enough that they could make a decision on the case without days of testimony.
"You can right now get to a vote, based on what you have before you," he said.
Even as the case proceeded, some subcommittee members said it was wrong for Rangel's lawyers to withdraw weeks before the hearing.
"If this was a court of law, a judge would not permit that to happen," said Representative Peter Welch, a Vermont Democrat.
The committee in July accused Rangel of 13 violations of House rules. Among his alleged transgressions are improperly soliciting donations to help finance a City College of New York academic center named for him, filing erroneous financial-disclosure statements and misusing rent-controlled apartments in Manhattan.
Corruption Query
"In all of your investigation of this matter, did you see any evidence of personal financial benefit or corruption?" Representative G.K. Butterfield, a North Carolina Democrat, asked Chisam today.
"Do I believe, based on this record, that Congressman Rangel took steps to enrich himself based on his position in Congress? I do not," Chisam responded.
"I believe that the congressman, quite frankly, was overzealous in many of the things that he did," he said, citing the charges that Rangel used congressional stationery and staff members in seeking donations for the academic center.
Chisam also said Rangel was "sloppy in his personal finances."
Later in the hearing, Representative Mike Conaway, a Texas Republican, asked Chisam whether he was saying "that sloppiness is a defense?"
"I don't believe it's a defense at all," Chisam said. "In fact, I believe that it's a violation of the rule."
Previous Recommendation
The panel previously recommended Rangel be reprimanded by the full House. Rangel and the committee failed to agree on an appropriate punishment before today's hearing.
The subcommittee will report its findings to the full 10- member ethics committee, which would then decide on an appropriate punishment should it agree that Rangel violated House rules. Penalties range from receiving a letter of reprimand from the committee to being publicly censured on the House floor to being expelled from the House.
Rangel, 80, took to the House floor Aug. 10 to declare that he wouldn't resign his seat and instead wanted the committee to "expedite" its hearing.
He won a 21st House term Nov. 2 after fending off challenges from five candidates in New York's Sept. 14 Democratic primary. He garnered 80 percent of the general election vote in his Harlem-based district.
Rangel stepped aside as chairman of the Ways and Means Committee in March after the ethics panel said he broke House rules by accepting corporate-sponsored travel.
Before it's here, it's on the Bloomberg Terminal.
LEARN MORE