High-Spirited 'Elf' Finds Grumpy Dad, First Love: Jeremy Gerard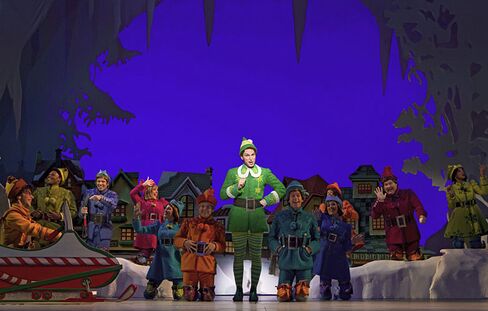 Will Ferrell's goofy, urbane Christmas fable "Elf" had just a smidgen of bite. The 2003 movie returns as a Broadway musical, decaffeinated and heavy on the sugar.
Parents hoping to avoid trendy seasonal cynicism may be tempted to lay out $137 apiece for orchestra seats. Be warned: Your children over 8 years old will never forgive you. "The Magic Flute" at the Met is sterner stuff, no joke.
The elf of the title is no elf at all, but Buddy (Sebastian Arcelus) a motherless boy in Santa's Workshop until his looming height and toy-making ineptitude force him to confront the fact that he is human. Santa (jaunty George Wendt) tells him his father (sturdily appealing Mark Jacoby) lives in Manhattan, and off Buddy goes, encountering a world infected with pragmatism.
It's also a very '50s world in which men are rat-racing breadwinners and women are secretaries or housewives. In the face of disbelief, sarcasm and ridicule, Buddy is undaunted. Working in the Santa's Workshop at Macy's, he woos and wins shop girl Jovie (Amy Spanger), the toughest cookie of all and melts the hearts of his stepmom (veteran hoofer Beth Leavel) and stepbrother, Michael (Matthew Gumley, late of "The Addams Family"). Eventually, of course, he -- SPOILER ALERT! -- even wins Dad's love while proving to all that Santa lives.
All Wet
"Elf" and "Big" give us the pleasure of watching a child in a grown-up's body negotiating the adult world. Along with Ferrell's amusing clowning around, the movie showed Zooey Deschanel's Jovie in the shower singing "Baby It's Cold Outside," as Buddy, perched on the bathroom counter, sang along innocent and oblivious of the fact that he was violating several circles of privacy.
The mischievous wit for which Thomas Meehan ("The Producers" and "Hairspray") is known seems to have been rubbed too smooth by his co-writer, Bob Martin, the nostalgist behind the musical "The Drowsy Chaperone." The songs are by Matthew Sklar (music) and Chad Beguelin (lyrics), the team behind the awful "The Wedding Singer," and they hardly do better here; the tunes are instantly forgettable and you can predict every rhyme a mile away.
Even the usually inventive designer David Rockwell comes a cropper, with generic, ready-for-touring sets that look like pop-up cards.
Casey Nicholaw, the director-choreographer who brought a fine retro stylishness to "Drowsy Chaperone," does well here with a limited company -- some of whom, in the service of Elfishness, must dance on their knees. So the vaulting fliers in "Spider-Man" aren't the only performers we should be feeling sorry for this season.
The dancing hardly breaks new ground, but at least the seamless non-stop busyness on stage diverts us from the gooey goings-on. Through it all, Arcelus, limber and loud, is the picture of puppy-doggedness, doing his darndest to please. You may want to slap him.
Through Jan. 2, 2011, at the Al Hirschfeld Theatre, 302 W. 45th St. Information: +1-212-239-6200; http://www.telecharge.com Rating: * 1/2
What the Stars Mean:
****       Do Not Miss
***        Excellent
**         Good
*          Poor
(No stars) Worthless
(Jeremy Gerard is an editor and critic for Muse, the arts and leisure section of Bloomberg News. The opinions expressed are his own.)
Before it's here, it's on the Bloomberg Terminal.
LEARN MORE